Comics
Published August 24, 2017
Kirby 100: Bucky Barnes
Jim Zub traces this Kirby creation from boy sidekick to Winter Soldier!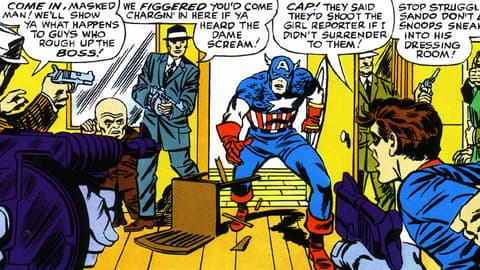 1917 to 2017: 100 years of Kirby.
Join us this month to celebrate Jack "King" Kirby's 100th birthday by learning about the characters and stories he created that changed comics forever. To commemorate Jack's centennial, we've sat down with the modern-day creators he influenced—and the decades of work he gifted us all.
Way back in 1941, Jack Kirby took on the Herculean task of penciling every single page of CAPTAIN AMERICA COMICS #1. Not only did that iconic issue feature the future Avenger slugging Hitler on the cover, but it also introduced the world to Steve Rogers, his pal Bucky Barnes, and their enemy The Red Skull—and that's just the issue's first eight page tale!
Many years later, Stan Lee and Kirby brought Captain America back for AVENGERS #4 and made him a regular player while also expanding on his adventures in TALES OF SUSPENSE, which he shared with Iron Man. While some of the SUSPENSE issues focused on then-current adventures, many took a look back at Cap's battles during World War II, which included his presumed dead partner Bucky Barnes, thus reintroducing readers to a character who had been off the radar for decades.
"Right from the start Bucky was shown as a fighter who never gave up," notes writer Jim Zub, who handled a version of the character when he wrote THUNDERBOLTS. "His inner strength defines him, no matter what other things he has to endure as The Winter Soldier."
In TALES OF SUSPENSE #63, Lee and Kirby expanded on the origins of both heroes. When taking on the responsibilities of writing the current version of Barnes in THUNDERBOLTS, Zub looked to this issue—by way of a reprint in CAPTAIN AMERICA ANNUAL #1—to get a sense of the character who, even without powers, decided to assist Captain America in the field upon literally stumbling on his secret identity.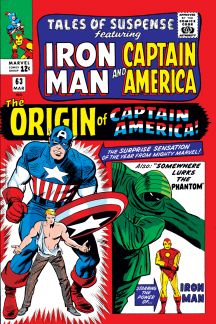 "It would be easy to say that Bucky was naive when he dove into becoming Steve's partner, but I don't think that's the case at all," the writer opines. "Captain America represents an ideal, a call to service. Yes, the Super Soldier serum gave Steve incredible abilities, but the moral and strong-willed person he was started the whole chain of events. Bucky's in the same boat. Deep down he's a good person with a desire to step up and do what's right."
Of course, for decades, many believed the story initially told in AVENGERS #4: that Bucky perished thanks to an explosive drone created by Baron Zemo. During writer Ed Brubaker's epic run on CAPTAIN AMERICA in the mid-2000s, though, we learned that, like Steve, Bucky fell into the water, still alive. Eventually the Russians fished him out, took advantage of his amnesia, mentally programmed him and turned him into The Winter Soldier.
Down the line, Steve used the Red Skull's busted-up Cosmic Cube to give Barnes all of his memories back. Since then he's taken over for Rogers as Captain America, ventured into outer space, and recently escaped death once again to assist Namor in Secret Empire. `
"In THUNDERBOLTS #11 we can see Bucky struggling with his memories of Steve and their close friendship set against the troubled assassin he will become as the Winter Soldier," Zub relates. "The optimistic young boy shown in Kirby's original story is still there, but it's tempered with so many more traumatic memories."
Stay tuned to Marvel.com for more throughout Kirby Month and beyond! And join the conversation on all of our social channels with the hashtag #Kirby100.
The Hype Box
Can't-miss news and updates from across the Marvel Universe!