Comics
Published August 23, 2017
Kirby 100: Carlos Pacheco
The veteran artist unspools lessons he learned from following the King!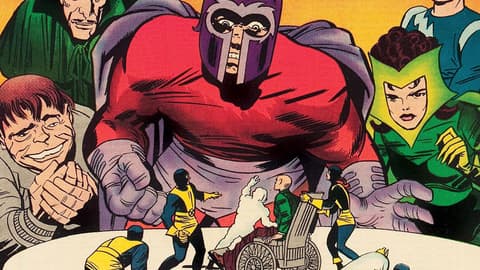 1917 to 2017: 100 years of Kirby.
Join us this month to celebrate Jack "King" Kirby's 100th birthday by learning about the characters and stories he created that changed comics forever. To commemorate Jack's centennial, we've sat down with the modern-day creators he influenced—and the decades of work he gifted us all.
Jack Kirby clearly influenced many creators in the American comics world, but his books also spawned fans all over the world. Count Carlos Pacheco as one such devotee.
Growing up in Spain in the 1970s, Pacheco wound up getting a front row seat for many of Kirby's classic 60s stories because of the delay in publishing practices. That experience led directly into his desire to work in the same medium, something he's been doing for years now, including impressive runs on FANTASTIC FOUR, UNCANNY INHUMANS and, currently, CABLE.
We spoke with Pacheco about becoming a Kirby fan, learning lessons from the master, and looking back to the original work when taking on new projects.
Marvel.com: Do you remember your first experience with Jack Kirby's artwork and how it hit you?
Carlos Pacheco: Jack Kirby opened the Marvel Comics Universe doorway [for me] back in the early 70s; Marvel comics were published 10 years later in Spain so in some ways I belong culturally to the first fan generation. I was there from the beginning. Not exactly the very first day but very close.
I was hooked on Kirby and Marvel at first sight; I never saw anything like that, never saw such a display of power and strength, and the way he depicted a world bigger than life, never. I was a comic fan before this; Jean Giraud, Uderzo, or Carlos Giménez were my idols when I was a kid and Kirby gained a top position in my personal mythology from the very first minute.
Marvel.com: It sounds like his style was something that captivated you right away.
Carlos Pacheco: Yes, definitely. Kirby was the base for every Marvel artist. He has been the ground where everybody seeded his personal artistic style, professionals or fans. The character designs, technology, angles, shots, points of view came from Kirby then. And don't forget the world famous Kirby Dots!
Marvel.com: As an artist, were there certain tricks or elements of penciling that you learned from looking at his work?
Carlos Pacheco: Of course, overall, what I've mentioned, but there is the main rule of what for years was the Marvel Comics style: the use of the initial to final movement pose. The energy of those Marvel comics came from the application of this rule that came from Jack. No in-between positions!
Marvel.com: Did you ever have a chance to meet Jack at a show or something along those lines?
Carlos Pacheco: No, unfortunately, I never had the chance of meeting him. I started to be a part of Marvel just a few month before he passed away. I remember the day [former Marvel staffer] Suzanne Gaffney phoned me to give me such a sad news.
Marvel.com: What was it like stepping into his shoes a bit when drawing FANTASTIC FOUR?
Carlos Pacheco: Oh. My. I wasn't worthy! Again, I can't forget the day I received a call asking me to wrap the FF original run just before Heroes Reborn. I never felt such a responsibility. Too young and too scared!
Marvel.com: When you work on X-Men books, do you ever go back to those first several issues that Kirby drew for inspiration or reference?
Carlos Pacheco: Yes! Particularly for the X-MEN # -1 issue, where we had Magneto, Wanda, and Pietro before becoming official members of the Brotherhood and Asteroid M. I had to revisit those issues to capture the Kirby look, in some ways. Don't forget that this issue is placed immediately before UNCANNY X-MEN #1.
Marvel.com: With AVENGERS FOREVER, you and writer Kurt Busiek played with all sorts of characters from throughout Marvel's history. Did that lead you to any Kirby books you hadn't been familiar with before that?
Carlos Pacheco: I devoured every Kirby—and the rest of Marvel—book! But it was a wonderful chance to revisit some books that I read long ago. Just take a glance at RAWHIDE KID, TWO-GUN KID or SGT. FURY, etc. We wanted to have them there one way or another.
Marvel.com: How was it digging into the world of Attilan, its characters and history, when you worked on UNCANNY INHUMANS?
Carlos Pacheco: The Inhumans are, to me, probably the best Kirby designs for Marvel. From Black Bolt to Lockjaw they are Kirby 100%: power, elegance and weirdness all together. It was fantastic to be involved with these great characters.
Stay tuned to Marvel.com for more throughout Kirby Month and beyond! And join the conversation on all of our social channels with the hashtag #Kirby100.
The Hype Box
Can't-miss news and updates from across the Marvel Universe!