Comics
Published September 20, 2017
Kirby 100: Christian Ward
The Black Bolt artist taps into a well of 'Kirby Konfidence'!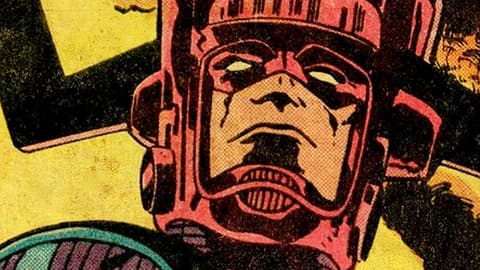 1917 to 2017: 100 years of Kirby.
Join us this month to celebrate Jack "King" Kirby's 100th birthday by learning about the characters and stories he created that changed comics forever. To commemorate Jack's centennial, we've sat down with the modern-day creators he influenced—and the decades of work he gifted us all.
Christian Ward learned something very important after discovering Jack Kirby's work, something he coins below as "Kirby Konfidence!" He's used it to help compose everything from covers and guest spots on ULTIMATES to interiors on BLACK BOLT.
As the cover and regular interior artist on BLACK BOLT, Ward gets how beautifully "The King" put together this character who currently finds himself trying to escape from a planet size prison in the series written by Saladin Ahmed.
We talked with Ward about coming to Kirby a little later in life, taking inspiration from his confidence, and the joys of drawing Galactus lounging!
Marvel.com: How did you first come to know Jack Kirby's work and how did it hit you at the time?
Christian Ward: As a kid of the 80s in the [United Kingdom], I always associated his work with "old comics" and mostly ignored it. It wasn't until much later in my comic book maturity that I developed an appreciation for him. I thought I'd enjoy comics less once I became a full time artist but if anything it makes you enjoy and appreciate them even more and looking back at Kirby you realize just how amazing he is.
Marvel.com: You do a lot of dynamic cover work, something that Kirby is also known for. Do you think you learned any tricks for good compositions from him?
Christian Ward: Thanks very much. I think Kirby's work spellbinds through its confidence. Alongside the sheer energy of his drawing Kirby often combines abstract shapes alongside his muscular characters which creates a tension which gives the work its vibrancy. This is often seen although not exclusively in the way Kirby presents technology, machinery, and costumes. All feature an array of different overlaying and contrasting shapes. Just for the love it. Some of it almost looks like automatic drawing.
So it's less about learning tricks and more about having Kirby's confidence—"Kirby Konfidence"?—to go for it. You hear stories of how fast Kirby was in his "dungeon" and his work smacks of someone who just trusts his instincts and goes for it. A kind of deadline-induced freeform drawing. So mostly, I just try and go for it. His work definitely gives me confidence to go more abstract sometimes. Like Kirby I love bold shapes and I've just got to try and have Kirby Konfidence.
Marvel.com: In ULTIMATES #6, you drew a story that added new layers to Galactus. How was it contributing something like that to one of Stan Lee and Jack's most enduring characters?
Christian Ward: [That] was such a fun issue to draw. Best scene? Galactus sitting in an armchair! I always loved Galactus so it was surreal to be drawing him, especially as that was my single issue debut.
There's not a day working on a Marvel book that you don't ponder the greats that came before you but if I'd stopped to think too much about what I'm doing I think I'd be crippled with stage fright. I was lucky with ULTIMATES that [writer] Al Ewing had written me an incredible script to work from. So when I have a hobby or crisis of confidence I just focus on the page I'm working on. Let my writer guide me. "Draw Galactus sitting in an armchair." Got it! The comic book making equivalent of not looking down.
Marvel.com: You've done a number of covers and interiors for various characters either co-created by Jack or based on his work. Do you look back at his origins for inspiration?
Christian Ward: Always! I think it's important as an artist to find your own voice, even when working with existing characters, but it's crucial that you respect what came before. I've tried to put Easter Eggs into each issue of BLACK BOLT as a tip of the hat to not only Kirby but other great artists who have told Bolt's story before us.
Marvel.com: With BLACK BOLT, you and Saladin Ahmed get to put the book's star through a variety of challenges he's never experienced before. How does it feel continuing the Inhuman's legacy?
Christian Ward: It's hard to know what to say other than it's a huge, planet-splitting honor. When I was first offered BLACK BOLT, I jumped at the chance and Saladin's amazing scripts have made what should have been a monumental undertaking an absolute joy.
I think it's the fact that Saladin has had this fresh approach that makes the book work. We're not retreading ground that the Silent King has walked before. Even as a creator on the book each script in my inbox has surprised me. It makes me giddy to think we contributed to part of Black Bolt's history going forward and [then] in years to come other artists and writers might even reference what we've done.
Marvel.com: Black Bolt's is one of those Kirby costumes that hasn't really been changed much since his inception. Why do you think that is?
Christian Ward: It's funny because, up to our Black Bolt, Steve McNiven had designed this badass body-armor—Warrior Black Bolt—that he'd been sporting throughout UNCANNY INHUMANS and INHUMANS VS. X-MEN. It didn't feel right that he be wearing that in our cosmic prison. Especially since the story deals with his vulnerability so much.
It was great to return him to something more stripped back and inline with what Kirby created. To answer your question why Bolt's costume has endured, it's such a bold and pure design. There's so little that can go wrong with it. It's almost pop art. Stacked full of "Kirby Konfidence."
Stay tuned to Marvel.com for more throughout Kirby Month and beyond! And join the conversation on all of our social channels with the hashtag #Kirby100.
The Hype Box
Can't-miss news and updates from across the Marvel Universe!