Comics
Published August 11, 2017
Kirby 100: Erik Larsen
The Savage Dragon creator on a decades-long appreciation of the King!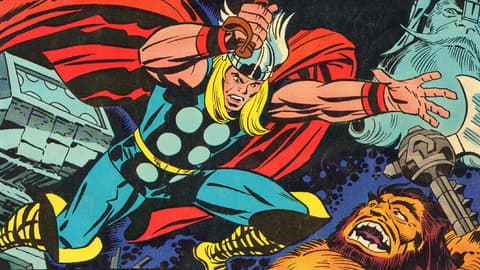 1917 to 2017: 100 years of Kirby.
Join us this month to celebrate Jack "King" Kirby's 100th birthday by learning about the characters and stories he created that changed comics forever. To commemorate Jack's centennial, we've sat down with the modern-day creators he influenced—and the decades of work he gifted us all.
For many, Jack Kirby's work represents the absolute pinnacle of imagination. From Captain America in the '40s to the Fantastic Four in the '60s to Devil Dinosaur in the '70s, the King's work illustrates an unprecedented creativity in crafting unforgettable stories and characters.
Veteran comic book creator Erik Larsen—known for his Marvel runs on AMAZING SPIDER-MAN and SPIDER-MAN—follows Jack Kirby's grand tradition of creating dynamic stories with a mix of action and heart. To remember the King and his legacy, we spoke with Larsen about meeting the man himself, learning from his craft, and getting to ink his work!
Marvel.com: Do you remember how you came to know Jack's art? What kind of impact did it have on you?
Erik Larsen: My dad bought comics when he was a kid and I grew up with his collection—which he shared with his children when we were far too young and we destroyed a lot of them. But my earliest encounter with Jack's work was Boy Commandos. By the time I was old enough to buy my own comics, Jack was winding up his tenure at DC, working on Kamandi, The Demon, OMAC, and Mister Miracle. I devoured his work. I loved the energy of it all. And whenever Marvel reprinted his stuff, I snapped it up. Marvel was publishing a lot of Jack's work in TREASURY EDITIONS and I adored those.
Marvel.com: As an up-and-coming artist, did you look to Kirby's work for inspiration when configuring panels and pages?
Erik Larsen: Certainly. There was a lot to be learned from Jack's work and he was a huge influence. The internal battle was to try and get some of that power and energy without aping his work so much that you looked like a second-rate Kirby. His work is very seductive in that way. Whenever I look at his work I want to become Jack Kirby—and there are times a Kirby squiggle, Kirby fist, or Kirby Krackle works its way onto my pages. I can't help myself.
Marvel.com: Did you ever meet or get to work with Jack? If so, what do you remember most about him?
Erik Larsen: I met Jack a few times in San Diego and he was a very supportive and soft-spoken man. He was very encouraging. I wish I'd spent more time with him. I inked a couple of pages of his pencils for the Phantom Force book we published at Image and that was an absolute thrill and somewhat heartbreaking at the same time. After I erased his pencils I felt like I'd committed a crime. I erased Jack's pencils! What was I thinking?
Marvel.com: You've used Kirby drawings as the basis for your own cover art in the past. Has working with a piece that way offered any new insights into the man's brilliance?
Erik Larsen: I've inked over Kirby's work on blue line numerous times and it's always a great learning experience. It's also frustrating that I can't do the kind of job I'd like to do. My hat's off to Mike Royer, Joe Sinnott, Frank Giacoia, and the others who inked his pencils so brilliantly over the years.
Marvel.com: During your early days at Marvel, you worked on Kirby co-creations like Thor and the Hulk. Knowing the history there, what was that like?
Erik Larsen: Always a thrill. My very first Marvel job was an inventory issue of THOR where he fought the Hulk. Stan Lee ended up scripting it and Vinnie Colletta inked it. It was the last issue of THOR either of them ever worked on. I was subbing for Jack in that classic creative team on my very first Marvel gig! It was all downhill from there!
Marvel.com: You went on to launch your own original stories—each jam packed with new characters and creations. Would you say Kirby inspired that work?
Erik Larsen: I'd say he inspired all of it! There's not a day that goes by when I don't look at Jack Kirby's art! If it's not a book in my hands, it's framed art on my walls! I don't have any of my own work on my walls—but I have Jack's! He was, and forever will be, the King of comics!
Stay tuned to Marvel.com for more throughout Kirby Month and beyond! And join the conversation on all of our social channels with the hashtag #Kirby100.
The Hype Box
Can't-miss news and updates from across the Marvel Universe!