Comics
Published September 15, 2017
Kirby 100: Frazer Irving
A celebrated artist looks back on how Kirby influenced him and his work!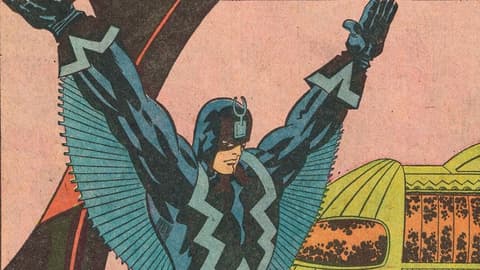 1917 to 2017: 100 years of Kirby.
Join us this month to celebrate Jack "King" Kirby's 100th birthday by learning about the characters and stories he created that changed comics forever. To commemorate Jack's centennial, we've sat down with the modern-day creators he influenced—and the decades of work he gifted us all.
Over the years, plenty of artists have taken pages from Jack Kirby's playbook. For his part, Frazer Irving says that doing so helped him fully realize his own style. As he's evolved and grown as an artist, he continues to look at the King's work for inspiration and structural ideas.
As a professional, Irving got to put those learned skills to work on books like SILENT WAR as well as on the current volume of BLACK BOLT, for which he does the occasional interior fill-in. We talked with Irving about discovering Kirby by way of a sticker, trying to work like "The King," and how that made him understand his own talents.
Marvel.com: Do you remember how you first came to see Jack's work and what you thought of it back then?
Frazer Irving: I was very young, probably three [years old] when I saw Captain America on a sticker in that famous pose where he could be dancing. I think the sticker made mention of that. I was bemused by the proportions and simplification of the lines compared to the busy inking of Tom Palmer on [TOMB OF DRACULA]—also in the same reprint mag I think. It struck a chord with me that echoed when I discovered the work of [artists] Barry Smith and Jim Steranko, and by then I could understand what the lines were doing and I was no longer bemused. My enduring memory of that first experience though was the thought, "Why is everyone shiny?"
Marvel.com: Did you look to Kirby's output when you were developing your own style? Did you learn any tricks or lessons from his panels?
Frazer Irving: I totally tried to channel the dynamics back in the early days, but it never took [because] I'm not Jack Kirby, I'm me, and I draw very un-Kirby things. In many ways that's how studying his work helped me: it showed me what I wasn't, which meant that what I was left with was a more honest impression of my artistic voice. Less time wasted drawing dynamic figures, more time playing with Photoshop filters.
One trick I did take from him much later on was the use of simple panel grids. I'd already nabbed the nine-panel grid from Strangehaven, but the six-panel grid of Jack's was something I'd avoided forever, until I didn't. It certainly simplifies the reading of a page, which is his real gift to us doodlers. Beyond the smash and splash of his illustration he was very, very good at showing stuff happening in a way that even a newbie could understand. And we all need a bit more of that simplicity. But now with millions of colors, and filters.
Marvel.com: When you worked on SILENT WAR, how was it playing with those classic Kirby designs that seem almost untouched since he developed them?
Frazer Irving: I liked them as it was one of the few things that had survived almost intact since my childhood, thus I didn't have much research to do on what was new that year. I used to love the Inhumans back in the day, oblivious to the publishing history. I just assumed there was a paucity of stories because the characters were reclusive in nature.
Marvel.com: How has it been returning to Black Bolt with your work on his current series?
Frazer Irving: It's different in that he has a groovier tuning fork now, and I can draw a lot better, but aside from that it does feel nicely familiar. Boltagon's outfit hasn't changed enough to make it difficult to draw and so I guess the biggest difference is drawing him talking; I think I may have made him a little fitter than back in the day, however the angst and inner turmoil that I so loved in him during SILENT WAR—screaming into space on the moon? That's how Blackagar rolls—is still very much a part of his character, so the acting is very easy.
Stay tuned to Marvel.com for more throughout Kirby Month and beyond! And join the conversation on all of our social channels with the hashtag #Kirby100.
The Hype Box
Can't-miss news and updates from across the Marvel Universe!