Comics
Published October 18, 2017
Kirby 100: The Human Torch Flies Solo
Johnny Storm tries a secret identity in another classic from The King!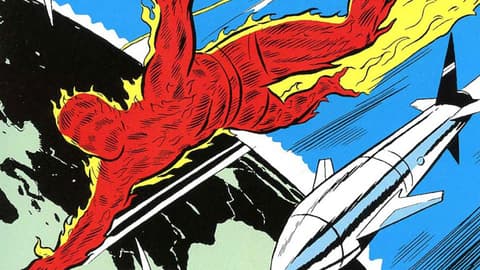 1917 to 2017: 100 years of Kirby.
Join us to celebrate Jack "King" Kirby's 100th birthday by learning about the characters and stories he created that changed comics forever. To commemorate Jack's centennial, we've sat down with the modern-day creators he influenced—and the decades of work he gifted us all.
Stan Lee and Jack Kirby broke a lot of super hero molds when they debuted the Fantastic Four in 1961. It didn't take long for the team of super adventurers to become so popular that people wanted more and more out of the team. So, with STRANGE TALES #101, the duo decided to give the FF's young heartthrob his own solo adventures!
Human Torch began anchoring the series in 1962; at that time, Johnny Storm didn't want his Long Island neighbors knowing he moonlighted as the Torch, so he took traditional precautions to keep his alternate identity a secret. And yet, he still lived with his sister, Sue Storm, whose super hero identity remained public knowledge. To help Johnny live in suburbia, Reed Richards outfitted their house with a variety of Torch-specific additions like asbestos furniture and a room for him to work on his hot rods.
Following a nice, concise recap of the Fantastic Four's origins, we met the villain of the piece: a green and yellow clad individual calling himself Destroyer who looked out over the local amusement park.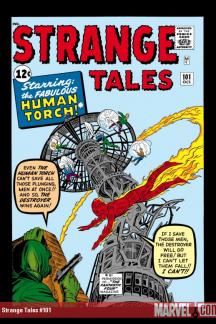 Later, while walking to school, Johnny used the smoke from a nearby lighter and cigarette to cloud his own transformation into The Human Torch so he could save a man trapped on a runaway roller coaster at the same park. Storm saved the hapless victim, but the ride still broke in the process. The next day, something similar happened with the parachute drop ride. This time, Johnny shot out small fire pellets into the sky to distract the people around him so he could run into the fun house to transform.
With two of his schemes broken up by the young hero, Destroyer publicly challenged the Torch to a battle in the newspaper. Seeing this, The Thing showed up to back his little buddy, but Torch told him to kick rocks. Though Destroyer played Torch with this ruse, Johnny did eventually return to the amusement park and realize the villain's game. Though it seemed like he wanted to simply destroy a fun place, Destroyer actually intended to take out the higher points of the park in an effort to keep prying eyes away from his dealings with a ring of Communist subs not far away!
Under the mask, Destroyer turned out to be local newspaper publisher Charles Stanton. With this first solo mission behind him, Johnny would go on to continue trying his hand as a secret identity-sporting hero for a while.
Stay tuned to Marvel.com for more throughout Kirby Month and beyond! And join the conversation on all of our social channels with the hashtag #Kirby100.
The Hype Box
Can't-miss news and updates from across the Marvel Universe!