Comics
Published September 26, 2017
Kirby 100: The Man Called D.E.A.T.H.
Mark Waid gets a Kirby assist on his scintillating S.H.I.E.L.D. series!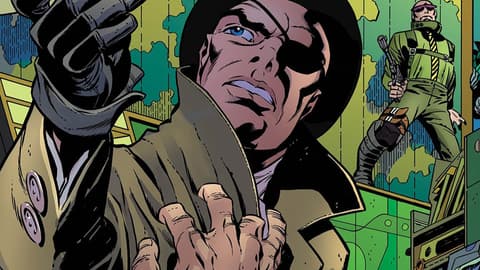 1917 to 2017: 100 years of Kirby.
Join us to celebrate Jack "King" Kirby's 100th birthday by learning about the characters and stories he created that changed comics forever. To commemorate Jack's centennial, we've sat down with the modern-day creators he influenced—and the decades of work he gifted us all.
Last month, Mark Waid ran through his own personal history with Jack Kirby's work and said that one of the highlights of his whole career had to be scripting over the King's pages in S.H.I.E.L.D. #9 from 2015. That issue, which celebrated the 50th anniversary of the worldwide espionage organization, kicked off with a story that utilized a few sequences Kirby had whipped up as a kind of proof of concept for the original run of Nick Fury and S.H.I.E.L.D. stories back in the 60s. Editor Stan Lee liked the basic idea and so he and Jack first brought the World War II hero into the modern era with FANTATSIC FOUR #21 and then made him head of S.H.I.E.L.D. in 1965's STRANGE TALES #135.
It's really interesting to compare the original pages and the ones published decades later. Aside from the coloring, you can see that one main change made to the first page: the omission of the anagram descriptor that let you know D.E.A.T.H. initially stood for Director of External Atomic Threat Headquarters. Thanks to the notes written with the presentation of the pages in the back of S.H.I.E.L.D. #9, we know that that was actually Kirby's first idea for what would become S.H.I.E.L.D.!
Art-wise the second page continued as drawn, but Waid told his own story over the notes and text blocks that Kirby hand-wrote on the artwork! Waid's tale, drawn by Lee Ferguson the rest of the way, saw Agent Coulson read them himself after receiving the files and talking to Nick Fury's son about a photo of a man in the Hydra file.
Coulson had already contacted Daisy Johnson, Tony Stark, and Maria Hill—all former or current heads of S.H.I.E.L.D. themselves—and they said they'd never seen the man, but all got nosebleeds upon doing so! As Coulson traced Fury's steps, we also got to see the man himself strolling through New York City with Dum Dum Duggan and meeting with The Contessa, not to mention the classic barber shop entrance to a hidden bunker originally glimpsed in STRANGE TALES #136.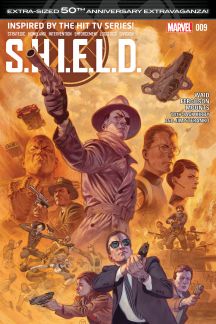 As it happened, those Kirby pages showed Fury breaking into a Hydra base on his own and running out with a file. The problem? He couldn't read it! So, he sent it out to every member of his organization and tried to get answers. The Contessa even tried acquiring the information out of a captured Hydra agent to no avail.
In the present, though, Coulson's journey proved far more fruitful as he met the man called D.E.A.T..H., which stood for Da Vinci Elevating Agents To Helm. A figure referring to himself as Leonardo da Vinci then showed Coulson the secret history of this group which dated back to ancient Egypt. He also explained that he would not only choose the top agents, but also guide them to where they needed to be. Thanks to his own brand of trickery, Coulson walked away with far more information than Da Vinci intended, but the rest of S.H.I.E.L.D. still had no way of uncovering the secrets that had apparently been sitting in their own vaults all this time.
While Coulson found himself wondering what the documents had truly meant, we can all look back and see how perfectly Waid handled integrating the very first Nick Fury-as-spy pages into a story that linked previous S.H.I.E.L.D. creators like himself and Kirby to Jonathan Hickman, Jim Steranko, and more.
Stay tuned to Marvel.com for more throughout Kirby Month and beyond! And join the conversation on all of our social channels with the hashtag #Kirby100.
The Hype Box
Can't-miss news and updates from across the Marvel Universe!