Comics
Published November 22, 2017
Kirby 100: The Super-Adaptoid
One of the Avengers' most powerful foes debuts against Captain America!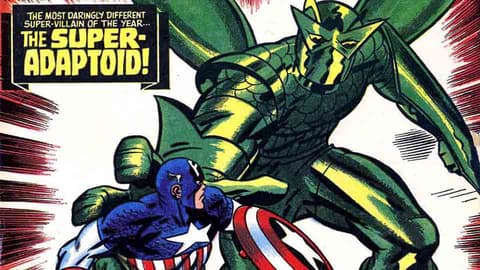 1917 to 2017: 100 years of Kirby.
Join us to celebrate Jack "King" Kirby's 100th birthday by learning about the characters and stories he created that changed comics forever. To commemorate Jack's centennial, we've sat down with the modern-day creators he influenced—and the decades of work he gifted us all.
Over the years, Captain America has proven himself as one of the most capable heroes in the Marvel Universe. It seems like no matter what he comes up against he ultimately walks away with the win. But Jack Kirby and Stan Lee gave the Sentinel of Liberty an enormous challenge in 1966's TALES OF SUSPENSE #82–84, a story that kicked off with the Avenger seemingly losing his mind and ended with our hero facing the full power of his teammates!
In the initial entry, Cap spent a quiet evening at Avengers Mansion that soon became more than a little troubling. Seeing ghosts from his past like Agent Axis and Fang the Warlord, Steve Rogers feared that he might be losing his mind. That feeling intensified when he found himself mysteriously transported back to World War II where he not only reunited with Bucky but campaigned anew against his Axis enemies. Passing in and out of reality, the super-soldier eventually fell to his knees, but faithful Jarvis stood nearby to catch the beleaguered hero.
Nearby, S.H.I.E.L.D. agents combed through a blown-up A.I.M. lab previously seen in STRANGE TALES #149. They discovered a survivor, Count Bornag Royale, who revealed that something called The Adaptoid ran free in the world working to "win the final victory."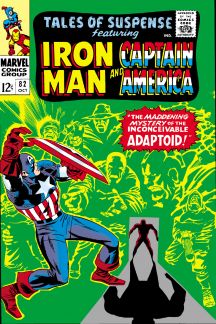 We then cut back to Avengers Mansion where we got our first glimpse of said Adaptoid as it changed from Jarvis into Captain America! The robot also admitted to slipping Cap a Hypno-Sedative to knock him out! Having taken over the Star-Spangled Avenger's identity, this new evil next faced an unexpected challenge as a costumed character calling himself The Tumbler smashed his way into the mansion! The ensuing battle messed with the creature's plans to first destroy Captain America and then move on to S.H.I.E.L.D. itself!
Tumbler actually proved so effective that he took out "Cap-daptoid" and tied him up! The doppelganger broke free and re-engaged with his new enemy. The ruckus, though, woke up the actual Captain America who jumped into battle, easily taking care of Tumbler. Cap and Jarvis then carried the seemingly unconscious shape-shifter to the Lab Analysis Room where the Adaptoid hatched the next phase of his plan.
As it happened, the Avengers played right into this new scheme. Cap brought in his teammates Goliath, Wasp, and Hawkeye to check out the new foe which gave it time to absorb their powers, thus turning itself into The Super-Adaptoid! The upgraded villain then revealed itself to Captain America who leaped right into battle with his emerald-hued opponent. Their fight started at Avenger's Mansion, but ultimately moved to the sky over the city. After the shield-slinger tumbled into the river below, Super-Adaptoid assumed he'd succeeded in the first part of its mission. It then waited for the next assignment from A.I.M., but heard nothing. Wanting to retain its autonomy, Super-Adaptoid took off to find refuge in this strange new world it found himself living in!
Stay tuned to Marvel.com for more throughout Kirby Month and beyond! And join the conversation on all of our social channels with the hashtag #Kirby100.
The Hype Box
Can't-miss news and updates from across the Marvel Universe!