Comics
Published August 11, 2017
Kirby 100: The Swine
Erik Larsen illuminates Jack Kirby's ability to wrench hearts with a Captain America classic!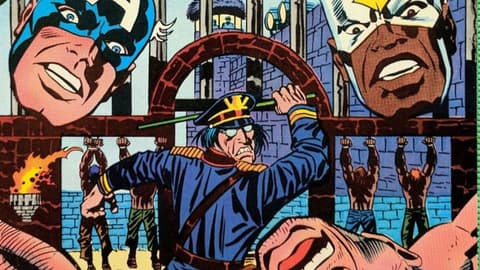 1917 to 2017: 100 years of Kirby.
Join us this month to celebrate Jack "King" Kirby's 100th birthday by learning about the characters and stories he created that changed comics forever. To commemorate Jack's centennial, we've sat down with the modern-day creators he influenced—and the decades of work he gifted us all.
"Picking a favorite issue is pretty much impossible. Jack did everything so well, it's hard to pick a favorite."
Erik Larsen sums up how many feel about the King's work. Between his early days on CAPTAIN AMERICA COMICS to his Silver Age co-construction of the Marvel Universe as we know it, Jack Kirby had a hand in releasing some of the most popular characters in all of pop culture. In other words, it's no small task to pick just one story to talk about.
"If I was to pick a favorite scene by Jack as a writer at Marvel—it'd have to be the sequence in CAPTAIN AMERICA [#206] where The Swine fed a starving prisoner at his table," Larsen explains. "Absolutely devastating. Powerful stuff, both story and art."
This particular tale came from Kirby's last stint on the character, during a time when he wrote and illustrated each issue. At the time, Steve Rogers shared the title with Sam Wilson, aka The Falcon—another Kirby co-creation. Issue #206 saw the creator shifting locations to a Central American jungle nation called Rio de Muerte, where a ruthless commander named Hector Santiago—dubbed "The Swine"—used prisoners for slave labor.
"The scenes with The Swine were just powerful and impactful," Larsen recalls. "You felt the pain. You felt the prisoners' plight. Yeah, the fights were explosive and the characters were great—there's so much there—but Jack was able to tear out your heart. I think fans tend to overlook what a terrific writer Jack could be."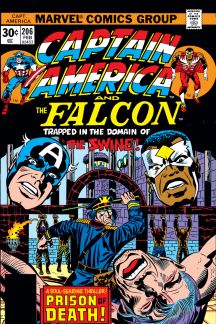 Captain America (1968) #206
Published: February 10, 1977
Added to Marvel Unlimited: November 13, 2007
What is Marvel Unlimited?
Thanks to a botched kidnapping and ensuing plane crash, Steve Rogers wound up in close proximity to Rio de Muerte. After the Swine's stooges found and attacked him, Santiago tried to shoot Cap, but ultimately stood no match for Steve's ingenuity—and shield.
Intending to escape and get out of the jungle, The Sentinel of Liberty had a realization when he saw Santiago's captives. Alongside Cap, readers witnessed the gruesome torture that The Swine put his prisoners through in attempts to make them divulge military secrets.
In issue #208, Steve fought off a Man-Fish monster before being trapped by the Swine's goons. Intending to torture Cap with a flamethrower, Santiago soon found himself betrayed by his own cousin Donna Maria. Tossing her into the torture chamber with Rogers, Hector looked to set them both on fire, when the creature returned and made short work of the villain. In short, one of the worst bad guys around got what he deserved in classic Kirby fashion.
Stay tuned to Marvel.com for more throughout Kirby Month and beyond! And join the conversation on all of our social channels with the hashtag #Kirby100.
The Hype Box
Can't-miss news and updates from across the Marvel Universe!