Comics
Published November 21, 2017
Kirby 100: The Time Killers
The Eternals face an assortment of villains from across the eras!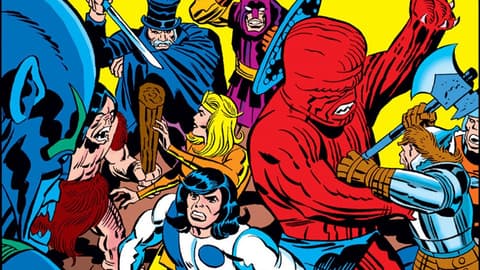 1917 to 2017: 100 years of Kirby.
Join us to celebrate Jack "King" Kirby's 100th birthday by learning about the characters and stories he created that changed comics forever. To commemorate Jack's centennial, we've sat down with the modern-day creators he influenced—and the decades of work he gifted us all.
When Jack Kirby returned to Marvel in the 70s, he came back to a mix of old favorites like CAPTAIN AMERICA and BLACK PANTHER as well as all-new comics like MACHINE MAN and ETERNALS. We discussed the latter to some extent with artist Mike Allred months ago. ETERNALS, about the titular race of super-powered beings defending humanity against the evil Deviants, allowed Kirby to tell huge, sweeping stories.
In ETERNALS ANNUAL #1—which "The King" also wrote and edited—Thena and Zuras realized the threat that Deviant Zakka the Tool-Master posed. In an effort to find and stop his machinations, Thena asked for help from a pair of Deviants who switched sides in ETERNALS #11: the fierce warrior Reject and the gentle giant Karkas. As she led these unexpected heroes to the big city, we got a glimpse of Zakka's nefarious invention, the time beam projector! To wreak havoc on humanity, he used this device to pluck individuals from their own time and bring them to the present before they would transport back to their respective eras.
Upon arriving in their temporary digs, Thena and Reject quickly encountered one of Zakka's unwitting pawns: Jack the Ripper. Just as the infamous murderer slid his sword from his cane to attack a young woman, Reject leaped into action and held the rogue off until he returned to his own time. Karkas fared about equally as well when faced with the might of Atilla and one of his Huns. After dispatching the villains, he showed his true, monstrous form to others in the hotel and they ran in terror. He then encountered Zakka himself, but failed to overcome his ultimate foe.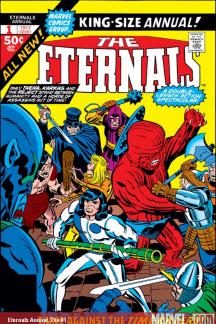 However, another succeeded in taking Zakka down. Instead of a hero, though, the assailant turned out to be another Deviant bent on destruction: Tutinax! Their first meeting left Thena, Reject, and Karkas on their backs, but after regrouping, the good guys chased the living wrecking ball down to stop his rampage.
Thena teleported them to an abandoned alley before they began their battle. Though Reject proved adept at dodging his opponent's blows, he soon realized that Tutinax would be very difficult to harm and also possessed enough strength to lift an entire building off of its foundation! Luckily for them, Thena stuck around keeping track of the villain with her Psycho-Band. Just as Reject and Karkas moved to rush their target, he disappeared! It turned out that he'd been brought to this time by Zakka's machine, meaning he could only last a short time before heading home.
Stay tuned to Marvel.com for more throughout Kirby Month and beyond! And join the conversation on all of our social channels with the hashtag #Kirby100.
The Hype Box
Can't-miss news and updates from across the Marvel Universe!