Comics
Published August 17, 2017
Kirby 100: The Verdict of Zeus
Mark Waid looks back upon a classic Thor/Hercules tussle from The King!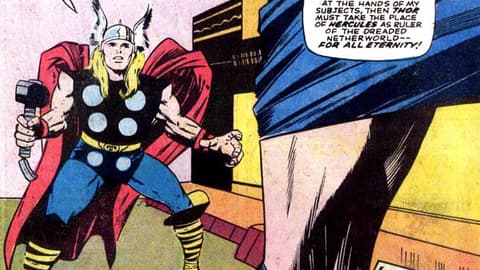 1917 to 2017: 100 years of Kirby.
Join us this month to celebrate Jack "King" Kirby's 100th birthday by learning about the characters and stories he created that changed comics forever. To commemorate Jack's centennial, we've sat down with the modern-day creators he influenced—and the decades of work he gifted us all.
A few days ago, we talked about how it can take some time to get used to an artist as dynamic and bold as Jack Kirby. By his own admission, AVENGERS writer Mark Waid didn't take to "The King" when he first experienced some of his comics at the Distinguished Competition as a kid. If you're wondering what made him change his mind about the artist, it came in the pages of JOURNEY INTO MYSTERY #125 and THOR #126–130.
"One of my all-time favorite Kirby stories is the 'Verdict of Zeus' epic, which I read at age 12 and was my introduction to Marvel Kirby," Waid said. "The sheer drama in that Thor/Hercules saga, with all its grandeur and all its humanity, was an education for me."
These issues contain many amazing moments bound to convert anyone to Camp Kirby. The first issue kicks off with a battle between Thor and a Norn Stone-enhanced Witch Doctor for several pages before shifting focus to a napping Hercules who helped move a downed tree from the train tracks.
After returning the Norn Stone to his father on Asgard, Thor attempts to tell his father that he revealed his secret identity to Jane Foster, but the elder god already knew! In his rage, Odin demands the other warriors present attack his son in "the Ritual of Steel." The Odinson fights valiantly and earns his trip across the Rainbow Bridge back to Midgard where he finds his beloved at a soda parlor with Hercules!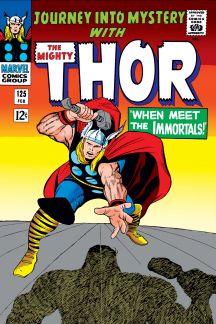 A wonderfully epic, titanic battle erupts between the two gods in the very first issue of THOR! How epic, you wonder? Well in addition to wielding enchanted uru hammers and Power Staffs, the two use trailer trucks, streets, heavy machinery, buildings, and bare fists to knock each other silly.
Hercules not only wins that battle, but also parlays the victory into a gig working on a gorgeous movie set overseen by mysterious supernatural figures disguised as humans. Meanwhile, Thor returns to Asgard where he stops an interloper from stealing Odin's power, but nearly at the cost of his own life.
Eventually, Thor heals up, which gives him the strength to help Hercules get out of a boneheaded deal he made to become ruler of the Netherworld, thus cementing a camaraderie that continues to this day.
Stay tuned to Marvel.com for more throughout Kirby Month and beyond! And join the conversation on all of our social channels with the hashtag #Kirby100.
The Hype Box
Can't-miss news and updates from across the Marvel Universe!