Comics
Published September 25, 2017
Kirby 100: Thor the Mighty
Jack Kirby helps bring the God of Thunder down to Earth!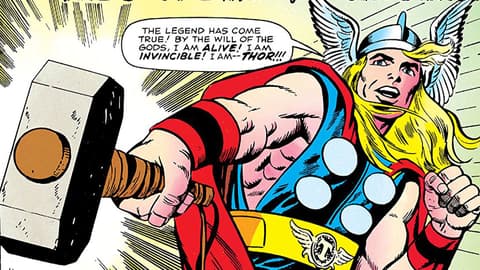 1917 to 2017: 100 years of Kirby.
Join us to celebrate Jack "King" Kirby's 100th birthday by learning about the characters and stories he created that changed comics forever. To commemorate Jack's centennial, we've sat down with the modern-day creators he influenced—and the decades of work he gifted us all.
We all know that Stan Lee and Jack Kirby changed the world when FANTASTIC FOUR #1 debuted in 1961 by kick starting the Silver Age of super hero comics. However, the full shift back to costumed gladiators didn't come right away. When Thor debuted the next year, Kirby had, as usual, a number of books out that month including three horror anthologies and a RAWHIDE KID! No offense to STRANGE TALES #99 or TALES TO ASTONISH #34, but it's pretty easy to see that JOURNEY INTO MYSTERY #83 stands as Jack's most important comic that month!
"The King" had been contributing stories, mostly of the monstrous variety written by Lee, to JOURNEY INTO MYSTERY since 1959's issue #52 and would stick around through to that series' completion and on into the THOR ongoing that launched with #126.
Back to that first appearance, though, Stan and Jack started with a near-splash page of this new character wielding his hammer and claiming immortality before jumping back and showing Dr. Donald Blake vacationing in Norway. Unbeknownst to anyone, a group of aliens seemingly made out of stone landed nearby, witnessed only by a fisherman whom no one believed. No one except Blake who overheard the story and investigated the next day. To his surprise, the fisherman's story proved a reality! He would have snuck away, but he stepped on a snapping stick and made a break for it, hiding in a nearby cave.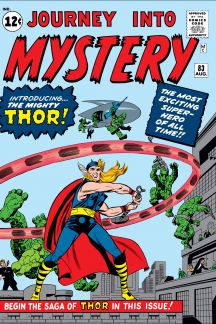 Before long, Blake witnessed the opening of a huge stone door and decided to scope out the newly opened room. Inside he discovered a stick that he used to move another obstructing rock. When it didn't budge, Don slammed the boulder with the stick. A flurry of lightning zapped the meek doctor, seemingly disintegrating the man, but instead turning him into Thor!
Shocked to find himself transformed, Blake looked down to read the inscription on the mystic hammer: "Whosoever holds this hammer, if he be worthy, shall possess the power of…Thor." With that, he easily freed himself from the cave and discovered some of the intricacies of his new abilities like how letting go of the hammer for a time resulted in him turning back into his mortal form. He then threw the mighty mallet and saw it return to him. He even brought about a huge thunderstorm with the yet-to-be-named Mjolnir!
While Blake played around, the Stone Men continued their plans for taking over the Earth, which partially revolved around projecting images of giant dragons into the sky to confuse approaching jet fighters. Witnessing the destruction caused when the planes hit a force field, Thor flew into action and easily bested the Stone Men at every turn, using his hammer to take out their weapons and even destroying their Mechano-Monster with a swing of Mjolnir!
Seeing that Earth played home to denizens such as Thor, the Stone Men retreated, hopped back in their spaceships and took off for other planets to conquer more easily. Not wanting to become an "international curiosity," Blake turned back into his normal self and wandered off before the military could question him.
Stay tuned to Marvel.com for more throughout Kirby Month and beyond! And join the conversation on all of our social channels with the hashtag #Kirby100.
The Hype Box
Can't-miss news and updates from across the Marvel Universe!