Comics
Published November 27, 2017
Kirby 100: When Titans Clash!
Thor first meets Hercules in a battle for the ages!
1917 to 2017: 100 years of Kirby.
Join us to celebrate Jack "King" Kirby's 100th birthday by learning about the characters and stories he created that changed comics forever. To commemorate Jack's centennial, we've sat down with the modern-day creators he influenced—and the decades of work he gifted us all.
Stan Lee and Jack Kirby established one of the most powerful friendships of the Marvel Universe back in 1965's JOURNEY INTO MYSTERY ANNUAL #1 when Thor and Hercules first met one another.  The tale began with the Odinson and his half-brother Loki riding through Jotunheim, home of the Storm Giants. As it happened, they stumbled upon a few of the locals trying to find a hidden path to Olympus. Legend had it that these behemoths earned expulsion from that other fabled city eons prior and intended to return to exact some vengeance. In his zeal to protect another god-filled place, Thor smashed his hammer into the ground, which did the trick of dispersing the Storm Giants, but also sent him tumbling into Olympus itself!
Though he only intended to find a way back to Asgard, Thor could not stifle his arrogance for long. Intending to cross a bridge and speak to a figure we would soon know as Hercules, the Asgardian forged ahead even though Herc also wanted to cross, a strange choice considering he could have simply flown or jumped over the water. Not one to back down himself, the Olympian Prince of Power simply flipped the bridge over with his own might, sending the Thunder God into the stream below. Both warriors quickly demonstrated their incredible strength to one another, wondering to themselves why the other didn't seem impressed or concerned!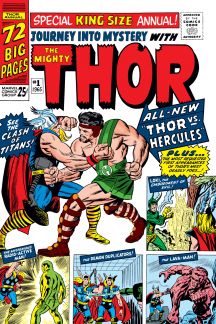 It didn't take long for the weapons to come out as Mjolnir and the Golden Mace proved equal to one another as well. Back and forth, the titans tussled with neither gaining an upper hand over the other until an outside force finally stopped the scuffle as Zeus himself appeared before the combatants. Recognizing this presence as the equal to his own father, Odin, Thor kneeled before this new entrant. After expressing the valor of both men, Herc's father called for peace and the two shook hands, entering into a friendship of legendary proportions. The ruler of Olympus then returned the wayward Asgardian to his homeland, though his memory of the encounter grew dim upon arrival. As Loki greeted his recently returned brother, he and Thor witnessed the amazing amassing of a mountain over the Olympus entrance!
Stay tuned to Marvel.com for more throughout Kirby Month and beyond! And join the conversation on all of our social channels with the hashtag #Kirby100.
The Hype Box
Can't-miss news and updates from across the Marvel Universe!