Comics
Published October 27, 2017
Kirby 100: Where Mortals Fear to Tread
Thor and Absorbing Man clash in a fight spanning NYC to Asgard and back!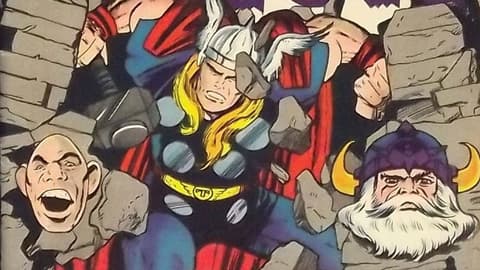 1917 to 2017: 100 years of Kirby.
Join us to celebrate Jack "King" Kirby's 100th birthday by learning about the characters and stories he created that changed comics forever. To commemorate Jack's centennial, we've sat down with the modern-day creators he influenced—and the decades of work he gifted us all.
Stan Lee and Jack Kirby put Marvel's mighty Thunder God through more than a few epic battles during their time as collaborators first on JOURNEY INTO MYSTERY and then the THOR ongoing series. One of wildest came in the pages of JIM #121–123 from 1965. The first part of the story kicked off with a splash of Thor just barely dodging Absorbing Man's enchanted wrecking ball. The pair battled fiercely, with Crusher Creel constantly reminding everyone within earshot that he could absorb everything from the uru metal of Mjolnir to Thor's very own strength upon contact.
Meanwhile, Loki watched on, having set Absorbing Man up to take on his half-brother. With the warlock Ularic assigned to watch over Loki as punishment, the son of Odin had usurped his intended master and hidden him in the floor unbeknownst to the other Asgardians. On Earth, Creel used every trick from turning into a massive colossus of steel and concrete to taking advantage of Thor saving a small child from the melee to finally knock him out in front of a huge crowd!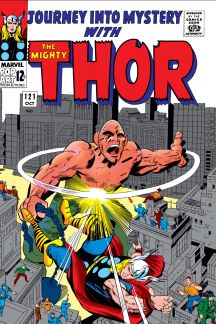 Of course, the blow simply stunned our hero who soon popped back up and showed Absorbing Man exactly how much he appreciated the sucker punch method of battle by pounding his foe. Just as Thor neared a complete victory, Loki used the Attractor Beam to bring Creel to Asgard in an attempt to take over. Still on Earth, the Thunderer checked on Jane Foster, held captive by a masked man. When Thor turned into Don Blake to see her, the mystery fiend snapped a picture, revealing himself as photographer Harris Hobbs.
After quickly demonstrating his complete power over Absorbing Man, Loki revealed his freedom to the skeleton crew of Asgardians still around and set Creel to attack those who opposed him. On his rampage he even managed to take on some of Odin's own cosmic energy! Back on Earth, Thor showed Hobbs just how powerful of an enemy he had made by quickly taking him to both the ancient past and the far future. Understanding what little leverage he had, Hobbs asked a boon: for the Avenger to take him to Asgard. Thor made good on his deal, but the pair had no idea the trouble they walked into.
Witnessing the battle between Absorbing Man and his father, Thor intended to jump right in, but Odin surprised everyone by simply offering Loki his scepter of power. Almost immediately, Creel tried taking that very object from the god of lies, but after witnessing their petty squabbles, the Allfather banished them both from Asgard with a wave of his hand! Upon returning to Earth, Hobbs discovered that he would never remember the amazing things he just saw. Luckily for us, we live in a world where a master like Kirby put all of those moments on pages that we can continue looking at over and over!
Stay tuned to Marvel.com for more throughout Kirby Month and beyond! And join the conversation on all of our social channels with the hashtag #Kirby100.
The Hype Box
Can't-miss news and updates from across the Marvel Universe!