Comics
Published December 2, 2020
Knull Strikes First in 'King in Black' #1
The god of symbiotes has taken the measure of Earth's Mightiest Heroes!
WARNING! THIS ARTICLE CONTAINS SPOILERS FOR KING IN BLACK #1, SO READ ON AT YOUR OWN RISK, TRUE BELIEVERS!
Ever since the beginning of VENOM, the Marvel Universe has been warned that "God is coming." This week, time's up. Donny Cates and Ryan Stegman's KING IN BLACK #1 has finally brought Knull to Earth. Readers of WEB OF VENOM: EMPYRE'S END #1 have already seen Knull handily defeat some of the best warriors in the Alliance of the Kree and Skrull. Now, it's Earth's turn to face Knull, and it's not going to be pretty.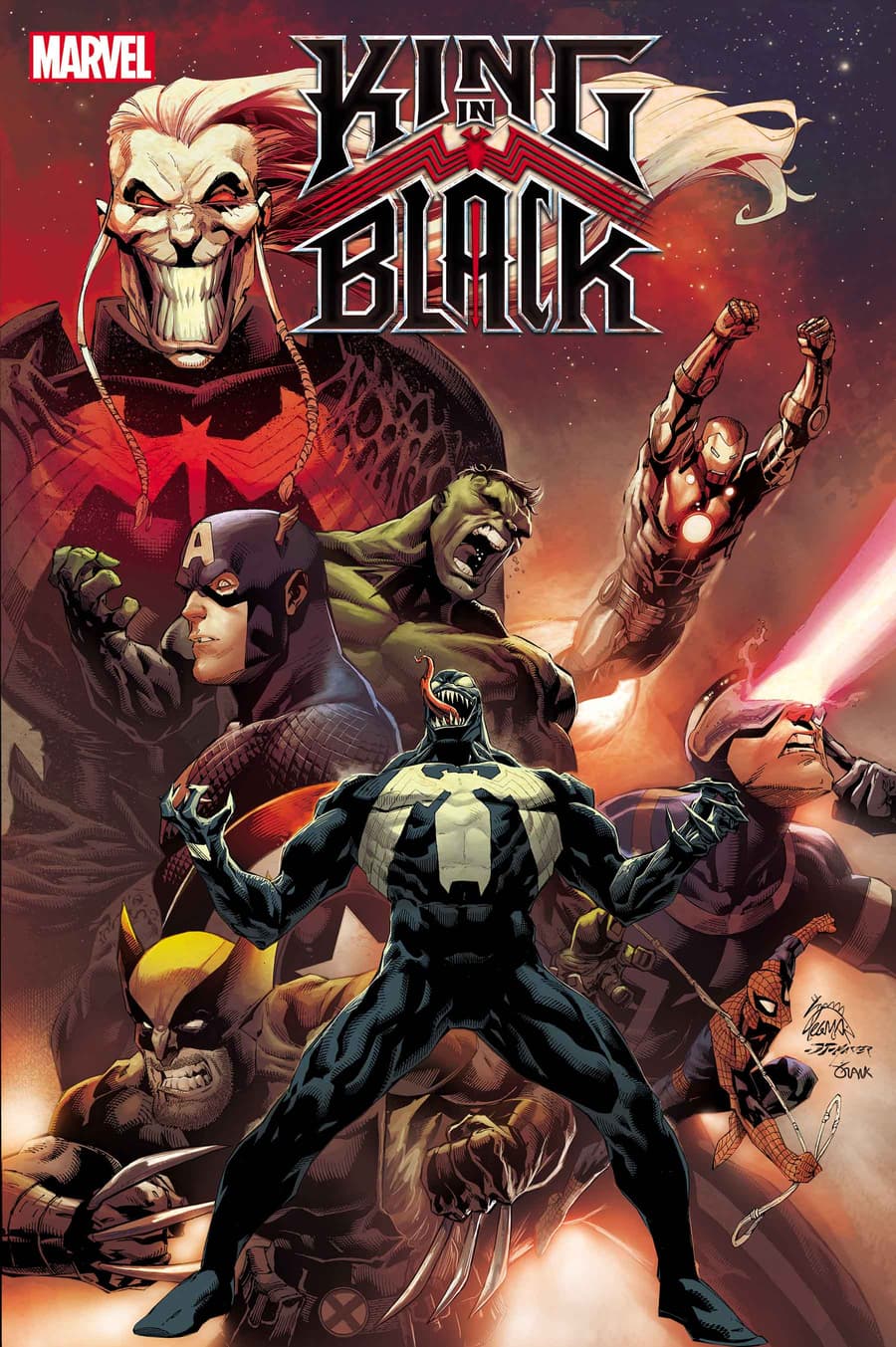 This all comes down on the head of Eddie Brock AKA Venom. He was ultimately the one who set Knull free in ABSOLUTE CARNAGE in order to save his son, Dylan Brock. Eddie was so guilt-ridden that he initially kept that info from the Avengers even after they floated the idea of Venom joining the team. In VENOM #25, Eddie finally gave the Avengers everything he knew about Knull. But apparently, even that foreknowledge didn't slow down Knull's rampage.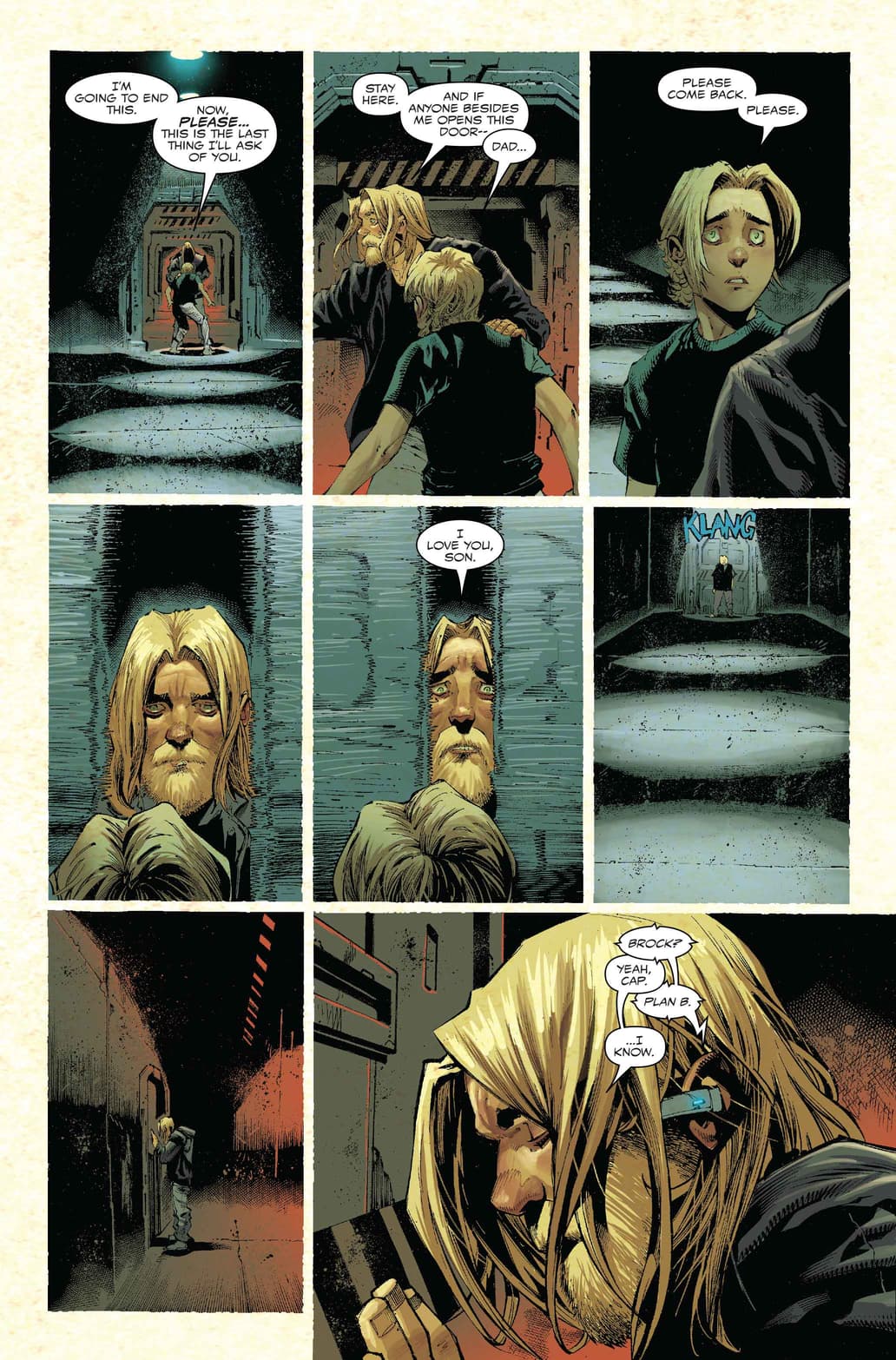 In the aftermath of EMPYRE, Earth had a makeshift orbital defense system created from the remains of Kree and Skrull ships. It also proved to be ineffective against an army of symbiote dragons. Eddie estimated that the bombs planted by Tony Stark AKA Iron Man only took out about one hundred of the symbiote dragons – out of a force that has thousands.
Strangely enough, Thor is missing in action even though his power alone could conceivably turn the tide against Knull. Without the Odinson, it was all hands on deck for Earth's heroes, including the Avengers, the Fantastic Four, the X-Men, and even the street-level heroes. Meanwhile, Eddie made sure Dylan was safe, over his son's objections. Peter Parker AKA Spider-Man previously gave Eddie access to a nuclear vault that was created by Spidey's late associate, Ezekiel. For the moment, it may be the only safe place on Earth.
The last line of defense came down to Eddie himself as he attempted to access the Spire, the biological construct used by Carnage to control his spawn in ABSOLUTE CARNAGE. Unfortunately, it wasn't until that moment that Eddie realized just how dire the situation had truly become. Eons ago, the Celestials were Knull's first enemies because they dared to shine creation's light on his kingdom of eternal darkness. Now, Knull has settled the score by encasing the cosmic gods in impossibly large symbiote suits of their own. The Celestials are Knull's slaves, and that means a difficult fight has just become impossible to win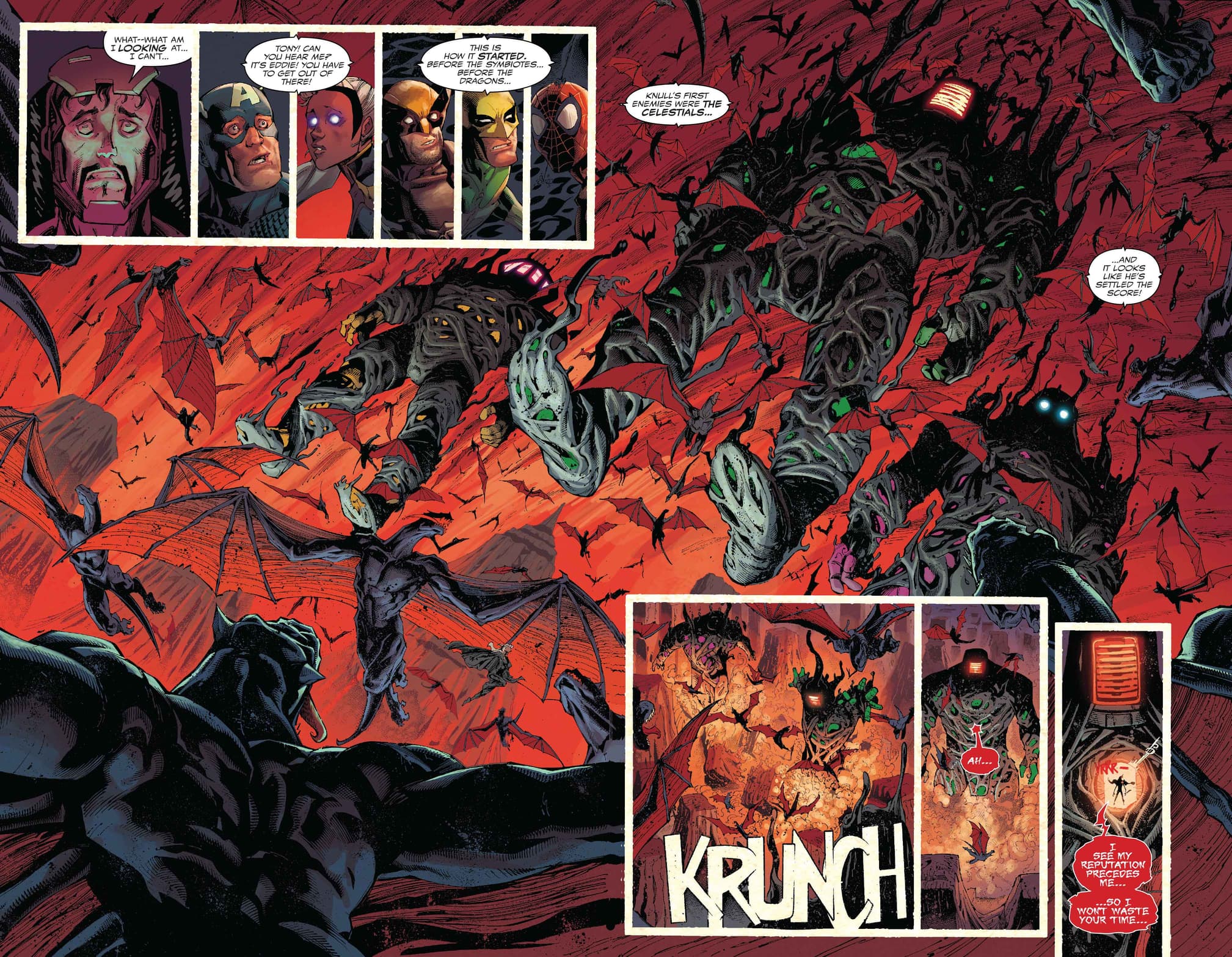 Captain America and the Avengers had one trump card in reserve: Sentry. Bob Reynolds is arguably one of the most powerful Super Heroes alive. He very nearly made a difference here after slaying one Celestial and carrying Knull into the upper atmosphere. This was a callback to NEW AVENGERS (2004) #2, when Sentry did the same thing to Carnage. Knull even brought it up before turning the tables on Sentry. He then tore Sentry in half, not unlike the way Sentry murdered Ares in SIEGE (2009) #2. More chillingly, Knull declared that he is the Void, since Sentry's inner demon and all darkness bow to him.
Knull didn't stop there. His symbiotes overpowered Cap and several other heroes while he encased the entire planet in a symbiotic dome. Without any other options, Venom decided to meet Knull's demand for "Brock" if only to give the remaining heroes more time. Eddie and his symbiote shared a brief moment of reflection before they confronted their "maker."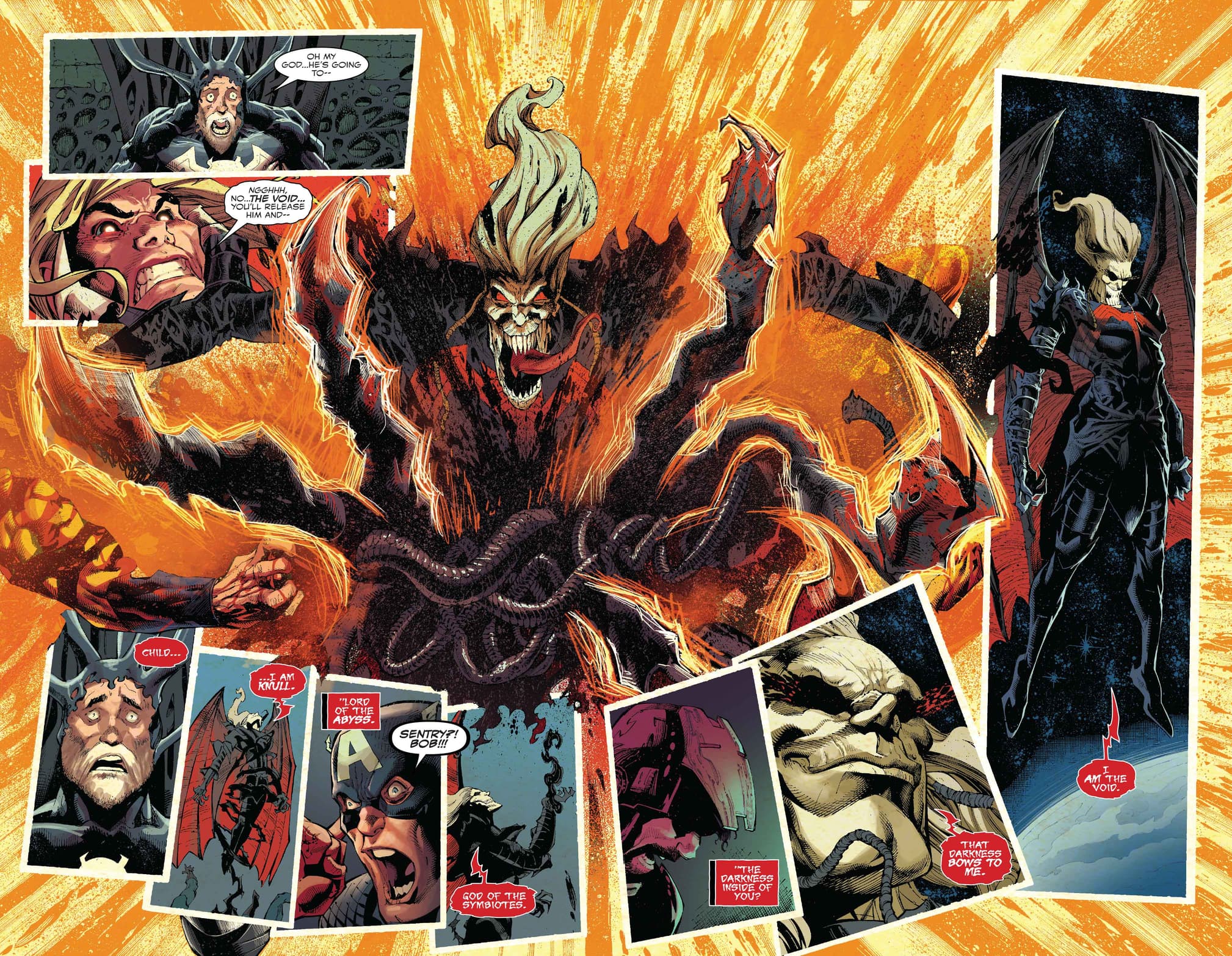 There wasn't even a fight. Knull simply grabbed Venom and brought him to the top of the Empire State Building. As a further indignity, Knull revealed that he barely remembered Eddie at all and that he wasn't the "Brock" he wanted to see. Instead, Knull wants Dylan Brock, the only known human/symbiote hybrid who can also access the symbiote hive.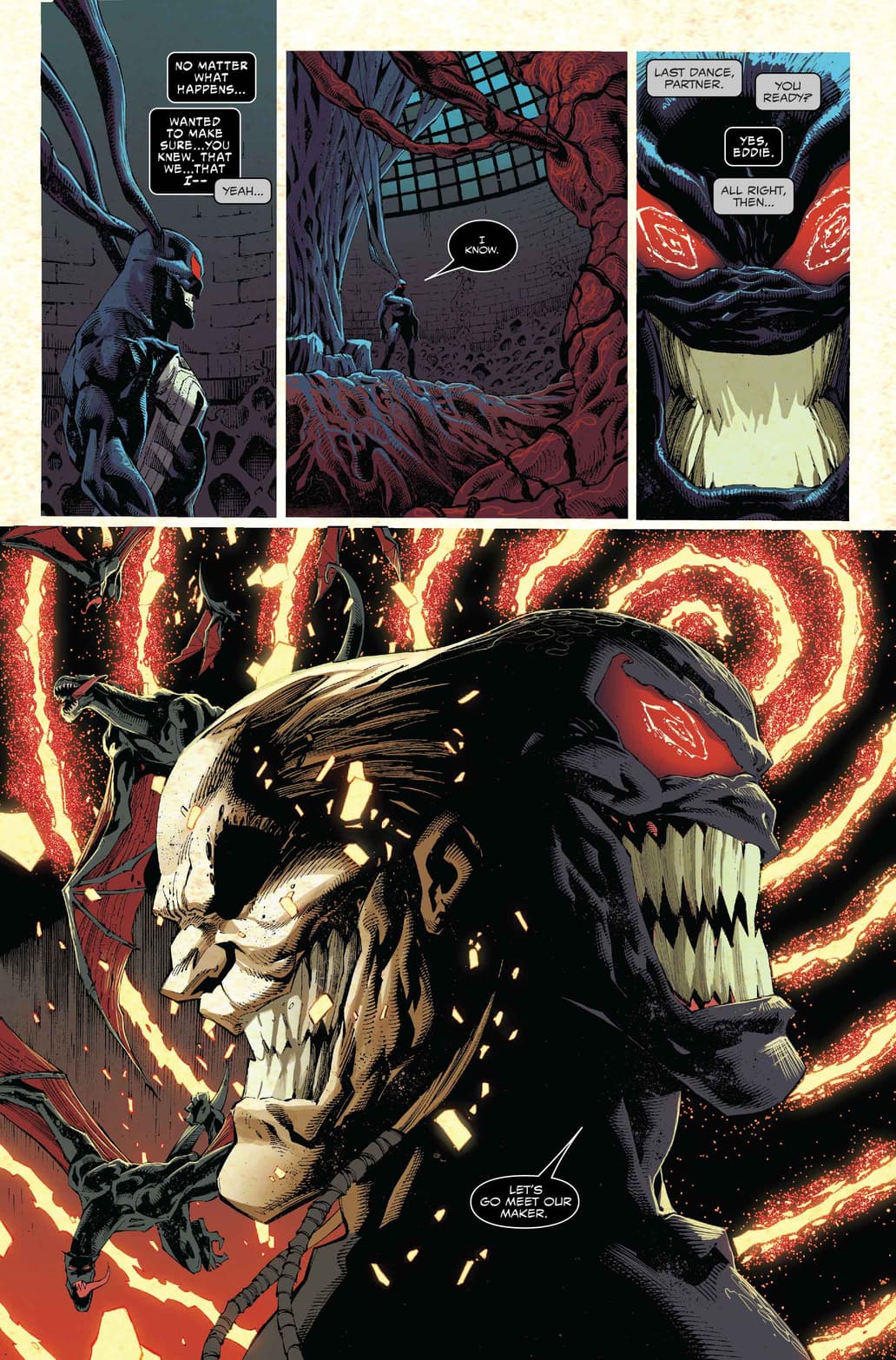 With no further use for Eddie, Knull tore the Venom symbiote from his body and simply dropped Eddie from a great height. And if somebody doesn't catch him, Eddie is going to die.
Things certainly look dire now, and the darkness is spreading throughout the entire KING IN BLACK event!
Be sure to ask your local comic book shop about their current business policies to observe social distancing or other services they may offer, including holding or creating pull lists, curbside pick-ups, special deliveries and other options to accommodate. Find and support your local comic book shop at http://comicshoplocator.com or by visiting http://marvel.com/lovecomicshops.
For digital comics, all purchases in the Marvel Comics app can be read on iPhone®, iPad® and select Android™ devices! Our smart-paneling feature provides an intuitive reader experience, ideal for all types of mobile device and tablet users!
For Marvel's most up-to-date release schedule for your favorite comics, visit http://marvel.com/newcomics.
The Hype Box
Can't-miss news and updates from across the Marvel Universe!