Comics
Published November 15, 2017
Loose Nuke: A Weapon X Sketchbook
Yildiray Cinar puts Sabretooth and company up against a super-soldier!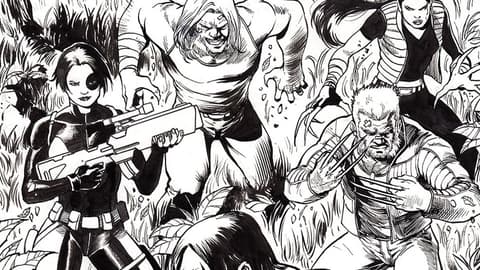 Yildiray Cinar will join one of the most dangerous crews in comics this fall—that's right, he's the new artist on WEAPON X with issue #12 on December 13! In addition to working with killer writer Greg Pak, who launched the book last year, the artist will also try his hand at bringing together the likes of Sabretooth and unbalanced super-soldier Nuke.
What kind of opponent could offer a big enough threat to two of the toughest fighters in the Marvel Universe? How about an anti-mutant militia upgraded to have the same powers as Nuke himself? Yeah, that seems like a big enough challenge!
We talked with Cinar about putting Sabretooth front and center, updating Nuke, and working with Pak!
Marvel.com: How has it been jumping on this book with Greg Pak so far?
Yildiray Cinar: It was pretty fast. After my two issue run on CABLE, [editor] Darren [Shan] asked me if I'd like to join WEAPON X and I jumped on it. I [have] had a chance to collaborate with Greg before. It is fantastic to be working with him again. This story is pretty fun and crazy!
Marvel.com: For you as an artist, what sets Weapon X apart as a group when it comes to them interacting both on and off the battlefield?
Yildiray Cinar: The characters make it by themselves. Weapon X is a very fun group of mutants. The best [feral mutants] of the X-Universe. But, in the end, they're all different from each other, which makes this easier for me.
Marvel.com: This first arc finds Sabretooth and company going up against a group of Nuke-powered, anti-mutant militiamen. How did you work to make them all look like members of the same unit?
Yildiray Cinar: Well, they all use red pills and [have] flags on their faces. All crazy-eyed soldiers! That was easy!
Marvel.com: You also get to work with the original Nuke in this story. How was it putting your spin on that classic character?
Yildiray Cinar: I am a huge fan of [Frank] Miller and [David] Mazucchelli's DAREDEVIL [arc] "Born Again," so when I saw that original Nuke was in the story, I got really excited and happy. For this story, I am trying to portray a crazier version of Nuke.
Greg Pak and Yildiray Cinar cut loose with WEAPON X #12, coming December 13!
The Hype Box
Can't-miss news and updates from across the Marvel Universe!