Comics
Published September 25, 2017
Luke Cage: Begin Again
Writer David F. Walker takes Luke back to his roots for Marvel Legacy!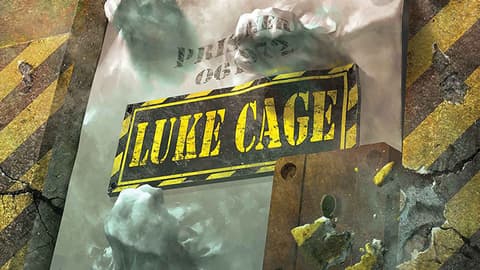 Once upon a time, Carl Lucas got thrown into jail for a crime he didn't commit and emerged as Luke Cage, the humbled Hero for Hire. Now, courtesy of writer David F. Walker and artist Guillermo Sanna, he's going back in.
On October 18, Marvel Legacy begins with a trip back to the crucible that forged this future Avenger in LUKE CAGE #166! The "Caged" story arc catches Luke out of his element, at a low point in his life—and stuck in a prison he can't escape with his fists.
We sat down with Walker to hear more about heading back to the character's iconic roots.
Marvel.com: What can you tell us about Luke getting chucked back into prison—and the threats both inside and outside those walls?
David Walker: Well, when Marvel first announced the whole Legacy initiative and we were discussing it, we talked about bringing some of these very iconic characters back to their core and their essence. And to me, it was pretty simple—why don't we take Luke Cage back to where he started when we first met him back in 1972? Let's put him back in prison.
And then it became a question of getting him there. What might he be in prison for? How do you keep him in prison when he's got super strength? We reverse engineered a certain amount. To a certain extent, this storyline that we're doing could almost be a retelling of his origin in a weird sort of way. So then our questions were: who's our villain going to be? Who will be his allies? And how will this story take Luke to someplace new?
For me, as a writer, there's no point of tackling something if you don't have the opportunity to try to get the character to someplace new—some realization about themselves that they never had.
Marvel.com: Unlike the first time he found himself in jail, Luke heads inside as an established hero. How will this new stint in jail affect him?
David Walker: That's a really good question and it's loaded with potential spoilers…but there are some obstacles that keep him from being the Luke Cage we know and love; that keep him from being Luke Cage that he knows he can be, if that makes sense.
A lot of it will be about him rediscovering himself and, in the process, older readers and old school fans will hopefully appreciate the trials and tribulations we're putting him through. And new fans will jump on to see a guy really going through, essentially, discovery.
Marvel.com: You touched on this, but Luke has his powers now…so what's stopping him form just breaking out of jail?
David Walker: Ahh, now there's a big spoiler right there.
There will be obstacles—he'll face a lot of obstacles and that ended up being one of the tricky things we had to try to figure out: how do you keep him from just busting out? We didn't want it to be the standard "special prison" that has like, you know, some sort of de-powering ray gun or something like that. But how he's kept locked up, why he's locked up, all that stuff becomes interconnected and a lot of it gets revealed within the first issue of the arc. Then we build upon that and then it becomes about overcoming these things that are keeping him trapped.
A lot of it becomes a metaphor for the way all of us can become trapped in circumstances that may be beyond our control and seek to define us in ways that are not accurate or truthful to who we actually are.
Marvel.com: Being behind bars has always been crucial to the Luke Cage legacy because it helped transform Carl Lucas into the hero for hire. Since this kicks off Marvel Legacy, how did you want to explore the character's history?
David Walker: I've been doing a lot of whispering to my editors that I'd love to do a "Luke Cage: Year One" sort of story.
In the original series, back in the '70s, the time he spent in prison covered, I think, one or two issues. He didn't spend a lot of time in prison for a crime he didn't commit. They would recall that a lot—though they didn't spend a lot of time showing him there. We're spending a fair amount of time showing him in this place where he actually doesn't have the control that he thinks he has or that he's used to having—and that's the part of the exploitation of the character.
I really wanted to use this opportunity to tell a story that explored not just Luke Cage at his core, but who Carl Lucas at his core—because a lot of people sort of forget that before he was Luke Cage, he was Carl Lucas. What exists deep down inside? What makes him the hero that he is? That's part of what I wanted to get into in a way—now he's in prison with a lot of history and a lot of experience, so who Luke now feels very different than Luke then.
I don't know if that answers the question or not. I'm worried about dropping spoilers because it seems like this whole story arc is full of spoilers.
Marvel.com: Can you talk about how you went about writing the overall narrative—and perhaps offer a few teasers about what we can expect as the "Caged" storyline begins?
David Walker: There will be more than one cliffhanger. Issues #166-#169 just keep getting worse for Luke. Issue #166 ends pretty bad, #167 feels like, "Oh, I didn't know it could get any worse," and then it just keeps getting worse, and worse, and worse for poor Mr. Cage.
Writing it turned into a question of finding the right beats. The first beat, in terms of cliffhanger endings, will be Luke in a situation where he's unaware and he doesn't know what's going on. The second one ups the danger level and will be like, "OK, now we're going into uncharted territory. And then life and death territory." We'll turn up the tension with every single issue.
LUKE CAGE #166, by David F. Walker and artist Guillermo Sanna, hits on October 18!
The Hype Box
Can't-miss news and updates from across the Marvel Universe!