Comics
Published February 6, 2017
Luke Cage: Hard Knocks, Big Easy
David Walker takes the Hero for Hire on a trip down south in his new ongoing series!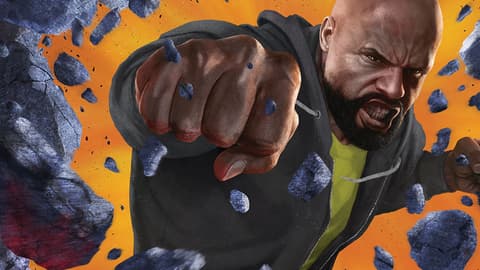 For New Orleans, Christmas comes in May this year—Sweet Christmas, that is.
David Walker, fresh off the POWER MAN AND IRON FIST series, continues to chronicle the adventures of one half of that daring duo in an all-new LUKE CAGE ongoing series, joined by Nelson Blake II on art and Rahzzah on covers.
When Luke heads to the Crescent City for the funeral of the man who gave him powers, he runs into trouble; mysterious billionaires, amped up gangs and shadowy figures add up to some bad gumbo for the Hero for Hire. We spoke with Walker about the new series and what kind of fiddle-faddle Cage finds himself in this time.
Marvel.com: We've spoken before about your love for the 1970/80's Power Man and Iron Fist material. What are your thoughts on the character now, having gotten the chance to write his adventures with Danny in their most recent series?

David Walker: Writing Luke as one half of Power Man and Iron Fist was a blast. Now that I'm writing his solo adventures, I can focus on him in a different way. I'm switching up not only how I write, but the types of stories I'm telling as well. In some ways, it feels like I'm writing Luke for the first time.
Marvel.com: What's the premise of the new comic?
David Walker: This is all about Luke finding trouble and busting heads. The first story is about him dealing with the death of an old friend, and finding out there's more to the death than meets the eye. Luke is definitely in the role of the private detective; he just happens to have super powers.
Marvel.com: It's been a while since Dr. Noah Burstein has appeared in the comics, although we did see him in the recent "Luke Cage" Netflix TV series. For those who may not know, who is he, and what's his relationship like with Luke?

David Walker: In the original comic series in the 1970's, Burstein was the scientist who experimented on Luke, and in the process gave him his powers. The character on the show plays essentially the same role, but in the comics Luke and Burstein have a different, more positive relationship. In the comics, Burstein thinks of Luke as a son.
Marvel.com: You're taking Luke out of New York to the Big Easy. How does this change of setting affect the former Power Man?

David Walker: I just wanted to pull him out of his element for this story. Taking a character out of an environment where they are sure of themselves, and then putting them in a place of physical and psychological uncertainty often makes for good drama.
Marvel.com: It sounds like Luke is away from home and, presumably, away from allies like Danny and Jessica Jones. Will we be seeing any of his friends or family in the comic?

David Walker: Eventually, yes. But right now he's on his own, and that is difficult for him. I want the reader to get a sense of Luke Cage as an individual, and it's been a long time since we've really seen that.
Marvel.com: You've got a great team in place for the first issue, with artist Nelson Blake II and cover artist Rahzzah. What's it been like working with them?
David Walker: It's been great. Both have come to the table with great ideas and amazing visuals. Rahzzah's covers are amazing. His work is so good that I worry about my writing doing the covers justice. Same with Nelson's art—I worry my writing isn't half as good as what he's drawing. Between the two of them, LUKE CAGE will be a visually dynamic series.
LUKE CAGE comes your way this May courtesy of David Walker, Nelson Blake II, and Rahzzah!
The Hype Box
Can't-miss news and updates from across the Marvel Universe!