Comics
Published September 19, 2017
Marvel Cosplay at Dragon Con 2017
Check out a gallery of the greatest costumes on display this year in Atlanta!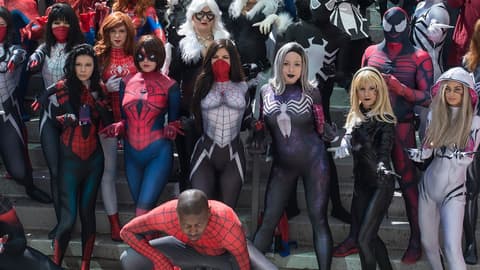 Additional reporting by Maggie Klimentova
For the ninth year, Marvel's own cosplay expert Judy Stephens returned to Dragon Con in Atlanta, GA to cover the incredible Marvel Cosplay on show throughout the convention.
Dragon Con, which draws fans from all over the world, saw a record number of attendees—over 80,000!—visit over Labor Day weekend. And there were hundreds, if not thousands, of cosplayers showing off their love for Marvel in photo ops, during panels, and on the convention floor.
Marvel cosplayers gathered to show off their creativity and talent during the Marvel Universe Photoshoot, organized by the Super Hero Costuming Forum, on Sunday, September 3. More than 400 cosplayers attended, representing characters like Captain Marvel, Spider Gwen, Doctor Strange, Scarlet Witch, Wolverine, and more!
Check out this gallery to see some of the amazing costumes captured by Judy Stephens and photographer Nicole Ciaramella.
If you'd like to share your Marvel cosplay photos from Dragon Con, please send them to Cosplay@marvel.com!
Marvel's use of all photos are governed by the Marvel.com Terms of Use and Privacy Policy. All submitted photos must be of cosplayers 13 years of age or older. All selected individuals/groups will be required to sign and return Marvel's likeness release and waiver form.
The Hype Box
Can't-miss news and updates from across the Marvel Universe!