Comics
Published January 23, 2017
Marvel Future Fight: Monster Smash
New Monsters Unleashed uniforms debut for your favorite 'Future Fight' heroes!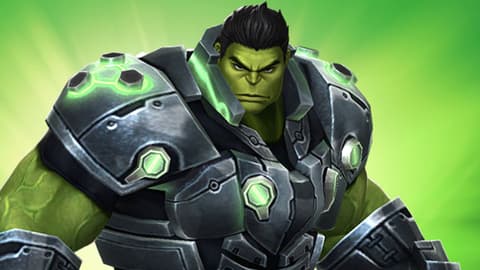 Alongside the new Marvel NOW! content in this month's "Marvel Future Fight" update, Marvel's Publishing and Games teams collaborated with developer Netmarble to craft an exclusive set of Monsters Unleashed-inspired armors for a select group of the game's heroes. However, instead of keeping these outfit designs limited to "Marvel Future Fight," the game's lead artist Jee-Hyung Lee created a set of connecting MONSTERS UNLEASHED variant covers showing off the heroes in their new gear!
Players can check back throughout the Monsters Unleashed event to grab the new armors as each new issue hits shelves. To get the lowdown on this monstrous team-up, we spoke with Bill Rosemann, Creative Director of Marvel Games, and Jee-Hyung Lee, Netmarble's artist for "Marvel Future Fight."
Marvel.com: How did this collaboration come about?
Bill Rosemann: Months ago, as soon as our Publishing pals Senior Editor Mark Paniccia and Assistant Editor Christina Harrington shared their Monsters Unleashed goodies with us, Senior Producer Danny Koo reached out to our partners at Netmarble, who immediately wanted in on the fun. Speaking of fun, we thought the time was right to once again create something new and exclusive to the game, much like we did when we teamed to introduce the patriotic powerhouse Sharon Rogers during our Captain America 75th Anniversary event back in July. They worked together to forge all-new armored looks for Amadeus Cho [as] Hulk, Medusa, Elsa Bloodstone, Moon-Girl & Devil Dinosaur, and new superstar Kid Kaiju. Together with the five MONSTERS UNLEASHED variant covers by "Marvel Future Fight" artist supreme Jee-Hyung Lee, these exclusive additions show yet again how our Publishing and Games teams consistently unite to deliver the latest excitement that readers and gamers deserve!
Marvel.com: Why armor? Did you discuss any other kinds of unique uniforms to implement?
Bill Rosemann: When you're marching forth to battle behemoths like knights of old facing dragons, what better to wear than armor? But in true Marvel fashion we wanted to give each character's Monsters Unleashed armor a modern twist to reflect our characters' sci-fi roots.
Marvel.com: How did you go about choosing which heroes would suit up in this Monsters Unleashed armor?
Bill Rosemann: I don't want to ruin the fun by giving any spoilers, but I can say that as True Believers read the Monsters Unleashed event, they'll discover that each of these five characters have key roles in the [plot]. So rather than just selecting our most popular characters, we felt that choosing heroes central to the story would add that extra layer of authenticity that "Marvel Future Fight" players respect.
Marvel.com: What was the design process like for the new uniforms?
Bill Rosemann: Because Jee-Hyung Lee is so phenomenally talented, the creation period was swift and energizing. Once we agreed on the high concept, it just took a few back-and-forth exchanges about specific character elements and detailing to nail each final image. Every day Danny and I would open our email, hoping for the arrival of a new sketch or updated colors, and each time Jee-Hyung blew us away with his creativity, design sense and character knowledge.
Marvel.com: When did the variant covers come into the mix?
Bill Rosemann: The teams at Marvel Games and Netmarble always aim to over-deliver, so we just kept piling on the ideas. Hey, what if we spotlight and introduce characters with key roles in the event? Hey, what if we design all-new, exclusive uniforms for them? Hey, what if Jee-Hyung creates new in-game art of each character? Hey, what if we ask Editorial if they want to publish Jee-Hyung's art as variant covers for each issue of MONSTERS UNLEASHED? It's all about having fun, stretching those creative muscles, and delivering the ultimate gaming experience to True Believers.
Marvel.com: Jee-Hyung, were you excited to bring your "Marvel Future Fight" style to these covers?
Jee-Hyung Lee: As a concept artist, it is especially exciting to be able to design costumes because it is an opportunity for me to clothe characters I am a fan of.  I was delighted to be creative without straying too far off their original concepts of course.
Marvel.com: What was your inspiration for each hero's look in the cover art?
Jee-Hyung Lee: I wanted to divide the five connected illustrations by color. Each hero has a key color that represents them. In my design, I displayed certain colors on certain areas of their body to really emphasize those areas. I wanted the characters to express their personalities through their facial expressions. This is why the viewer will be able to see eye-to-eye with the six characters including Devil Dinosaur and even Kid Kaiju's summoned monsters.
Enjoy new armor in "Marvel Future Fight" and be sure to pick up MONSTERS UNLEASHED, issue #1 on sale now and issue #2 coming next week on February 1!
The Hype Box
Can't-miss news and updates from across the Marvel Universe!