Comics
Published July 12, 2017
Marvel Legacy: Avengers
Mark Waid and Jesus Saiz tell us what's in store when the Avengers and Champions clash!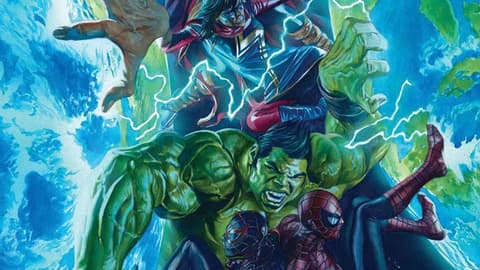 Following the events of GENERATIONS comes a confrontation that's been in the making since CIVIL WAR II — the Avengers vs. the Champions! Throw in the High Evolutionary, and you've got a recipe for excitement as Marvel's premier super team and the heroes of tomorrow finally have it out.
We caught up with the AVENGERS creative team of Mark Waid and Jesus Saiz to find out what to expect when these two teams come together to tear it apart.
Marvel.com: Mark, as part of Marvel Legacy it sounds like we're getting the confrontation we've all been waiting for, as the older Avengers finally face the younger Champions — many of whom are former Avengers themselves. How's it feel to finally get to tell this tale you've been building to?
Mark Waid: I've been waiting to tell this story ever since Avengers #1, for more than a year. It's the first really big story the Champions have been involved in, and they're really gonna be put through their paces.
Marvel.com: We saw this confrontation first start to percolate when the younger heroes left the Avengers in the wake of Civil War II, but in the post-Secret Empire world, what's the relationship like between these two generations of heroes?
Mark Waid: Better…but not great. The Champions probably aren't getting enough credit from the Avengers over what they were able to accomplish during Secret Empire, and that doesn't go down well.
Marvel.com: What role does the High Evolutionary play in the story?
Mark Waid: He's the villain, the prime mover–and when I say "mover," I mean something's causing Counter-Earth (on the other side of our sun) to begin approaching our Earth at cataclysmic speed towards a shattering collision–unless the heroes can stop it.
Marvel.com: Jesus, you're coming on board following a stint with Nick Spencer on Captain America. What was the draw for you to work on Avengers? And how's it been making a transition to a team book and getting to draw all these characters?
Jesus Saiz: Well, after working on Cap, I guess the only way up is working on Avengers! You can't get a much higher character profile than that!
Although Captain America was a solo book, the truth is the scope of the story was huge; it already has a ton of characters, so I hope drawing a team book won't be so different, I don't think things could get much bigger. Of course, Mark could probably prove me completely wrong!
Marvel.com: What's been your approach to characters, visually, both on the Avengers side and the Champions side?
Jesus Saiz: What I find more exciting in these groups visually is the variety; each character is completely different from the rest. All of them are very unique in terms of, not only physicality, but personality and demeanor. I think this will be the biggest challenge, to give each one a particular posture, movement and "acting."
Marvel.com: What's it been like for the two of you, working on the book together?
Mark Waid: I'm a big fan of Jesus's work and I can't wait to see what he does!
Jesus Saiz: Working with one of the best, most respected and beloved writers of the Industry? Yeah, I think I can live with that.
Marvel.com: Finally, we can't talk about the Avengers without talking about the roster. Mark, are there any changes to it you can tell us about, as this new story starts? Jesus, are there any characters you'd love to see added to the story, just to get a chance to draw them?
Mark Waid: No roster changes in the FIRST part of the story–but I can promise you that all the Champions you see at the beginning of the story won't necessarily make it to the end.
Jesus Saiz: Since my arrival at Marvel, there's a guy who has been avoiding me that I would love to draw: Odinson, especially in Asgard. Probably I will have to wait a little longer, I don't think this is the time.
The Hype Box
Can't-miss news and updates from across the Marvel Universe!