Comics
Published July 31, 2017
Marvel Legacy: Falcon
Sam Wilson soars again thanks to Rodney Barnes and Joshua Cassara!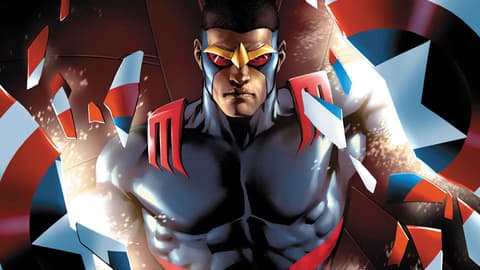 While the events of SECRET EMPIRE have not been kind to Sam Wilson, this Fall the hero will return to his roots as he leaves behind the shield and returns to his original moniker, the Falcon!
Rodney Barnes, the award-winning television writer who has worked on "The Boondocks," "Everybody Hates Chris" and "Those Who Can't," will team with Joshua Cassara (SECRET EMPIRE: UPRISING) to bring the former Captain America back down to street level – and take him to places he hasn't seen before.
We caught up with Barnes and Cassara to find out what they have in store for the high-flying Avenger!
Marvel.com: Rodney, this is your first regular series for Marvel, but I understand you've been a fan for a while. What are some of your first memories of discovering the Marvel Universe? What are some of your favorite storylines?
Rodney Barnes: My mother was an elementary school teacher when I was a kid. She'd do her lesson plans at the public library in Annapolis, Maryland, and I'd go with her. I must've been eight or nine at the time, and I recall this area where they'd keep comic books. I clearly remember reaching in this huge box and pulling out the Neal Adams issues of the AVENGERS. I was hooked. I loved the Jim Starlin's WARLOCK and CAPTAIN MARVEL books (early Thanos was great!). Marshall Rodgers' DOCTOR STRANGE, Miller's run on DAREDEVIL, Claremont/Byrne/Cockrum's X-MEN, Barry Windsor-Smith's "Red Nails" stories in CONAN … [laughs] I could go on forever. 
Marvel.com: How did you end up working for Marvel?
Rodney Barnes: I was working on season two of "Vinyl" for HBO when midpoint we were cancelled, and I needed a gig. My agent told me about a Marvel series that was looking for a writer at my level. I had two shows and a movie in development at the time, but I'd wanted to work for the company so badly that I took the interview and fell in love with the show's creators. So, I sort of abandoned my development and went on to have one of the best creative experiences to date. The entire experience from top to bottom was incredible; great, talented folks that loved working in the Marvel universe. Once I was hired, I made it known that I was interested in writing comics and the universe came together and here we are.
Marvel.com: Joshua, how did you end up working on the Falcon?
Joshua Cassara: I had been working some SECRET EMPIRE stuff when my editor Tom [Brevoort] had approached me with this.  Of course under super-duper, double secrecy, he filled me in on the project and that I'd be pairing up with Rodney on FALCON.  That's when I was introduced to our editor, Charles Beacham, who is helming this ship.   
Marvel.com: What was the draw for the two of you to work on the new FALCON series?
Rodney Barnes: Reading the Captain America stories where Falcon was his sidekick and enjoyed them. But since it was Cap's book, Sam typically acquiesced to him. So even as a kid, I hoped that if I ever got the opportunity to write a story for him, I'd venture into uncharted waters.
Joshua Cassara: It's exciting to a part of launching the solo Falcon book.  He definitely deserves his own series, especially following the events of SECRET EMPIRE and his run as CAPTAIN AMERICA. It's been a long time coming.
Also, I was really happy to be partnered up with Rodney on this adventure. His take on where Sam is now and where he's going is something totally new for Falcon, and will be awesome for me to create visually.  
Marvel.com: Sam's been through hell recently; taking over the mantle of Captain America didn't work out so well for him, given the guy who handed him the shield, his best friend, turned out to be a sleeper agent. What's his state of mind as the series begins?
Rodney Barnes: Uncertain. He blames himself for not seeing sooner Cap's true self. This has sent him on a journey of self exploration. It's my hope that when he comes out on the other side he's stronger and more focused.  
Marvel.com: During Secret Empire Sam seemed to give up his costumed identity. Rodney, can you talk about why he returns to being a costumed hero?
Rodney Barnes: The symbolism. After Hydra, the world has been thrown into a meat grinder. History was rewritten and the symbols we held dear were replaced with Hydra propaganda. Sam wants to reestablish the importance of hope via symbolism. His costume is a step in that direction. 
Marvel.com: You introduced the new Patriot in SECRET EMPIRE: BRAVE NEW WORLD. What role will he play in the new series?
Rodney Barnes: Rayshaun helps to balance Sam's perspective. He's pretty hard on himself at this point and Shaun helps him get out of his feelings. 
Marvel.com: What villains can we expect to see plaguing Falcon and Patriot? 
Rodney Barnes: The first arc they're battling Blackheart. If they make it past him I think it's safe to say that the demons father won't be too happy about that. Then literally — excuse the pun because I can't help myself — they'll have hell to pay! Sorry [laughs].
Marvel.com: Joshua, what have been your favorite moments to draw so far in FALCON? Has there been anything so far that Rodney has challenged you to do that's been especially fun?
Joshua Cassara: I'm early on in this series, setting up our hero's return to the street level.  So portraying the chaos and grit of a city that's mired in turmoil is always a blast. That sounds terrible, doesn't it? 
But the real fun and challenge I'm looking forward to is the turn towards the mystical elements that we're heading towards. It's something I've never really explored before art-wise, and I only wish I could draw faster so I can get there as quick as possible! 
Marvel.com: When you're drawing something street-level, what kind of research do you do for the comic, to ensure you capture the setting?
Joshua Cassara: Well, obviously, the internet is your biggest friend in searching for reference images of all kinds. Especially searching for things that might be unique to Chicago since this is where our story takes place. But I will also incorporate personal experience I've had or witnessed in other big cities. Or even some settings or portrayals I've seen in a movie.  It's an amalgam of them all and I make it my own.  
The Hype Box
Can't-miss news and updates from across the Marvel Universe!