Comics
Published August 1, 2017
Marvel Legacy: Iceman
A cold front seems to be approaching Marvel Legacy!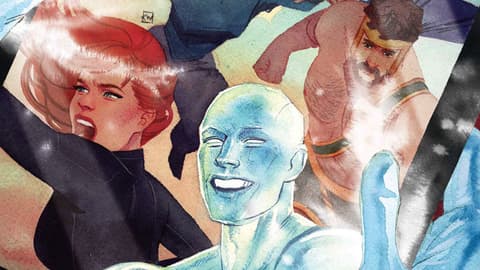 Writer Sina Grace takes Bobby on a trip down memory lane in ICEMAN #6, and with everything going on in Bobby's world as of late, something tells us he's going to give a very warm welcome to this cooling off period. A slightly awkward reunion in Los Angeles with teammates from his youth is bound to be less emotionally draining than his life back in the same city as his parents, right?
Marvel.com: Bobby has been a member of a lot of pretty legendary teams throughout his run, what made you choose to reunite the original Champions team?
Sina Grace: The Champions chapter of Bobby Drake's history appealed to me the most not only because of the awesome/eclectic cast of heroes in the MU, but I was also drawn to his headspace at that time – he's The Kid on yet another team. Plus, I wanted to try and use the landscape of Los Angeles (my literal hometown!) to my advantage.
Marvel.com: How has Bobby changed since his days with the Champions? How have they changed?
Sina Grace: From a fighting standpoint, Bobby has become way more powerful, and I feel like he's ready to be more of a leader. Angel's sort of an emotional mess. The other folks in The Champions have a lot of stuff to talk about when they reconnect in Los Angeles.
Marvel.com: How does this affect the team's dynamic? Any awkward catching up going on?
Sina Grace: Everyone is a bit detached, so it's funny that the coolest guy on the team is going to warm them up. The kid never realizes that they're sort of the glue of any team: the one everyone likes to tease, and the one everyone looks to for a bright smile, or a quick chuckle.
Marvel.com: What's going on in the book? What new troubles await our heroes and what's their plan to combat them?
Sina Grace: Honestly, this is the first time I've had to dance around some storylines that affect the entire MU! Between the stuff that goes down in the issue where Iceman fights Juggernaut (number five), and the aftermath of the epic Secret Empire arc, everyone's a bit shaken– to their literal core. The Champions return together for comfort. While they're in Los Angeles, there's some interesting foul play afoot. I don't want to say too much about who they're up against, but it's a fun spin on the theme of "Legacy."
Marvel.com: What can we expect from the art in this book? A new take on the old hero's, a bit of a throw back to the classic style, maybe a bit of both?
Sina Grace: We'll have a few throwback panels sprinkled in the first few pages of their reunion, but I just want to let Robert Gill go flippin' nuts and have a blast! His approach to Bobby is so lighthearted and similarly vibrant. There's that Nick Bradshaw energy he was throwing in the Jason Aaron WOLVERINE & The X-MEN books. I'm so lucky to have him tackling a story that really juggles action, drama, and humor throughout the event.
Marvel.com: A big part of the series has been about Bobby getting comfortable in his own skin and attempting to get closer to his family, how will that play into this reunion?
Sina Grace: Let's just say he's really happy to be in Los Angeles, taking a break from context. But we'll see some of Bobby's perspective on raising a kid who became such a special hero.
Marvel.com: What's next for our favorite cool kid on the block?
Sina Grace: Bobby's going to be re-evaluating how he moves forward in life. He's learning how to make decisions that feel right, and it's going to speak to his journey as a hero in a legit way. Similarly, fans can expect to see the time displaced Bobby real soon! Not in the Champions story, though.
Marvel.com: What is your personal favorite scene in the issue? Any inside jokes you can clue us in to?
Sina Grace: There's a scene where Bobby sends a group text to see what his teammates are up to for the night. The panels that show how each of the Champions spends downtime in L.A. slays me. That's my favorite scene, and it's also the most humorous moment.
Also, who knew Johnny Blaze was so funny? Folks will see! I kind of write him a little bit like the Marvel Ron Swanson. Few words, lots of whiskey.
Marvel.com: Anything you can add or tease?
Sina Grace: All I want to say is that I feel like I've found my groove with this series, and the Champions story is a fun two-parter for readers who've been picking up since issue one, but it's also a delightful way to hop in on the Iceman train! Also, look out for some visual Easter eggs in the arc. 😉
The Hype Box
Can't-miss news and updates from across the Marvel Universe!