Comics
Published July 18, 2017
Marvel Legacy: Invincible Iron Man
Writer Brian Michael Bendis takes Riri Williams into the Marvel Legacy event!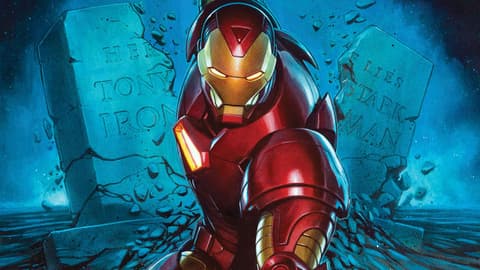 Writer Brian Michael Bendis normally needs no introduction, but we're going to make the attempt anyway.
He's the man who this fall will take INVINCIBLE IRON MAN into the Marvel Legacy event and set the Iron Man Universe on its iron-plated ear. With Tony Stark gone, seemingly disappeared, he's the only guy who can see Riri Williams through the next massive phase of her, and a few other important characters, development.
Marvel.com: Brian, in general, why is it important for you to highlight the concept of legacy in the Marvel Universe?
Brian Michael Bendis: Well, two things happened when Marvel started playing with this idea for the fall, and [when I heard] the theme, I just started smiling ear to ear, because it's literally about what all my books are about at the moment. It's just where I was at in my head. Number one, because some of the characters that I'm writing are legacy characters, they're actually starting in someone else's legacy and we'll see where they end up, in great Marvel tradition. But right now, Miles Morales and Riri are two of the most spotlighted characters in this arena, and it's just a great opportunity to zero in on what the book has been about.
Now for Iron Man, it's not just Tony Stark's legacy. It's Riri Williams' legacy, Victor Von Doom's legacy, and Tony Stark's legacy. It's not just a normal person's legacy; it's wide, and it's got a lot of tentacles…not to be too Hydra with the tentacles. But his reach, and the reach of his legacy, from the Avengers to the Stark Foundation, is enormous. So we're going to get to explore some things about Tony, and about the Iron Man Universe that we haven't seen before, and it just so happens that we've spent the last year and a half building up to this, like this is where I was headed.
Now, what's cool is, all three of the main Iron Man characters will be joined by other Iron Man characters, looking for what has happened to Tony Stark. If we're going to get Tony Stark back, what form will that be in? And how cool will the armor be? Now, there are other characters in the Iron Man universe that I'm not mentioning right now, big characters. Amanda, MJ, Friday, Tony A.I., huge characters, a lot going on and a lot of connections to the Marvel Universe, all of which will be detailed and unfolded within the storyline that starts with INVINCIBLE IRON MAN #593.
Marvel.com: How cool is it to go back to the original numbering?
Brian Michael Bendis: You know, when the very fun choice to go back to our original numbering came about, quite a few titles, IRON MAN in particular, are right there at a big anniversary issue. So we're headed, very quickly, towards a gigantic IRON MAN #600, and I couldn't be more thrilled.
Marvel.com; When this Marvel Legacy storyline starts, has Tony's condition changed at all?
Brian Michael Bendis: Tony's situation has changed. And that'll be teased in the Marvel Legacy one-shot by Jason Aaron and Esad Ribic, and then I think our INVINCIBLE IRON MAN issue comes out like right after that, and you can dive right in: big, brand new, very reader-friendly Iron Man storyline.
Marvel.com: Of the big Iron Man characters that you've mentioned, who would you say will be most moved by Tony's disappearance?
Brian Michael Bendis: All of them for different reasons, but I have to say, Victor is in the most unusual situation. What Riri is going through, people will identify as "Oh, I've looked up to someone." This relationship is very relatable, in a way. Like, I've had mentors in my life, people who I was trying to figure out without directly talking to them, you know what I mean? Trying to figure out stuff about myself through their humanity. Whereas Victor is on just about the biggest, most complicated redemption story…one of the biggest villains in the history of all fiction is trying to claw himself out of the hole. How much he's been able to do is amazing. But, the enemy list he has created in doing so is enormous, and it's not just from this dimension. So, his involvement in Tony Stark's legacy may become, at one point, such a struggle, that he may destroy it. And something new has to be created, or he makes a sacrifice that brings up something new as well. What's going on with Victor is probably the most unique thing going on story-wise at Marvel.
Marvel.com: Let's talk about Riri again. What can you say about her further development going into this storyline? Is this going to be, to date, the ultimate challenge for her?
Brian Michael Bendis: Yes.
Marvel.com: Okay! You heard it here first! Next question!
Brian Michael Bendis: Yeah, listen; we're just eight issues into her run! The amount of attention she's garnered from fans in just eight issues is amazing. Compared to seven years ago with Miles, and I know the whole market was different, but it took a while, until the end of the second storyline, for people to really go "Oh okay, he didn't [bleep] it up." So, I've been quite flattered, to the point of becoming emotional, about how unbelievable the support of Riri has been. There was this young woman online that has been making her own Riri armor and her dad keeps tweeting it. Literally every time we put it out, there are like 60,000 retweets and likes, it's crazy. It's insane.
Marvel.com: Good crazy.
Brian Michael Bendis: The best. So, the point is, Riri is at the larva state of her super hero career. She has literally gone out, I think, five times by the time that this Tony storyline starts up again. She's had some big wins; she's had some defeating losses. Something crazy happens in the next issue of INVINCIBLE IRON MAN that I don't want to spoil, but people are gonna be like "What?!" We don't know what form her version of super heroing will take, she's still building it. We don't know what form her technology will take. So, of all the characters, there's a good chance—and I'm pretty much telling you it is—that she's going to evolve past the Iron Man construct to something else, and I think that's pretty exciting.
I look at her like imitating the amazing style of an amazing artist. Like Bill Sienkiewicz is the best example. Very early in his career, he was highly referenced and influence by Neal Adams, and Neil Adams is a very difficult thing to imitate, right? Very difficult. And he did it, and you were like "Wow, you're an amazing artist, you can do Neil Adams!" right? That's how I look at Riri right now. She's amazing. She can do Tony Stark pretty good, but, like Bill Sienkiewicz, will she evolve so far past it that people won't even remember that she was Iron Man Universe-related? You know, is she capable? And again, you can bring up many other examples in music and television and film where the influence is there, and then they don't need it anymore, then something else happens. And that's where Riri's headed in the next year.
Marvel.com: You've got her, you have Victor, you have some other strong personalities in there. Would you characterize what's going to happen as a violent clash?
Brian Michael Bendis: No. It's a philosophical [clash], and I've already got Riri and Victor's first meeting out of the way in INFAMOUS IRON MAN, because everybody assumes they were gonna beat each other up. And when you get there, and Victor doesn't want to fight, there's no fight. You can hit him all you want, he's not gonna fight back, and Victor's not mad at her, and Victor's not in a crazy, manic state that he usually, or sometimes, is in. He's calmed down. So, when she shows up in his life, this is a brilliant young woman that he can relate to, and this isn't someone that he'd wanna fight.
Also, he's very aware of what it feels like to be in her position, at the beginning of your studies, not even knowing what you don't know. That's one of my favorite things, finding something out. Oh, I didn't even know I didn't know that, you know? And I know, he'll get really excited for other people discovering things. So this is the Victor we're dealing with right now. Not the whole mad genius. Now, does he want to turn her into the whole mad genius? Who knows? And also, may I say, Riri is at a very precarious stage. She's had a world with nothing but loss and confusion in it. Intelligent characters- intelligent people- in this world we live in right now, find themselves very frustrated. Unintelligent leadership, and science not being the forefront of the society; you can read about it all the time, this is not something that I'm making up. Intelligent children sometimes shut down because they're like "Whoa boy, this… everything's weird." So that's part of Riri's development.
Marvel.com: Is she easily influenced?
Brian Michael Bendis: No, not easily influenced. [And] it's not stubbornness; I don't see it that way, but I have a person in my life who decides things before they absolutely know them. And sometimes they're right, because their confidence and intelligence is very strong, and sometimes it's "Oh no, I was wrong." But their guess, their instinct is very good, right? So that's part of where she is. So her instincts [leads to her] calling it like she sees it. Like she sees bull and calls it, and then finds herself in the middle of it.
I have a storyline going right now where she's right in the middle of terrorist actions in Liberia and S.H.I.E.L.D being S.H.I.E.L.D, she doesn't buy into any of it. So she's kind of just making up her own place in it, and it's throwing off all of the ways that people do things. Maybe in a good way, maybe in a bad way, but she's gonna have some mistakes she makes, big, big mistakes. But there's something really brassy and confident about the way she handles things, and that is something Victor is going to be able to talk to her on. He will be able to communicate his philosophies through that idea.
Marvel.com: So far, it doesn't sound like the tone of INVINCIBLE IRON MAN will change with the advent of Marvel Legacy.
Brian Michael Bendis: Oh no, no. First of all, what Stefano Caselli has accomplished with Riri this year is so amazing that he sometimes gets mislabeled as the creator of the character, even though it's Mike Deodato who co-created the character. But that's how strong Stefano's voice is, and how connected to the action with the character he is, it's just amazing.
But with him in mind, just doing unbelievable work, that's the tone of the series. That's Riri's worldview, her perspective…you know, we're so often in her perspective. I know people are very curious where she is in certain spectrums—that's been a question that people have had. She's clearly outside of what would be considered normal, on a couple of different things. I think that's a celebratory thing. I'm surrounded by people in different places in different spectrums, and without diving headfirst into what that is and what that means, we're gonna explore that as well. And I think a lot of younger readers identify with that, much in the way they identified with the original Peter Parker and his struggles, I really do.
Marvel.com: When you talk about her being brassy, do you think that's really what people are responding to, or one of the main things?
Brian Michael Bendis: It's funny that the panels that pop up in my tumblr or Twitter feed always kind of let me know. There's like, six or seven panels that I see every day, that people go "Yes!" or "I'm scared for her." It's a mixture of that, [and] it's really cute. And I'll get all "I'm scared for her, too!" Like they're scared for her, and yeah, I am, too and I wrote it! I'm really scared for her.
Marvel.com: You also have something to say about MIT and Riri?
Brian Michael Bendis: I'm going to be speaking at MIT in November. I was invited by them to come speak about comics and culture. And what was amazing was that we had Riri come to MIT. It was a campus I did a lot of research on for a project that was unrelated to Marvel, an HBO thing that didn't happen, but I had so much feeling about this place, I loved it, and I said I was definitely gonna have a character there one day. And then years later, it was like "The coolest place we can have Riri live is the MIT dorms!" So when I started putting this in, little did I know, that MIT had completely embraced this character.
They created this amazing admissions video. It was actually pretty hilarious. So in November, at MIT, we're gonna make a pretty major announcement about Riri. So people that are invested in her, people who are supporting her, there is big stuff coming with her. MIT's a very unique place for a character in her first year to be so well-received, not unlike what Kamala Khan and Moon Girl experienced.
It's hard to describe to people, because no one was asking for them. That's what I love about the Legacy characters. Nobody said "I want Miles," or "I want Riri," but then they got them and they were like "Thank you." And that was the best feeling in the world.
Marvel.com: It sounds like you're still digging this job. Has your own outlook changed on INVINCIBLE IRON MAN as you've gone along?
Brian Michael Bendis: No, what happens is, and this is one of the great things about a higher profile gig, is no matter what you're writing about, you start your research and whatever you're doing, and then people find out you're writing about them or writing about something they know, or whatever, like the young woman who's making her Ironheart armor in her garage. You reach out and they inspire and they share their stories.
There was a friend of mine who has a brilliant young daughter who is literally obsessed with Mae Jameson. That's real and honest and I have to use that. There's a scene where you see young Riri trying to get her teacher to give her something to push back against because she feels that that's what made Mae Jameson great, right? And I know some people said, "Oh, is she asking for…?" and I was like "No, she's trying to live up to her hero," without realizing that her hero made it easier for her, and that's a big lesson for her too.
Every day it's something new, new people share their experiences, people inspire me to keep going. I can't wait to get to MIT, I'm literally gonna go live in the dorm, live in Riri's world, so I'm so excited. And on top this, yes, back to Marvel Legacy. Yes, these legacy characters mean the world to me. I'm very invested in them and I'm very invested in how much the audience has supported it and what we're gonna do now. And I know when people hear "The Return of the Heroes," they worry about the new hotnesses. You do not have to. To fans, so you know: you have made it so Riri, Miles, and Jessica Jones can sustain their own titles. It's insane, right? So, we will never ignore that.
Marvel.com: Last question—do you miss Tony?
Brian Michael Bendis: Oh, no. 'Cause I got Tony A.I. the whole time, which is uber-Tony, so any great Tony joke I can think of, this guy will do it.
It's funny: Tony is the itch I never had to scratch. Literally from the moment I came in to Marvel, I've been writing Tony in some book. And I never did it on purpose…and everyone's always focused on how I'm always writing Kitty Pryde in every book. But Tony made it into every book—every book had Tony Stark in it. Totally by accident! You look back and you go, "Oh, that's funny. Even in the Guardians of the Galaxy, too."
I never wrote a book without Tony. My love for him is obviously as strong as it can get for a creator and a character that they didn't create.
The Hype Box
Can't-miss news and updates from across the Marvel Universe!