Comics
Published August 31, 2017
Marvel Legacy: It All Starts Here
Kicking off a new era in Marvel history with Jason Aaron!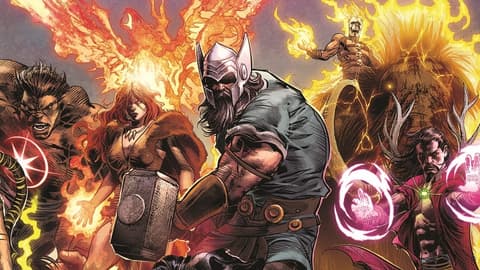 On September 27, a new dawn for the Marvel Universe begins with the epic 50-page one-shot MARVEL LEGACY #1!
Writer Jason Aaron and artist Esad Ribic lead a team of all-star illustrators—Daniel Acuna, Jim Cheung, Russell Dauterman, Stuart Immonen, Greg Land, Pepe Larraz, Alex Maleev, Ed McGuinness, Steve McNiven, and Chris Samnee—on a journey that ushers in a new era of Marvel storytelling. And everything culminates with a return you've been waiting for—and one you've been dreading…
MARVEL LEGACY #1 springs all 53 Marvel Legacy story arcs into action—refreshing the legendary heroes you love and introducing some previously unseen faces set to assert themselves into history.
We sat down with Jason Aaron to map out a new beginning for the Marvel Universe.
Marvel.com: Can you walk us through what MARVEL LEGACY #1 is all about?
Jason Aaron: Well, it's a huge 50-page one-shot that's sort of like a primer, as the Legacy initiative takes off, for everything that's going on in the Marvel Universe. It touches base with almost all of the major characters in the Universe—including the different versions we have of some of our main characters. So, you know, we see both versions of Thor, we meet up with Steve Rogers and Sam Wilson…it's a roadmap for all the big stories coming up in all the major books. And it also sets up a couple of new stories that'll play out in very big ways in the months to come; they'll affect a lot of our books coming up, including a book I'll be working on.
We introduce some new characters, too! This book introduces a group of prehistoric Avengers from 1 million B.C. They're a big part of this once they're introduced. Then, when their story gets up and running, we'll pick them up down the road in the pages of something else…
Marvel.com: Is it hard to keep track of everything, considering all the characters and storylines involved?
Jason Aaron: No, not necessarily. It's always a challenge to write characters you've never written before and there were a few in here I'd never handled, but that's also exciting! You're getting to play with so many different toys.
It's certainly the biggest thing I've ever written—with biggest cast of characters I've ever written. It's a lot to try and juggle because we didn't want it to seem just like a random collection of pages; there's got to be a story that strings everything together.
Marvel.com: Who's working with you on this book?
Jason Aaron: This Legacy one-shot has the biggest, craziest collection of artists I've ever worked with! Esad Ribic does the bulk of it but you also get awesome people like Steve McNiven, Russell Dauterman, Ed McGuinness, Jimmy Cheung, Chris Samnee…and then Daniel Acuna, Stuart Immonen, Greg, Land, Pepe Larraz, and Alex Maleev. With Joe Quesada on the cover!
All of these artists are doing a part of this—and everything makes sense with the way the story gets set up. For instance, it made a lot of sense to get the guy who's doing the brand new CAPTAIN AMERICA book to draw the panels when we cut away to Steve Rogers. [Editor] Tom Brevoort stacked up a team of amazing artists, so it's a really gorgeous book.
Marvel.com: With so much history at hand, how do you make the story fresh?
Jason Aaron: I think that's always the continuing challenge, the whole time I've been working at Marvel. You're dealing with some characters that have been in continuous publication for a lot longer than I've even been alive! There's always the challenge of continuing that story and honoring everything that we've built over the decades, while, at the same time, bringing something unique to the table—taking those characters somewhere further down the road than where you found them.
We've kept things fresh by changing the people who've been holding various mantles in a way that still speaks to the core of these characters' mythologies. I like that we've got a more diverse cast of characters when you look around the Marvel Universe—and you can do that without changing the nature of the story those characters have existed in for years.
Marvel.com: Seeing all of those different iterations gives Marvel the chance to have a dialogue with its own history. In your mind, how has Marvel evolved over the years?
Jason Aaron: These characters have always adapted to the times, which I think they have to. Any characters who endure that long…on one hand, there's some kind of core conceit that makes them who they are and endures no matter what—but at the same time, they have parts that need to change and adapt. That's how the good ones last for so long.
I like that the landscape of our characters has changed. I think there's always a push and pull between how much change might be too much, but I like that we mix it up. This Legacy one-shot acknowledges all the different versions of the characters we have right now and teases where their stories are going in the months to come.
Marvel.com: What does the legacy of Marvel mean to you?
Jason Aaron: Legacy honors Marvel's past—all the books are reverting to Legacy numbers and have all these variant covers that refer to past storylines—so it's very much about exploring everything you love about Marvel's history. It's about the legacy of these characters and the legacy of amazing creators who've worked on them throughout the years.
I think about the rich history of amazing writers and artists who've worked on these books over the years—people I grew up as a tremendous fan of… going all the way back to Stan Lee and Jack Kirby, of course! Those of us who work at Marvel and get to craft the destinies of these characters—we never lose sight of the fact that we've been given the opportunity to stand on the shoulders of giants.
Dive into MARVEL LEGACY #1 on September 27!
The Hype Box
Can't-miss news and updates from across the Marvel Universe!