Comics
Published December 19, 2018
Marvel Memories: Holiday Treasury Editions
When Marvel went super-sized for the holidays!
Back in 1974, Marvel wanted to not only give its fans the most comics for their money, but to do it in the biggest way. Launched late that year, MARVEL TREASURY EDITION weighed in with a whopping big 100 pages in an immense, over-sized format that readers went wild for. Then they pulled out something really cool.
Late that year, the House of Ideas dropped a bountiful bombshell with the mouthful-of-a-title MARVEL TREASURY SPECIAL, GIANT SUPERHERO HOLIDAY GRAB-BAG. It lived up to that title and more, as well as inaugurating a somewhat short-lived annual tradition.
In-between brand-new John Buscema front and back covers—the back illustration cleverly showed the literal backsides of the heroes springing forth on the front—Marvel laid out reprints of four then-recent and not-so-recent stories which alternated back and forth between Christmas and non-holiday tales. MARVEL TEAM-UP #1 and the Black Widow story from AMAZING ADVENTURES #5 held up the holiday theme for the book, while the famous clash between Daredevil and the Sub-Mariner from DAREDEVIL #7 and the even more famous double-issue battle between the Fantastic Four, the Hulk, and the Avengers from FANTASTIC FOUR #25-26 brought the Super Hero action to the big book in spades.
The very next year, Marvel did it all over again, that time folding a holiday-themed offering into 1975's MARVEL TREASURY EDITION #8.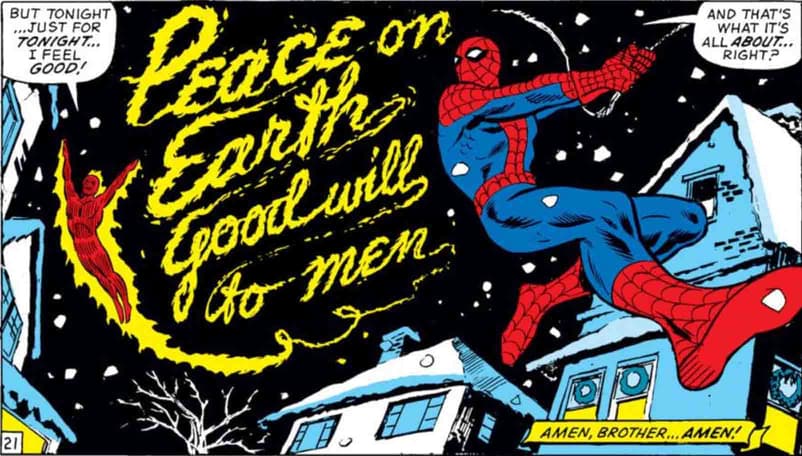 Once again, readers found themselves unwrapping reprints sandwiched between new front and back covers, but by John Romita and Rich Buckler for the occasion. They also shook up the hero line-up by including stories with Nick Fury, Spider-Man, Luke Cage, the Hulk, and Doctor Strange. As in the previous holiday special, Christmas stories alternated with non-Christmas issues, and perhaps as a bonus, the last story in the book's set at New Year's.
Nick Fury faced off against the Hate Monger on Christmas Eve in NICK FURY, AGENT OF S.H.I.E.L.D. #10, Spidey got a little crazy in AMAZING SPIDER-MAN #24, Luke Cage played in the snow with a deranged madman in HERO FOR HIRE #7; the haunting of the Hulk occurred in INCREDIBLE HULK #147, and to top it all off, the Sorcerer Supreme's New Year's Eve date with Clea met with disaster in DOCTOR STRANGE #180. It stood as an eclectic mix, but it worked somehow when packaged as colorfully and as joyfully as it came.
On a holiday roll—once perhaps spiced with nutmeg and cinnamon—Marvel didn't disappoint its fans in 1976 and gift-wrapped another Christmas collection for MARVEL TREASURY EDITION #13. But, true to the company's creative style, they switched it up a bit that year.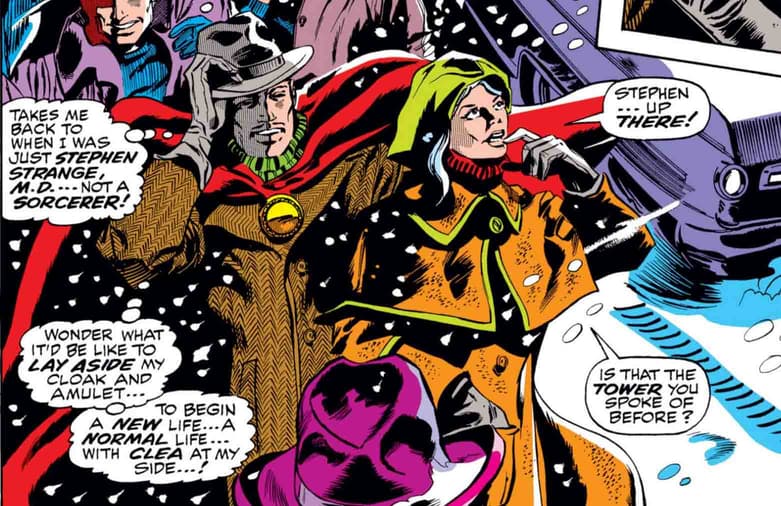 Legendary artist Gil Kane provided the front and back covers for the book, which together almost qualified as a wrap-around illustration showing off a cityscape populated by nearly all of Marvel's headlining heroes of the mid-1970s. Upon opening up the issue, readers would have immediately realized something different unfolding before their eyes: a brand-new story.
Of course, the book offered reprints as in previous years, but for a change a new framing sequence not only spaced them out, but actually wove them together into something resembling an overarching story. It kicked off with a public snowball fight for charity in Central Park between the Fantastic Four and the Avengers, and then broke out into personal, and sometimes private, reminiscing by the costumed crimebusters, all brought to you by writer Roger Stern and artist George Tuska.
So, the Thing and an interloping Spider-Man flashed back to their collaboration in MARVEL TEAM-UP #6, the Wasp and Yellowjacket remembered that "Even an Android Can Cry" in AVENGERS #58, the Hulk's thoughts turned to his first meeting with the Silver Surfer in TALES TO ASTONISH #93, and Daredevil recalled the day he though he'd lost Karen Page forever in DAREDEVIL #86. At the end, across the country in sunny California, the Black Widow brought back the same memories of that incident, then turned to enjoy a mysterious snowfall with her fellow Champions.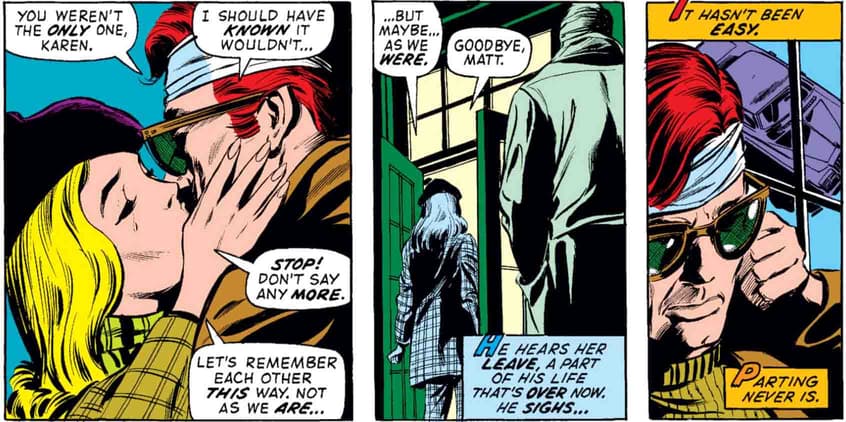 True to Marvel, the tone of the holiday book came across as somber and reflective, but also threaded with hope for the future—the Hulk even received a pair of snow gloves from his friends the Defenders and discovered Christmas revelries to his liking.
MARVEL TREASURY EDITION continued through 1981 and 28 issues in all, but, alas, no more holiday installments appeared, unless we count 1980's "Spider-Man vs. the Hulk at the Winter Olympics" story in MARVEL TREASURY EDITION #25. Still, for three wonderful years, Marvel fans found reason to feel Christmas cheer when they opened those oversized tomes to sit back on a December evening and visit with their favorite characters at one of the most joyous times of their long year.
The Hype Box
Can't-miss news and updates from across the Marvel Universe!