Comics
Published September 12, 2018
Marvel-ous Marie: An Interview with the Late Marie Severin
Revisiting Sana Amanat's interview with Marie Severin about her work for Marvel.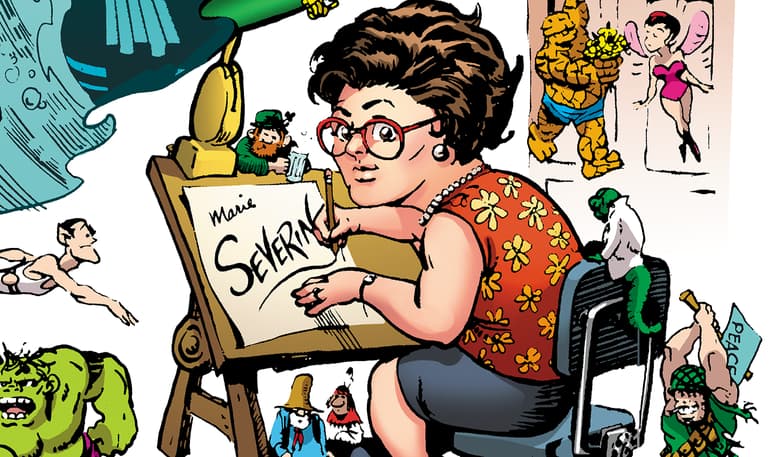 As Marvel continues to honor the legacy of Marie Severin, read this interview conducted by Vice President of Content and Character Development Sana Amanat, originally published in Girls Comics #1 in March 2010.
Of all the creators that have graced the pages of Marvel history, Marie Severin has probably been one of the most prolific. In her tenure at Marvel, she has worked on almost every character in Marvel's database. Whether through colors, pencils, inks or production, Marie's sheer artistic omnipresence during Marvel's Silver Age is quite a feat. And that has nothing to do with her being one of the only women in the bullpen at the time.
Born to a family of artists, Marie was naturally artistically inclined and further developed her skills because of her family's encouragement. Her father was a designer for Elizabeth Arden, and her brother, John Severin, was also an artist who went on to be an important part of the Marvel family as well. After John's service in the army during World War II, he joined the Charles William and Harvey studio, a studio where comic artists came to work on their various industry assignments. The studio was in need of a colorist, and John encouraged his sister to join. Though she enrolled at Pratt Institute for a short time, Marie decided a more practical approach would benefit her talents more -- and of course it was a bit more convenient to "make money while drawing instead of spending money to do the same thing." When Harvey Kurtzman, one of the studio's founders, became an editor at Entertainment Comics, he asked John and Marie to join his staff in 1949.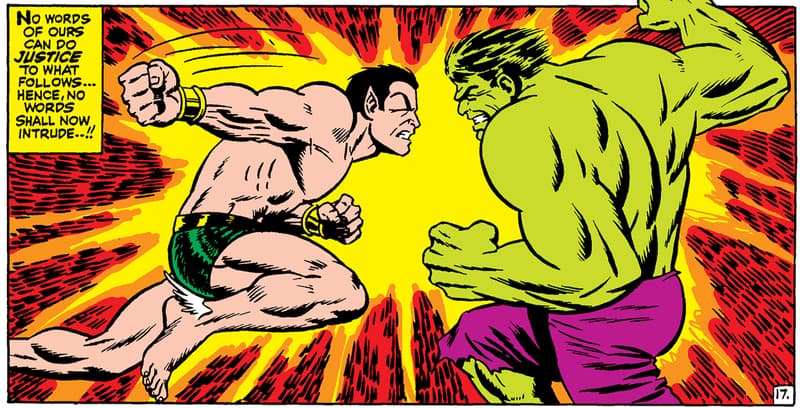 While at EC Comics, Marie learned the ins and outs of lettering, inking, coloring, and production, in addition to honing on her skills as a penciler. "I worked to learn, and ended up enjoying my work at the same time, so I stayed." Much of her work at EC was on the production end, but eventually she became the company's resident colorist -- and resident female, as the sole woman in a group of male artists. Oddly enough though, Marie didn't seem to mind. "I was the only gal, but they all loved it when I colored their stuff. They didn't see my work as competition, but rather as a complement to theirs. It was wonderful." Her colleagues challenged and inspired her, and the work itself helped her style evolve. It was while she was working on Mad Magazine, one of EC's more prominent titles, that she perfected her ability to draw satire and humor, which she later became known for.
As EC Comics began to shift its focus to less mainstream content, Marie sought more traditional comics work and found freelance production assignments with Atlas Comics, Marvel's precursor. The industry as a whole was thrown into disarray by the infamous Comics Code ruling that put severe restrictions on acceptable content, and so work became limited. During this time Marie worked briefly for the Federal Reserve Bank, but by 1964 Stan Lee offered her a full-time production job at Marvel.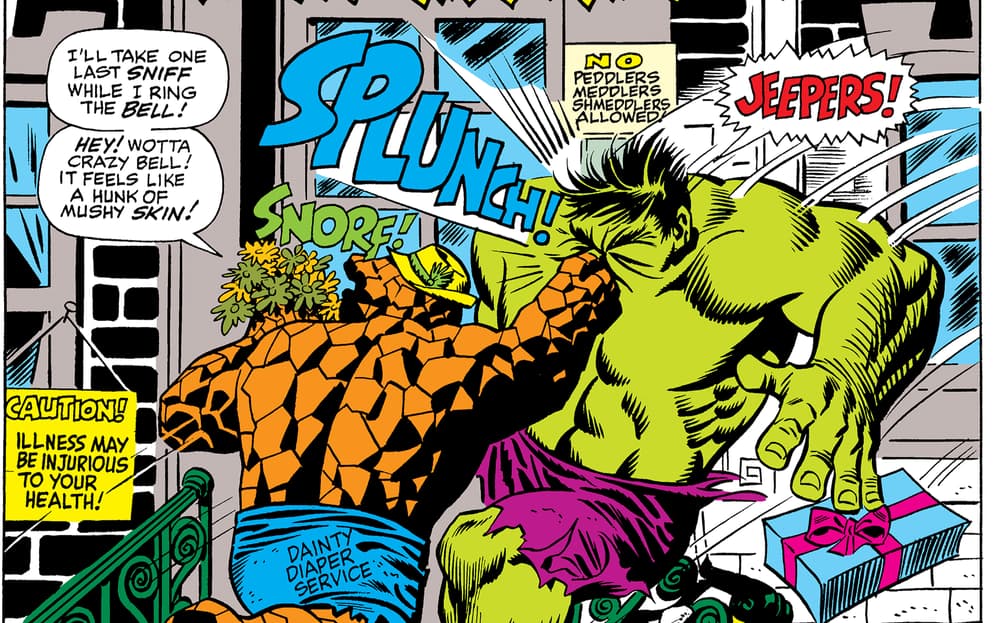 While at Marvel, Marie handled much of the in-house coloring, but her skills as an inker and penciler couldn't be ignored and Stan offered her the opportunity to take over from Steve Ditko on the "Doctor Strange" feature in STRANGE TALES. From there, she went on to draw titles like SUB-MARINER,THE INCREDIBLE HULK, TALES TO ASTONISH and KULL THE CONQUEROR, where she finally got to collaborate with her brother, John, who inked her pencils. Her flexibility and artistic diversity compelled the company to rely on her so heavily that at one point she became de facto art director, drawing the concepts for most of Marvel's covers.
In Marvel's parody series of itself, Not Brand Echh, Marie once again showcased her comedic sensibility. But Marvel's characters weren't the only ones subject to Marie's satiric wit; she became notorious for sketching caricatures of Marvel staffers, most famously a picture of Flo [Steinberg] being bitten by a bunch of pit bulls characterized as Stan Lee, Roy Thomas, Sol Brodsky and Marie herself. These images relay the chaos of the times, but also the amusement and inside jokes they shared. "Oh, there were times I wanted to rip people's heads off, but we just had a good time teasing each other," she's said, chuckling.
As the years of Marvel's Silver Age came to a close, Marie stayed on in the special projects division working on licensing. Though she's no longer at Marvel, her presence has been long felt in the company and the industry as a whole, not only as one of its first female artists, but simply as one of its most prominent creators.
The Hype Box
Can't-miss news and updates from across the Marvel Universe!