Comics
Published March 20, 2017
Marvel Remembers Bernie Wrightson
A look back at the life and career of a quintessential artist.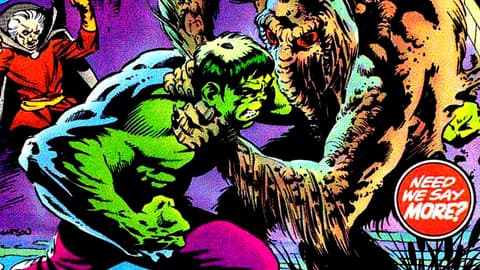 The passing of artist Bernie Wrightson marks the end of an era in comics history, and Marvel Comics today makes note of his individualistic style and overall impact on the industry and his fans.
After a steady diet of the infamous EC company's horror comics and his own first forays into fan art and newspaper illustration, Wrightson became part of the historically important influx of fans into the comics business in the late 1960's and early 1970's. The Maryland native impressed influential editor Dick Giordano at DC Comics and received his first professional assignment on, what else, a horror story.
While at DC, Wrightson joined with writer Len Wein in 1971 to co-create one of his signature characters, Swamp Thing. His lush illustrative style stood out from other artists at the time, and through the encouragement of those professionals around him and by readers who began to notice his work, he swiftly became known for top run horror stories. As a freelancer, he also picked up work around this same time with Marvel, producing covers for their horror anthologies, as well as providing illustration for sword and sorcery characters like Conan and King Kull.
While he continued to work at Marvel in the 1970's, Wrightson also dived into scary tales for Warren Publishing's black-and-white magazines. This put him into contact with other young artists of a similar mind-set, and together in 1975 they founded The Studio, which not only provided them with a physical space for making art, but also an atmosphere conducive to creativity.
The 1980's brought more Marvel work to Wrightson, including projects involving Doctor Strange, Dreadstar, a Hulk and Thing team-up, Spider-Man, and several stories for EPIC ILLUSTRATED. He also leapt into a personal project that grew into one of his best-received and well-loved works: an adaptation of Mary Shelly's "Frankenstein" novel. He also joined with writer Stephen King to illustrate comic adaptations of the famous horror scribe's prose work, and the legendary Jim Starlin for a "jam" famine relief book called Heroes for Hope.
In all, as the decades progressed and the century wore on, Wrightson never cared to rest on his laurels or be chained to any one type or way to express himself artistically. He dabbled in covers, posters, prints, card games, and even film design, all the while moving the comics industry forward into something beyond the more traditional pencils and inks of his heroes.
Wrightson's numerous awards include the Shazam, the Inkpot, the H.P. Lovecraft, the Inkwell, and one for the National Cartoonists Society.
The Hype Box
Can't-miss news and updates from across the Marvel Universe!