Comics
Published July 18, 2017
Marvel Remembers Sam Glanzman
1924-2017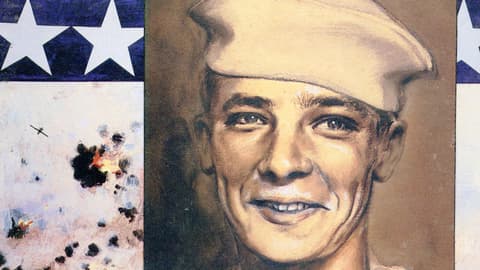 Marvel Comics salutes late artist Sam Glanzman, whose impeccable eye for authentic detail and fine storytelling brought to life stories for several companies and enriched comics from the Golden Age to the modern industry.
Inspired by two older brothers who tackled the comics business, Glanzman dove into their world in 1939 and after just a few short years he'd created indelible characters such as Fly-Man for Harvey Comics, as well as illustrated many other titles. When World War II broke out, he proudly served in the U.S. Navy, but took a detour after war's end to work at different jobs. Comics remained in his blood, though, and by 1950 he'd returned to not only the industry but also the publishing arena in children's books.
Charlton Comics published Glanzman's first war stories in the late 1950s, a genre that would blossom into a subject he'd become known for. The artist also made a mark in the 1960s with a Hercules series for Charlton, one that he poured many of his fine art visions into and drafted into a book a cut above the rest. DC Comics later brought him onboard to shore up their own war comics line and he stayed with the company throughout the 1970s.
In the halls of Marvel Comics, Glanzman produced a stunning work called "A Sailor's Story" in 1986 for MARVEL GRAPHIC NOVEL #30. The tale followed his own Navy career during the war and became so popular that the artist offered up a sequel, A SAILOR'S STORY: WINDS, DREAMS, AND DRAGONS.
He continued to work in the industry throughout the 1990s and into the new millennium with both webcomics and traditional projects. Glanzman also saw reprints of many of his past works from the different companies he'd drawn for.
Legendary artist Walt Simonson counts himself among the man's admirers and sees him as a unique voice in comics over the decades since their birth.
"Sam Glanzmann was an artist who brought his signature style to everything he did," he says. "His work was easily recognizable. Grounded in his experience, Sam drew worlds full of authenticity, in which violence was neither overstated nor sugarcoated, and the drama was always clearly presented. Although all his work was honest, he was a sailor and his stories of the sea had the tang of salt air about them and a truth that made them moving and deeply felt."
The Hype Box
Can't-miss news and updates from across the Marvel Universe!