Comics
Published May 2, 2018
Marvel's Avengers: Infinity War: The Cosmic Quest Tackles Sibling Rivalry
Author Brandon T. Snider discusses the Collector and Grandmaster's adventures!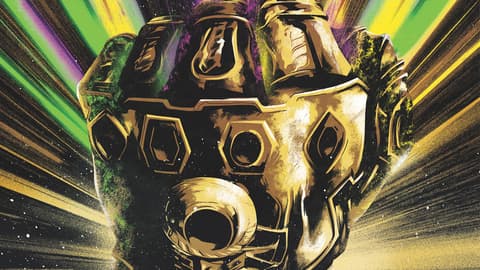 Tales about sibling rivalries have been the have been the inspiration for stories throughout the ages, even the Elders of the Universe aren't immune to squabbling between brothers.
In "Marvel's Avengers: Infinity War: The Cosmic Quest Vol. 1: Beginning," readers get an inside look into family relations as the Collector and the Grandmaster —two characters with great screen presence in the Marvel Cinematic Universe—come together after both having fallen from grace.
Will the brothers excessive and overbearing determination give them the drive they need to begin the hunt for the elusive Infinity Stones? We talk to author Brandon T. Snider to find out more.
Marvel.com: Fans who've seen Marvel Studios' Avengers: Infinity War are sure to find fun in this story involving two Elders of the Universe. For those who may not have seen the movie, will they be able to jump right into the book?
Brandon T. Snider: Absolutely. "The Cosmic Quest" is set after "Thor: Ragnarok" and serves as a prequel to "Avengers: Infinity War." The Grandmaster is fresh from his dethroning on Sakaar while the Collector is still recovering from the destruction of his museum in "Guardians of the Galaxy." This story enhances the "Infinity War" experience in a variety of ways.
Marvel.com: Even if you're just a human being and not a Celestial, people will be able to relate to the Grandmaster and the Collector's sibling rivalry. How did you come up with their banter?
Brandon T. Snider: Writing these two bickering old Celestials was one of the great joys of my life. Their voices came fairly easily. I love the way they poke and shade each other. They know each other's flaws and have no problem calling them out. It's how they steal power out from under one another. A well-placed backhanded compliment is like art to these guys. If the Collector feels like a million bucks, the Grandmaster comes along and tells him he's just a crumpled up $20…but with well-coiffed hair.
Marvel.com: There are clues that this was written after the film "Ragnarok" came out, was the Grandmaster Goldblum-esque tone purposeful? You can't help but hear his voice in your heard while you're reading it.
Brandon T. Snider: Jeff Goldblum is a presence on film and in real life. His Grandmaster was a highlight of "Ragnarok" for sure. I definitely tried to capture his eccentricities. He thinks out loud a lot. The Grandmaster is unafraid to say whatever horrible thought enters his brain. It's my dream to have Jeff Goldblum read aloud from the book. A chapter, a page, one line…I'll take whatever I can get. Email me, Jeff!
Marvel.com: Grandmaster's naïveté about Thor's hammer Mjolnir and the rest of the Galaxy is comical-as well as annoying to his brother—do you think he chooses ignorance or he's just not self-aware?
Brandon T. Snider: I think it's a mixture of both. The Grandmaster is incredibly self-absorbed. Very single minded. If it's not about him, he's not interested. I'd call him selectively ignorant. He knows more than he lets on. Sometimes it's advantageous for him to play the dummy. Pretending not to know or understand something often allows him to escape the immense amount of trouble he often finds himself in.
Marvel.com: In introducing new characters like the Exalted Overseer or Keelan, how did you come up with them? Were they inspired by previous Marvel comics?
Brandon T. Snider: The Marvel Universe is expansive and the opportunity to add new flavors to this world was a career highlight for sure. I was inspired by a mixture of things, some real world and some fictional. Exalted Overseer is a spoiled brat who's obsessed with Grandmaster as a cosmic icon. He's a crazed fanboy with a dark side who's got something Grandmaster wants and isn't afraid make his idol sweat a little bit. Keelan is the Collector's newest slave. She came to Knowhere with big dreams and, after a series of unfortunate events, ended up working for the Collector. She's sharper than he thinks and has a couple tricks up her sleeve. I secretly hope this book is a springboard for Keelan. I've got the next phase of her story all ready to go.
Marvel.com: Is there anything hidden in the book that readers should look out for?
Snider: Yes! It wouldn't be a Marvel story without a couple Easter Eggs.
"Marvel's Avengers: Infinity War: The Cosmic Quest Vol. 1: Beginning" is available now on ShopDisney.com and wherever books are sold.
The Hype Box
Can't-miss news and updates from across the Marvel Universe!