Comics
Published August 15, 2019
Marvel's First Family Has to Set Things Straight in 'Fantastic Four: Negative Zone' #1 This November
One of Reed Richards' experiments is causing some parallel problems in an alternate universe!
Reed Richards AKA Mr. Fantastic is known for his ambitious scientific experiments -- even if the outcomes are not always what he was expecting. One of those experiments is coming back to haunt him -- and he and the rest of the Fantastic Four will have to head into the Negative Zone to make things right. Marvel's First Family is in for another big adventure when FANTASTIC FOUR: NEGATIVE ZONE #1, written by Mike Carey with art by Stefano Caselli, comes to comic shops this November! The issue also features a bonus story by writer Ryan North (who is also wrapping up THE UNBEATABLE SQUIRREL GIRL in November) and artist Steve Uy, who unfold an adventure featuring that other super-powered foursome in the Baxter Building, the Fantastix!
The Negative Zone, which was discovered by Reed, has never been known for its peaceful nature. Writer Mike Carey shared why the weird, wild parallel universe falls right into his writerly wheelhouse:
"The very first Marvel comic I ever read was FANTASTIC FOUR #62, a Negative Zone story entitled "And One Shall Save Him!" Maybe for that reason, both the FF and the Negative Zone have always seemed to me to be part of the Marvel Universe's center of gravity -- and part of my imaginative comfort zone. In writing this story, I was trying to capture some of the anarchic wonder and craziness of those early FF epics. Do I love my job? Why yes, I do."
Caselli said: "I've always loved the Fantastic Four, since I was a kid: space monsters, great superpowers, family matters, best villains ever... just WOW! Every time I put my hand on the 'super family' I feel honored and scared -- I have HUGE shoes to fill! But what's important is that I totally love to be part of their next adventure, and what I want is to deliver another fantastic story for the readers! And this story is going to be great! I do love my job!"
Here's a look at the cover by Kim Jacinto: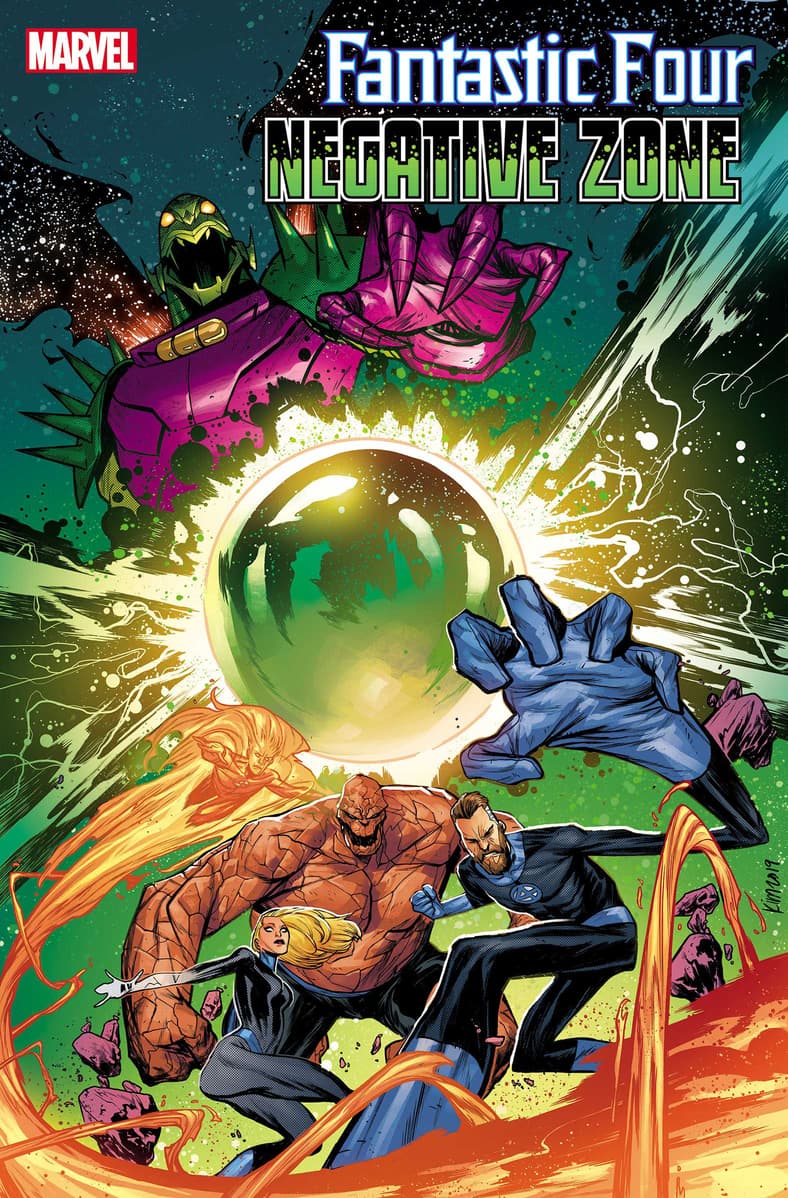 North also provided a little insight into the Fantastix, who may have more to offer than we think:
"The Fantastix are a newly-created team that nobody really takes seriously in the Marvel Universe, and they're starting from this really tricky position: even their NAME is a knock-off. Who wants the Fantastix to rescue your cat stuck in a tree when you can have the Fantastic Four? I thought it'd be really interesting to see how these newer, younger heroes could live up to that, trying to explore what it's like living and working in the shadow of someone else. The whole team really surprised me, and I think you'll be very interested to see where the Fantastix end up!"
What does the Negative Zone have in store for the Fantastic Four? What are we going to find out about the Fantastix? You'll find out this November when FANTASTIC FOUR: NEGATIVE ZONE #1 hits local comic shops everywhere!
The Hype Box
Can't-miss news and updates from across the Marvel Universe!