Comics
Published February 27, 2017
Marvel Takes Over 'Pen Plus'
Go inside production of the popular Japanese magazine with C.B. Cebulski!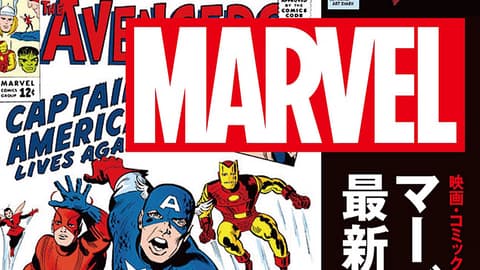 As more and more fans catch on around the world, Marvel has started to see a growing recognition in international media. A popular Japanese magazine called "Pen Plus" recently devoted an entire issue to all things Marvel.
We caught up with C.B. Cebulski, who helped arrange this Marvel extravaganza.
Marvel.com: Can you give us a little background on the "Pen Plus" Marvel issue?
C.B. Cebulski: We've seen the Marvel brand growing in Asia pretty rapidly, especially over the last three to five years. But we've had a bit of a tougher time in Japan, honestly, because we see so much domestic competition, from the large amount of manga and anime, to a lot of home-gown, live-action hero shows. Even the domestic film industry in Japan does extremely well, both live-action and animation. But over the last few years, that has started to change, thanks not only to our films but also some of the things that Disney Japan has done with apparel and with the "Marvel Tsum-Tsum" game that came out last year—just some really innovative ideas. So we've seen a lot of focus on the characters, the heroes, and everyone loves the red brick logo.
"Pen" approached us through Disney Japan, and they didn't just want to do an article, they wanted to do a whole issue, from the first page to the last page, focusing on Marvel. The primary writer was Akihide Yanagi.
Marvel.com: Can you tell us a little more about "Pen Plus"?
C.B. Cebulski: "Pen Plus" is a very prestigious Japanese magazine in terms of pop culture, design, and that young adult audience of 20- and 30-somethings who consider themselves worldly, international, and into cool photography and cool topics.
Marvel.com: How did you get involved with this project?
C.B. Cebulski: They approached one of our friends at Disney Japan, Michiko Hashida. I'd consider her one of Marvel's biggest supporters in the Disney Japan organization. She works really tirelessly to help build Marvel, not just because it's her job but because as a fan, she also loves this stuff. And she got in touch with the editor at "Pen Plus," Yoshihiro Watanabe, who had this idea and brought it to me. We in turn brought it to Dan Buckley, Axel Alonso, and Tom Brevoort at Marvel, and arranged everything from there. It included a trip for them to New York to meet with the editors and do photo shoots for two days, they went to the set of "Marvel's Agents of S.H.I.E.L.D." for a couple days, they had access to Marvel Studios. So it was really comprehensive, anything you could possibly want to know about Marvel. Then they went back to Japan, talked to a lot of our partners there about what comics they'd published, they talked to Japanese celebrities who love Marvel, and really showed Marvel as the cool company we all know it is but other people there might not.
Marvel.com: What was your experience like, connecting with others at the magazine?
C.B. Cebulski: I loved it. I could sit here and talk about Marvel all day. I've loved Marvel since I was a kid, and I have the dream job; I wake up every day with a smile on my face. And in working with "Pen Plus," it struck me as interesting because I take certain things for granted; I assume that people know about Peter Parker, or they know who's under the Iron Man armor. But talking to people who don't know that stuff, it always feels eye-opening for me to realize how much I know about Marvel, but how little I sometimes know about what other people know about Marvel, and how much room we have to grow, and that really helps me do my job.
The Hype Box
Can't-miss news and updates from across the Marvel Universe!