Comics
Published January 29, 2018
Marvel Two-In-One Classics
Looking back at five must-read issues on Marvel Unlimited!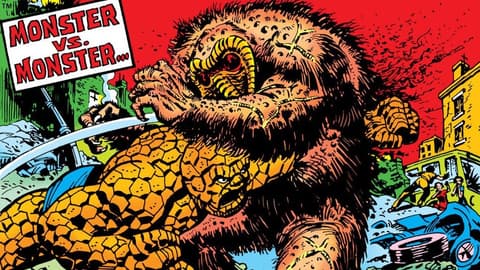 Debuting in 1974, each issue of the original MARVEL TWO-IN-ONE saw Ben Grimm, A.K.A. The Thing, team-up with a different heroic partner for a new adventure across the Marvel Universe.  We decided to log in to Marvel Unlimited for a look back at five classic issues from the original run.
Vengeance of The Molecule Man
MARVEL TWO-IN-ONE #1 (1974)
To kick the series off, Steve Gerber and Gil Kane set Ben Grimm up with the protector of the Nexus of All Realities—The Man-Thing. As Ben hopped a bus to the Everglades to join his compatriot, The Molecule Man died, passing on his hatred of the Fantastic Four to his son, who then teleported to Earth to face off against Thing and Man-Thing together. Using his incredible powers, the new Molecule Man managed to turn both Things human again, though Grimm knew that they'd have to turn back to their original forms in order to save his teammates in the FF, thus sacrificing his own happiness for his friends once again. 
Death Watch
MARVEL TWO-IN-ONE ANNUAL #2 (1977)
In 1977, Jim Starlin created this new cosmic adventure from the aftermath of AVENGERS ANNUAL #7. In this issue, Peter Parker picked up Moondragon's distress call after the Avengers fell to Thanos, so he grabbed Ben Grimm, got in a spaceship and headed to the stars! Though seemingly out of their depth against the Mad Titan, Spidey managed to sneak away and free the Avengers, giving the super group time to attack Thanos while the Wall-Crawler freed Adam Warlock. Once returned, Adam turned Thanos into a statue and saved the cosmos from the villain's latest plan.
Remembrance of Things Past
MARVEL TWO-IN-ONE #50 (1979)
In celebration of the book's half-century mark, writer-artist John Byrne dropped a bomb on the Ever-Lovin' Blue-Eyed Thing: Reed Richards' attempted cure couldn't help his physical state, but it could have when the hero was younger. Devising a plan, Grimm hopped on Doctor Doom's time platform and visited his old self in the past! Due to a misunderstanding with an old woman who fainted, the current Ben soon found himself on the wrong end of past Ben's fist! After a knock-down, drag-out brawl between the two, present Ben won and administered some of Reed's cure to his old self, turning him human once more! Expecting to see the same results back in his own time, The Thing was disappointed to hear from Reed that, instead of changing his own past, he'd actually created an alternate reality where he could return to him form more easily. Looking at the bright side, Ben took solace in the fact that the rocky face he sported still looked better than the mug he had originally!
Call Him…Monster
MARVEL TWO-IN-ONE #80 (1981)
In issue #80, Tom DeFalco and Ron Wilson brought Ghost Rider Johnny Blaze into Ben Grimm's orbit again after they met 72 stories prior in #8. After Ben had a heart-to-heart with Blaze, the stuntman invited Ben to his show at Shea Stadium. When a couple of kids screwed up one of Johnny's tricks by stealing a car, the Rider came out to exact vengeance. Not wanting his "fellow monster" to get into any hot water, The Thing went after the punks and stopped the hothead from hurting them too bad. Though, when appealing with his fists failed to stop Ghost Rider's rampage, Grimm had to use an interesting alternate method to return the demon back to his human state.
Time Runs like Sand
MARVEL TWO-IN-ONE #86 (1982)
Soon after that, Tom DeFalco and Ron Wilson tackled longtime Fantastic Four villain Sandman in issue #86. After separating himself from Hydro-Man, the villain named Flint Marko intended to re-evaluate his life and get a new start, though he found it more difficult than he first expected. Holed up at a bar where the owner recognized him, the Fantastic Four arrived on the scene expecting a fight. Instead, however, they found an exhausted former baddie who just wanted to sit, have a drink, and talk about his problems. Rather than arresting Sandman, The Thing paid for a few more rounds and left him with some words of wisdom: "You got a chance to start all over again—with a clean slate! Don't make the same mistakes again! Don't fumble this ball! Think about it! I'll be rooting for ya…"
Make the jump to Marvel Unlimited for more!
The Hype Box
Can't-miss news and updates from across the Marvel Universe!