Comics
Published January 27, 2017
Marvel Vs. Monsters
We dig into the archives to highlight heroes battling behemoth beasts!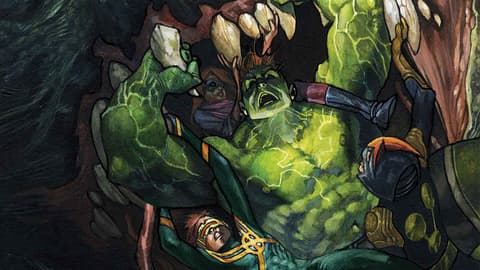 Check out our favorite instances of heroes battling humongous creatures on their own.
FANTASTIC FOUR #1
It's the grand-daddy of all super hero versus monster scenarios, right? In their infancy as a team, the Fantastic Four ran up against the devious Mole Man and some of his most frightful fiends…and big ones, too! While still at the game, they managed the situation and won the day to gain valuable giant monster experience for future fights.
AMAZING SPIDER-MAN #103
Spidey's personal experiences against monsters might not rank up there with some of his fabulous fellows, but the wall-crawler's done fine in a pinch when there's a big ugly to battle. This time it amounted to a giant guy named Gog controlled by Kraven the Hunter—until Spider-Man knocked them both for a loop with his happy heroics.
CHAMPIONS #13
The original incarnation of the Champions fought a dude named Kamo Tharnn on another world and nearly lost their minds when the baddie sent huge creatures after them, including a giant lava man. Fortunately, the Angel wised up in the middle of it all and realized he and his friends fell for realistic illusions. Needless to say, Tharnn lost in the end.
THOR #380
Okay, so yes, Thor's an Avenger, but no one can deny that the story of a solitary hero versus a monstrous foe more or less began with the legend of the Thunder God and the Midgard Serpent. Destined to battle the giant snake-thing when the horns of Ragnarok sounded, Thor leapt into the fray and proved his mettle against his foe in proud fashion.
FIN FANG FOUR #1
Listen, it just doesn't get any better than when the heroes who pit themselves against giant monsters look like giant monsters themselves. The dragon Fin Fang Foom gathered together a team of his brethren that included Googam, Gorgilla, and Elektro to confront the ugly and evil Tim Boo Baa and…well, it stands as the stuff of legends. Trust us on this one, True Believer.
The Hype Box
Can't-miss news and updates from across the Marvel Universe!