Comics
Published May 17, 2023
An Inside Look at 'Marvel's Voices: Iron Fist Pei'
We spoke to creators Jeremy Holt and Guillermo Sanna about the youngest Iron Fist's most recent adventure in her new Infinity Comics arc.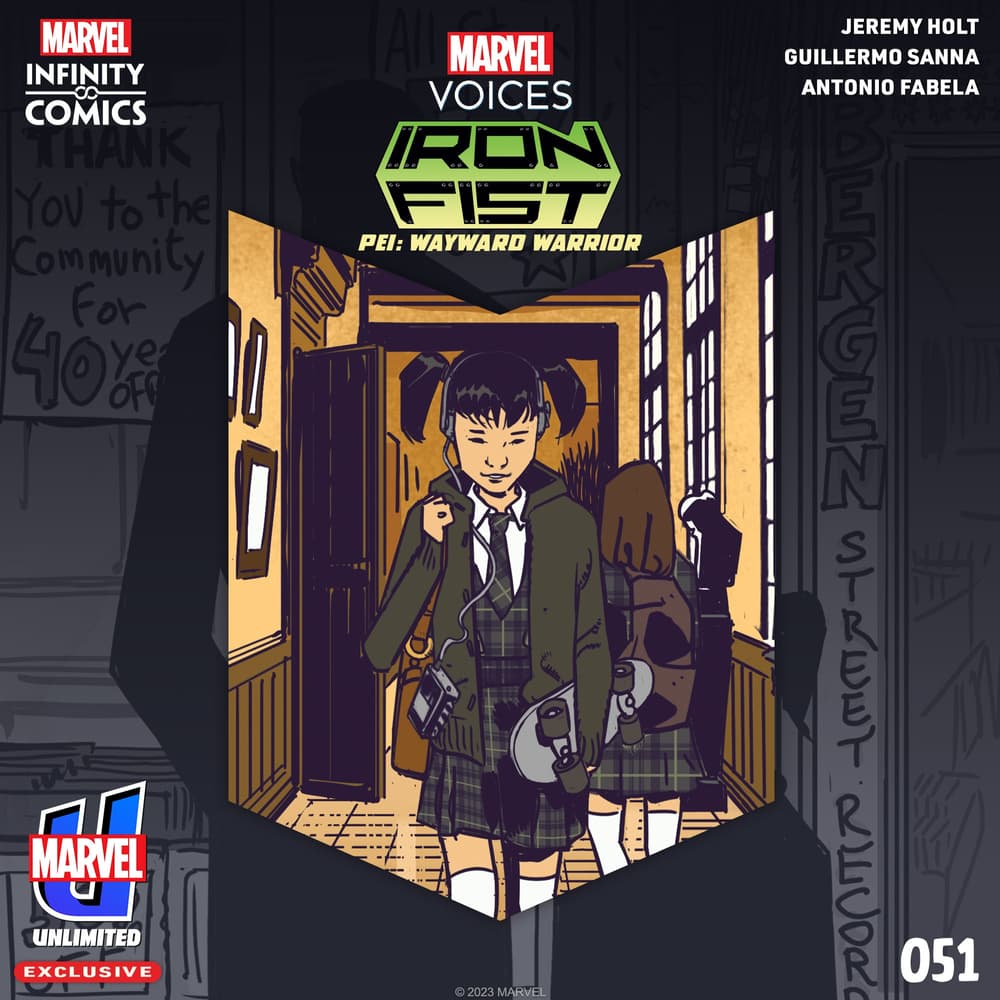 First kicked off in MARVEL'S VOICES: IRON FIST PEI #51, the six-part "Pei: Wayward Warrior" arc reaches its halfway mark today in issue #53. Catch up on the story so far, then read new chapters each Wednesday only on the Marvel Unlimited app!
[RELATED: Iron Fist: Pei Must Find Her Way as a Warrior in a New Story from 'Marvel's Voices']
To further get you up to speed, we spoke to "Iron Fist Pei" writer Jeremy Holt and artist Guillermo Sanna about their creative approaches, Pei's adjustment to life without the power of the Iron Fist, and what unexpected turns readers can expect.
To set a little background, where is Pei—emotionally and physically—at the start of "Wayward Warrior"? 
JEREMY HOLT: As the [arc] title suggests, she is in emotional limbo. She was the youngest to ever bear the mark of the Iron Fist, and that mark defined her life's purpose. Without it, she feels emotionally and physically powerless. From the jump, she doesn't even recognize herself, so her journey becomes picking up the broken pieces of her shattered spirit to hopefully put it back together again.

What do you think Pei's defining struggle is in this particular story? 
GUILLERMO SANNA: Our protagonist has a tough fight with herself to regain the confidence she lost along with her powers and discovers that the power of the Iron Fist did not make her a warrior; it only amplified her inner strength.
JEREMY HOLT: Pei's defining struggle is to connect with herself again. Since losing her powers, which I believe was intrinsically linked to her identity, she no longer knows who she is or what she's supposed to do with her life. I'm reminded of a friend who was a skilled gymnast. So good in fact that she was a potential Olympic competitor. But when she broke her back, she was forced to reevaluate her life because it had been completely dedicated to being one thing and one thing only: a world-class gymnast. When I was developing this story, that friend came to mind.
Guillermo, was there anything you especially enjoyed depicting in Pei's story?
GUILLERMO SANNA: As always, I really enjoyed drawing the combat scenes and the action surrounded by fire and smoke. I also loved drawing the record store, like all comic book artists I am a huge music fan.

How is storytelling for vertical paneling different than a traditional format?
GUILLERMO SANNA: When drawing vertically you have to have more control over the size of the strip so that the reader doesn't lose any [part of the] scene by trying to make it too big. Another difference is that you don't have to be so aware of the placement of the word balloons since many of them are on the outside of the strip.
What role does Luke Cage play in this story? Can we expect an Iron Fist/Luke Cage team-up?
JEREMY HOLT: Luke's role in this story isn't large, but it's absolutely necessary. He's played the role of Pei's guardian before, so I opted to have him reprise that role. However, he's much more than a glorified babysitter. In this [story], he helps Pei get back on her proverbial feet by experiencing life outside of Danny's posh Manhattan bubble by having her spend time in his neck of the woods in Brooklyn. He's no monk but introducing Pei to his roots is the best way he knows how to help try and ground her disoriented spirit.
For readers who may be new to Pei as a character: Is there any reading you'd recommend? IRON FIST: HEART OF THE DRAGON is mentioned in the arc's first issue.
JEREMY HOLT: That was my introduction to Pei. I'd also recommend IMMORTAL IRON FISTS (2017), as well as IRON FIST: THE LIVING WEAPON (2014). 
Read Iron Fist: Pei's complete story arc in MARVEL'S VOICES: IRON FIST PEI #51-56 as it unfolds on the Marvel Unlimited app!
The Hype Box
Can't-miss news and updates from across the Marvel Universe!