Comics
Published November 2, 2021
'Marvel's Voices': Omar Holmon Connects with Daredevil on How to Live Your Authentic Self
The co-founder of Black Nerd Problems joins Marvel in discussing what makes Matt Murdock a "real" Super Hero!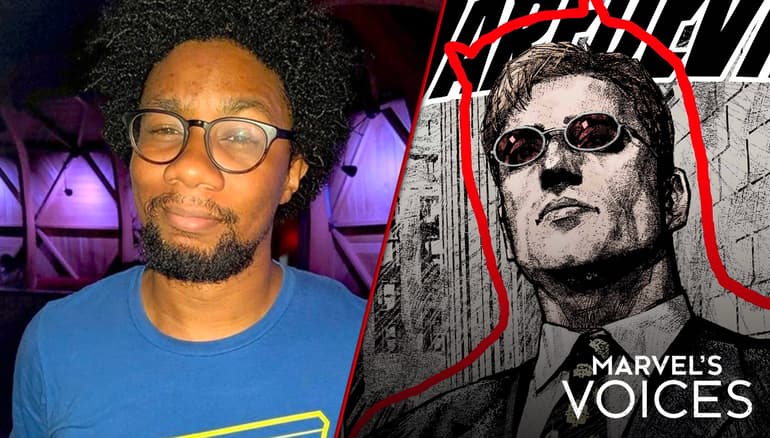 When my high school drama teacher, Mr. Ryan, asked us to bring in a scene from a movie that moved us and explain why I knew I wanted to take a different route. While this was a fairly simple assignment for the class, I wasn't a movie guy. Movies just didn't move me. No, I was a comic book guy. 
It was no secret that I was a huge comic book fan and it was something I actually shared with Mr. Ryan, who was also my creative writing teacher.  I often stayed after class or came in early to talk about comic books with him. I asked him if I could go in a different direction and show a scene from a comic book instead. He said yes. So, I brought in one of my favorite comics, DAREDEVIL (1998) #35 written by Brian Michael Bendis with art by Alex Maleev. 
I believed then and still fully believe that Matt Murdock, Daredevil, is the MVP of noir and gritty street heroes. Nobody fights like Daredevil. Not to mention, the range! My boy Matthew Murdock is out here fighting crime by night, with only a radar sense to help him navigate, then in the courtroom by day defending those who need most at every turn.  And, it was Bendis and Maleev's Daredevil run that got me fully invested. 
For my drama class assignment, I used the specific scene from that issue where the paparazzi swarm Matt's brownstone once his secret Identity leaked to the press. After dealing with the initial wtf-ness of having his identity leaked, Matt puts on his Daredevil costume, sneaks out, and sits on a streetlight behind the paparazzi before pulling off his mask to confront them. 
Matt starts talking the talk in his head, rain dripping off his face, telling these folks he isn't afraid of them. If this was professional wrestling, Matt would have been cutting the promo of his life New World Alliance style in this beautiful soliloquy where he was daring these reporters to turn around and face him. This scene spoke to me because there was this super hero being exposed and unafraid of showing his true identity. Matt Murdock, unafraid of the consequences, was going to make them understand who he was behind the mask.
Years later, looking back at the spaces I've navigated from my teen years to adulthood from that drama class to college and from poetry slams and now founder of Black Nerd Problems and a co-author of an essay book of the same name—either consciously or subconsciously—I have carried that that scene with me. And on a larger scale,  it was heroes like Matt Murdock, Monica Rambeau, and Misty Knight that guided me and continue to guide how I want to project myself in the world. 
For me, there is no use hiding behind a mask. I made a decision a long time ago to be my authentic self no matter where I am or who I am talking to. To clear, I am also speaking from a very specific lived experience. I'm saying this as a cis-gender Black man who doesn't fit neatly in the world's boxes. I am different but certainly not the most marginalized. There are many Black folks with lived experiences different from mine. They have to be careful about who they reveal their full selves to, especially women of color but most of all Black women. But for me, there is no use pretending to be cool or laid back to fit in with folks. I know I am a silly dude who grew up with a funny family. That is my true self and some would say, my superpower. 
And I am not saying I am perfect and that any of this actually comes "without fear." Another part of that storyline is that Matt Murdock instantly regrets his decision to reveal himself, second-guessing the confidence he displayed publicly taking off the mask for the first time. He literally says to himself, "What the hell am I doing?", which is very relatable. 
Luckily I am not a masked vigilante protecting the streets of New York; I get to choose. I'd rather be my genuine self so that others, particularly those being othered, can feel comfortable being their true selves around me. That is the power of living your authentic self.  I've also found that people gravitate toward that type of honesty, the sense that realness and the power it takes to exist in the world that way is nothing short of superhuman. 
In the end, I guess I'm just trying to keep it as trill as Matt Murdock did when he pulled back the mask all those years ago.
The Hype Box
Can't-miss news and updates from across the Marvel Universe!