Comics
Published August 21, 2017
Master of Kung Fu: Alive and Kicking
Dalibor Talajic illustrates CM Punk's Shang-Chi story in Marvel Legacy!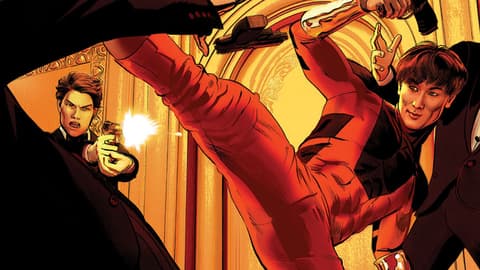 Shang-Chi's back in the game and ready to prove to all challengers that he's the one-and-only Master of Kung Fu.
Writer CM Punk and artist Dalibor Talajic kick off a new era for the martial artist in MASTER OF KUNG FU #126, a one-shot in celebration of Marvel Legacy. Shang-Chi's operated as secret agent, adventurer, and Avenger, but he's on his own again and his artist's vision of him remains clear and focused.
Marvel.com: Dalibor, what do you find visually cool about Shang-Chi?
Dalibor Talajic: Shang-Chi is influenced by Bruce Lee. He was created during Bruce's peak of popularity and was clearly based upon him. So visually, I guess his expression is what makes him unique. He is peaceful and calm, but beneath this calm there's a deadly volcano. And if I manage to capture that in his eyes, I'll be happy. This mesmerizing presence of his is something that must be felt throughout every panel.
Marvel.com: You did a MASTER OF KUNG FU four-issue series with Haden Blackman in 2015—what kinds of research might you be doing to prepare for this new one-shot?
Dalibor Talajic: I might say that this is a familiar territory. However, I always try to complicate things for myself artistically.
Marvel.com: How so?
Dalibor Talajic: Sometimes, I decide on a different lay-out design, sometimes it's more blacks, sometimes no blacks at all. Last time I was concentrating on fight choreography and the clarity of the art itself. This time I might be playing with shadows—maybe? A humble nod to [artist Paul] Gulacy's legacy?
Marvel.com: Given that this is a Marvel Legacy project, that'd be entirely appropriate.
Dalibor Talajic: Right, but all this depends on a story, of course. I'll see where the story takes me and work from there. I always try to tie myself to the story. Comic book artists are often compared to movie directors, and there is a saying: the best directors are those you don't even notice. So story comes first. What I'll be doing emerges from that.
Marvel.com: How do you feel about working with CM Punk on MASTER OF KUNG FU?
Dalibor Talajic: I honestly can't wait to see how he deals with this. He is also a professional fighter, so he'll know what he's writing about. I myself am a kung fu practitioner and I know what's humanly possible during the fights. So we'll see whose kung fu is stronger!
Gather your fighting spirit and look for MASTER OF KUNG FU #126 from CM Punk and Dalibor Talajic coming this November!
The Hype Box
Can't-miss news and updates from across the Marvel Universe!