Comics
Published October 10, 2017
Mayor Fisk: A Daredevil Sketchbook
Artist Stefando Landini helps inaugurate Kingpin for Marvel Legacy!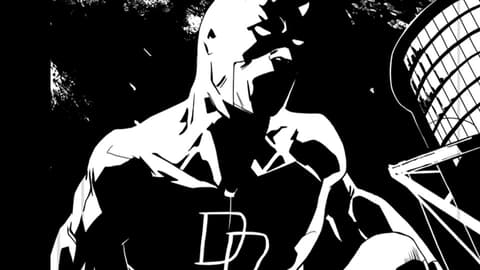 Marvel Legacy promises to get hallmark characters back to their roots. For Matt Murdock that means a familiar red costume drawn by new DAREDEVIL artist Stefano Landini and a plot by The Kingpin to become mayor of New York City developed by series writer Charles Soule, all kicking off with issue #595 on November 8.
The Man Without Fear races around the Big Apple trying to figure out the best way to discredit the man he knows to be a scheming murderer, even as the public can't seem to get enough of Wilson Fisk after all the good he did during Secret Empire. Even worse? DD's wanted by the law!
We talked with Landini about working with Soule, keeping Daredevil's look classic, and his particular inspirations for Kingpin.
Marvel.com: How has it been getting to work with Charles on this series he's been helming for a while now?
Stefano Landini: When Marvel offered me to work on DAREDEVIL, I was very excited, but when I found out that Charles was going to write it, I was dumbstruck! I admire his work and love his writing, so for me, working with him is much more than a beautiful experience, it's more like a little dream come true.
Marvel.com: Daredevil has a classic and sleek costume. Is it difficult putting your own spin on a look like that?
Stefano Landini: Concerning Daredevil's costume, I wanted to do something traditional. I didn't add anything. I love the original costumes of super heroes and when I read in the script that the costume had to be the old one, I immediately decided to avoid any personal addition. I hope people will like it. For me, this old version of Daredevil is among my favorites.
Marvel.com: Kingpin's always been interesting from a physical perspective because he's so large, but also so strong and fast. How has it been conveying his physicality so far?

Stefano Landini: For Kingpin, as a reference I used [Vincent] D'Onofrio, the actor portraying him in the [Netflix "Marvel's Daredevil" TV] series, because I think he's perfect for the part. I only changed the proportions of his body. As you say, he's a giant in the comics, so I preferred to make him bigger, but still with realistic proportions.
Marvel.com: How do you enjoy working on the scenes of Matt outside of his hero identity, including the ones in the courtroom?
Stefano Landini: As for now I haven't done many scenes in the court yet—I'm starting with the third [issue] right now—but drawing Matt is really great. I want to characterize him in a cool way, studying his behavior as well as his movements, and anything else that distinguishes him from other heroes. These are the things I enjoy the most while drawing him.
Stefano Landini helps Charles Soule put Matt Murdock to the test in DAREDEVIL #595 on November 8!
The Hype Box
Can't-miss news and updates from across the Marvel Universe!