Comics
Published March 5, 2018
Merriam-Webster Adds "Embiggen" to Dictionary
Kamala Khan's signature phrase gets the official treatment!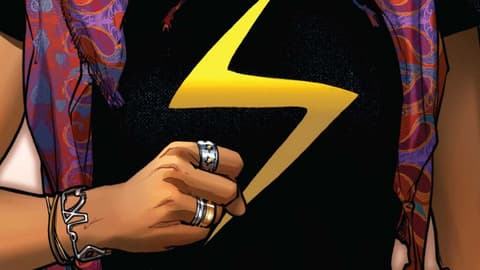 Today, Merriam-Webster officially added Ms. Marvel's favorite catchphrase to the dictionary!
A noble spirit embiggens the smallest man.

Also, 'embiggen' is now a word we enter. https://t.co/3XmkZO0ral pic.twitter.com/wLUDsWIAga

— Merriam-Webster (@MerriamWebster) March 5, 2018
After Kamala Khan was exposed to the transformative Terrigen Mists, she gained the morphogenetic ability to stretch, expand, or compress her body into different shapes and sizes. These abilities introduced her to the world of super heroes—and something much bigger than herself.
When Kamala decides it's time to save Jersey City (or the world), she shouts her now famous phrase as she engages her morphogenics: "Embiggen!"
We asked the character's co-creator—and series writer—G. Willow Wilson for her thoughts on the exciting news. "I can't claim to have invented the word 'embiggen,' but I'm thrilled to have been a vector for its current popularity," says Wilson. "I can remember the exact moment it first slipped out when I was attempting to describe the way I envisioned Kamala Khan's powers to Sana [Amanat, co-creator and series editor]. It was such a convenient, cheerful little verb. From that day on, it made its way into every single Ms Marvel script."
"I've often thought 'it's a shame this isn't a real word, because we don't really have another English verb for 'get big fast'.' And now it is a real word. The dictionary has spoken. The English language has been embiggened today."
The Hype Box
Can't-miss news and updates from across the Marvel Universe!