Comics
Published May 19, 2017
Messing with Man-Thing
Horror master R.L. Stine talks his time with Marvel's swamp monster!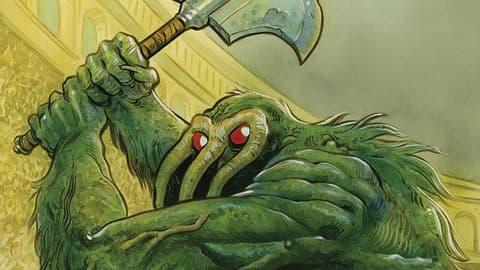 He's big, he's slimy, and he's coming to a silver screen near you—if he doesn't scare all the kids away first. I'm talking about Man-Thing, the disgusting swamp monster leaving trails of slime in Marvel comics since the early 1970s.
Recently, however, we find this heinous dripping pile of muck in his own limited series penned by one of the great masters of horror, R.L. Stine of "Goosebumps" fame, who felt the time right to inject some humor into the adventures of the misunderstood, reality-hopping creature
As we near the fifth and final issue of MAN-THING on June 21, Stine—a self-proclaimed man without fear—looks back on his intimidating inspirations, helping Sallis find his voice—literally—and the close connection between blood, guts, and laughs.
Marvel.com: We're two issues away from the finale of this series. How are you gearing up for the conclusion to this MAN-THING saga?
R.L. Stine: Well, I always have to have my ending first so I had an ending in mind from the beginning. The five [issues] are all done, actually. [Issue #4], actually, is the best, I think. I think #4 is the funniest, but I got him in this mess. He's gone after Oldfather, and so he's in this thing with all the realities and so I love doing stuff like that because I can do anything. If you can do any reality and have reality changing all the time it's actually very freeing, you can do all kinds of things.
Marvel.com: Should we, as the readers, be bracing for an epic "Goosebumps"-level twist that will shatter our psyches and chill us to the bone?
R.L. Stine: [Laughs] Well, you know, I tried to make the whole series funnier because he's such a hideous character. He has to be maybe the ugliest character Marvel has, which is one of the main reasons I picked him when they give me a [list] of characters that they weren't using and said, "Which one would you like to do?" and I happen to love swamp monsters and he was just so ugly I had to pick him. But yes, there is a major twist at the end. You know, like all "Goosebumps" books there's a happy ending, they all have happy endings, but then after the happy ending, there's something pretty terrible [Laughs].
Marvel.com: I'm looking forward to it and I'm glad you brought up your affinity for swamp monsters because you've dealt with disgusting, dripping monstrosities in the past with "Monster Blood," King Jellyjam, "The Blob That Ate Everyone"…
R.L. Stine: I actually did a "Goosebumps" book last year called "Here Comes The Shaggedy" and it was a swamp monster book.
Marvel.com: Well, that kind of segues into my next question, which is did Man-Thing prove to be different from the rest of these creatures and if so, how?
R.L. Stine: Well he did in that he has more of backstory and I felt the backstory was really good. And I think we recapped it in the first [issue] of mine where Ted Sallis, this brilliant scientist, is trying to keep this serum from the army so he injects himself with it and then turns himself into this creature. In the old series, he couldn't really speak or anything, but I wanted him to be kind of funny and sarcastic about it, about how horrible he looks and he's so eager trying to get back to human [form] so for most of it, I gave him back his powers of speech.
Marvel.com: Man-Thing, as a character, has influenced writers like Neil Gaiman in the past. Did any other properties play important roles in your writing career or have repercussions on this series?
R.L. Stine: When I was a kid, I was obsessed with the EC horror comics, Tales from the Crypt and The Vault of Horror. I was just obsessed with them and I think they were incredibly influential on what I do because, as you know, they're horrifying, right? They're really disgusting, horrifying things and they all have a funny twist ending, every story. That kind of stayed with me so I think they were very important to me. Also, I didn't really know that much about Man-Thing. I had to learn so I read all the old [ones] that [writer] Steve Gerber did. I really liked those a lot and then that was very helpful to me.
Marvel.com: And other than being a disgusting swamp monster, what attributes do you think make Man-Thing a perfect subject for horror?
R.L. Stine: The fact that he's an outsider, for one thing. There's no way he can be accepted anywhere. In the first MAN-THING he says, "Why can't I have a movie? Every other Marvel character has a movie." And he tries to have a Hollywood career, but he [screen] tests so terribly because he's so ugly and he scares the kids. And so, I think being an outsider is part of it and just being so limited in a way in what he can do. I think that's a real challenge too.
Marvel.com: As someone who is comfortable writing within the horror genre, did anything end up scaring you when you were working on this comic?
R.L. Stine: Never.
Marvel.com: [Laughs]
R.L. Stine: It never happens. I wonder if it happens to other writers. I don't know. There's something missing in my brain in that horror never scares me. Any horror always makes me laugh. Seriously, the scariest Stephen King, the most disgusting, creepiest…"Pet Sematary," for example. Those books make me laugh and I've never been scared by a movie. People say to me, "Oh, your book was so scary, I was up all night, I had to leave the lights on." I've never had that feeling. I don't know why, but I've just never had it. I think there's a very close connection between humor and horror, there's sort of the same visceral reaction. When you jump out at somebody and say, "BOO!" they gasp at first and then they laugh. I think it's very closely connected. One other reason that I can never get scared from what I'm writing is I plan it all first, I do complete outlines of every book I write so I already know what's gonna happen [Laughs], I can't scare myself.
Marvel.com: You brought up your love of Tales from the Crypt. I love the idea of bonus back-up anthology scary stories at the end of each issue.
R.L. Stine: Those were fun for me. Originally, when [former Marvel editor] Katie Kubert called me and said, "Would you like to do something for Marvel?" and I said, "Yeah! It's sort of a lifelong dream, I'm finally getting around to it," and at first, I was going to do just the straight, old fashioned type horror comic with two or three stories like that. But then I thought, "Gee, it'd be a lot more fun to just play with a Marvel character too." So I got to do both and it was terrific.
Marvel.com: That's awesome. Where did that idea for these stories come from? It's a very "Twilight Zone"/Rod Serling/Crypt Keeper sort of thing…
R.L. Stine: Yeah, that's just what it was supposed to be so I say that's what we thought first, that would be a good thing to do and then I thought, "Oh, come on! Take one of these characters and put a little story in the back."
Marvel.com: Are there any other Marvel you're interested in tackling?
R.L. Stine: I have to think about that one; I would love to do some of the sillier ones like Ant-Man, ones that you could have sort of a satirical view with.
Marvel.com: And any other characters you think are kind of suited for horror or scary stories?
 R.L. Stine: Well actually, they all could be. There [are] elements of horror in a lot of Marvel stuff.
Prepare to be scared with MAN-THING #4—out May 31—and the grand finale, MAN-THING #5—available June 21—both from R.L. Stine and artist German Peralta!
The Hype Box
Can't-miss news and updates from across the Marvel Universe!