Comics
Published June 21, 2017
Mighty Captain Marvel: A Tale of Two Captains
Margaret Stohl talks Chitauri and the true power of Carol Danvers!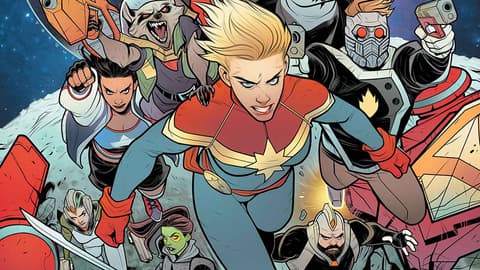 Margaret Stohl, writer of MIGHTY CAPTAIN MARVEL, has a lot to contend with in the upcoming issue #7, coming July 26! Soldier, leader, and self-appointed protector of Earth Carol Danvers has been facing a limitless, relentless wave of opposition in the Chitauri alien fleet—not to mention being walled off from her home planet due to an impenetrable force field erected by the traitorous Captain America.
Stohl talked to us about what it's like writing Carol's raw, reborn humanity in the face of planetary extinction, betrayal, grief—and hope.
Marvel.com: You've written Carol for a little while, now. How has she evolved in your time writing her and where might she be going in the future?
Margaret Stohl: I started with Carol right after CIVIL WAR II and that was a rough time for her as she transitioned out of making a lot of really difficult decisions. A lot of her readers weren't very pleased with her and I think she has to own up to a lot of what she'd lost in that past year, which was [a lot of friends and loved ones]. It was a big tumultuous year leading into the first arc I had on Carol [and] I think she was working out a lot of the repercussions from that level of conflict.
Now with SECRET EMPIRE she's got a Chitauri attack in space and it's sort of Carol doing what Carol does best, which is be a leader, take on incredible odds, and fight for what she believes in. But also just fight—I mean, she is a soldier. One of the reasons I was excited to work on Captain Marvel is that I'm a big fan of space, but also military history and combat. I love putting Carol in real combat scenarios and seeing her act like the real soldier she is. Marvel doesn't do that very often [and] has a very broad approach to heroics, so it's been very interesting seeing her tap into the actual [military] captain side of her. I actually get a lot of mail from veterans, and veteran women in particular, who are sort of an underrepresented group.
[As for] where Carol is headed, there will be a mini-event called Generations where she'll re-team with the original Captain Mar-Vell. That will be a return to her roots and an exploration of her origins so I'm pretty excited about that.
Marvel.com: The Chitauri attack is really all falling down on Carol more than anyone else. What is going on with her in this chaos of the waves of attack?
Margaret Stohl: It takes a lot to take someone like Carol out. She's having to come back from something that basically nobody else could come back from. That's the position she's in, [having to think] "how can I get back to save Earth?" and also "what's gonna be left of Earth by the time I get back there?" The stakes are pretty high right now, even by Marvel Universe standards.
Marvel.com: And what of the Steve Rogers of it all, namely his betrayal and the toll that puts on Carol?
Margaret Stohl: Well, it's an extinction mission [and Steve] has meant for them to die. That is a brutal calculation that he's made because he's not himself, he's a different version of himself. So she's kind of a raw open wound, [because] she's the other captain besides Steve Rogers, right? So she sees him as a direct referendum on what she's doing as a hero and if Steve Rogers could disappoint everyone like that, then what does that actually mean for any of them? He was part of the bedrock. So it's definitely been a rough arc for her. She's got one foot in space and one foot on Earth. I think you'll definitely see her increasingly more involved with Earth heroes as this wraps up and she does get to come back down to Earth. I mean, I say this all the time, but when people get upset that Cap is Hydra, I just say that there's more than one captain there and as he falls she rises. It becomes up to her, now, to do the job for both of them which she does.
Marvel.com: That you'd mention Steve Rogers as a counterpart is so interesting because, for me, SECRET EMPIRE is very much a story of the two captains. They're the ones that weave this big arc together. It was almost like before they went point on Earth and the galaxy but, with Steve gone, she's now having to shoulder that whole burden of everything.
Margaret Stohl: That's certainly how it feels. I mean, I'm drawn to powerful women [characters] and she is definitely one of the most powerful—literally—that I've worked with! Carol never doesn't rise to the call no matter what the personal price is for her, and that's something I respect so much about her and frankly I recognize with so many of the women I know. We do hard things, we shoulder the burdens people won't shoulder, and we make the world work. I see that in Carol and I see that in the women around me. I really relate to it and I admire it. Carol Danvers is a very powerful, very flawed character who struggles just as all of her readers do and I think that's part of what makes her so special. I like that model being out there and I think it's a great time for women super heroes.
[Writing Captain Marvel] is definitely more significant than any of the other characters I've worked with, and I think that's why people work with Marvel because that is ground zero in culture wars. It's world-changing for so many girls now and that's what we're here to do as female creators—what I'm here to do, and it's an honor.
Enlist with Carol and company as Margaret Stohl and Michele Bandini bring us MIGHTY CAPTAIN MARVEL #7 on July 26!
The Hype Box
Can't-miss news and updates from across the Marvel Universe!