Comics
Published May 23, 2017
Mighty Captain Marvel: Fighting Through
Margaret Stohl checks out the challenges Carol faces in Secret Empire!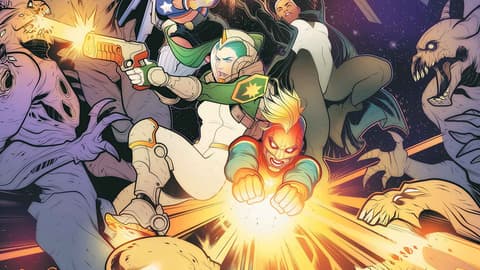 Carol Danvers has gone through a lot lately.
CIVIL WAR II definitely took an emotional toll, and now she faces the betrayal of Steve Rogers in SECRET EMPIRE. MIGHTY CAPTAIN MARVEL writer Margaret Stohl filled us in on Captain Marvel's headspace, and where she finds herself psychologically and emotionally these days.
Marvel.com: Carol found herself in a pretty dark place at the end of CIVIL WAR II. And now SECRET EMPIRE follows right on its heels. It must feel very draining for Carol psychologically and emotionally. Does watching things play out with Steve erode her faith in some of the things she has believed in even more?
Margaret Stohl: Watching Steve Rogers betray everything that Captain America has always stood for is a crushing blow, not just for Carol but for everyone. On the other hand, she's also an experienced military leader, and she knows better than anyone that the loss of Captain America only makes the role of Captain Marvel that much more important. She steps up when others step down, and she always has. So no, Steve's betrayal doesn't erode her faith, it makes her all the more resolved to defend it—because if she doesn't, who will?
Marvel.com: Steve left Carol and her team outside the planetary shield surrounding the Earth to face wave after wave of the Chitauri army. What kind of state of mind will she have when she gets back?

Margaret Stohl: Carol has her combat brain on now, which means she only has three things on her mind: how to keep her team alive, how to get them back to Earth, and then how to save it. Her first goal is her team's survival, particularly the three young cadets—Glory, Dante and A'Di—who were caught outside the shield with her during their training at Alpha Flight. That is priority one. Part of what makes Carol such an effective soldier and leader is her ability to compartmentalize when she has to. Making decisions in the moment is tough, but when a leader doesn't lead, the people fighting for her die.
Marvel.com: Currently, Carol leads Alpha Flight and plays a major role in the Ultimates. So professionally, she seems to really have things together. But personally, she's facing more challenges.
Margaret Stohl: Absolutely. Carol's first arc in 2017 was all about her personal journey back from the events of CIVIL WAR II. This arc is much more of a combat adventure, though even the fact that there are teens on Alpha Flight just shows how much her relationship with the Kree child, Bean, from the past few issues, has impacted her. In general though, I think Carol's emotions are on hold until she gets through the catastrophe of SECRET EMPIRE. If she ever makes it home, Carol Danvers will have to work to process what has happened—not just to her but to her planet.
Marvel.com: Carol had a falling out with Ms. Marvel during CIVIL WAR II, and America is distancing herself from the Ultimates to go to college. How does it affect Carol to see her protégés walking away?
Margaret Stohl: Carol is a lifer in her fight for what's right. Like many other heroes, she's seen plenty of teammates come and go, and while that wears on her, she knows it comes with the gig. That said, I'm not sure she's ever recovered from the end of her friendship with Kamala Khan. Since Kamala moved on in her life, Carol has taken the time to foster a Kree child and train three Alpha Cadets. I think she deeply feels the loss of Kamala, and is still trying to figure it out.
Marvel.com: I would imagine the fall of Maria Hill has had a pretty significant impact on Carol, as well. The two have had their differences, but have often found themselves in similar situations, and frequently worked together. Does it make Carol feel like maybe the same thing could happen to her? Like she could be forced out of the organizations she cares about?
Margaret Stohl: Women in positions of power are always aware of the fates of their female contemporaries, but at the moment, Carol really is caught up in just getting her butt back to Earth. I don't know how much time she's spent thinking about it. She's much more worried about Wendy, who is trapped somewhere on Earth and away from the rest of the A.F. team.
MIGHTY CAPTAIN MARVEL continues to battle through Secret Empire as depicted in issue #5 on May 31 and issue #6 on June 28, both written by Margaret Stohl with art by Ramon Rosanas and Michele Bandini respectively.
The Hype Box
Can't-miss news and updates from across the Marvel Universe!