Comics
Published December 22, 2017
Mighty Thor: Mangog Lives
Russell Dauterman sinks his teeth into the Walking Hatred!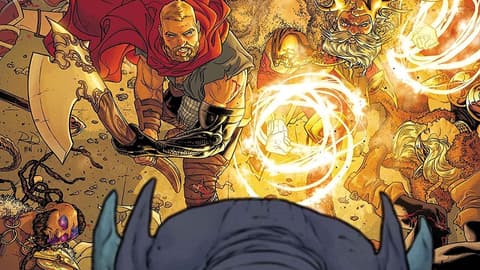 On January 17, the walking, talking manifestation of the combined hatred of a billion minds wages war on Asgardia.
One of Thor's most powerful opponents rears its head in writer Jason Aaron and artist Russell Dauterman's MIGHTY THOR #703…and the beast's name alone shakes the very firmament of the Nine Realms: Mangog.
Mangog's strange stature as a vessel for alien consciousness elevated him to near godlike levels of power, making the creature nearly unstoppable. Having debuted in 1968's THOR #154, each appearance of the Stan Lee and Jack Kirby creation has made for a true event in the history of the God of Thunder.
We checked in with Dauterman for a little insight into Mangog's visuals before the stuff hits the fan.
Marvel.com: Russell, what do you love most about Jack Kirby's original design for Mangog?
Russell Dauterman: I love how super weird it is! Kirby's Mangog really looks monstrous and foreign and unlike anything you'd see in real life. The proportions also help make Mangog feel like an otherworldly creature. I especially love his mouth and his teeth. The proportions are so great.
Marvel.com: What did you want to bring to the design with this run in MIGHTY THOR?
Russell Dauterman: I wanted to keep that wonderful weirdness that the Kirby design has, but to update it with a more visceral feel. Mangog is a being born out of rage, and this fight is so emotion-filled. I made some elements of his design a little more organic to help convey that.
Marvel.com: What sorts of scenes do you love drawing for Mangog the most?
Russell Dauterman: Jason Aaron's made a point to distinguish Mangog's fight scenes from ones he's written in other scripts—these feel particularly brutal. Since Mangog is a more monstrous villain than we've had before, I'm getting the opportunity to let loose and depict some more savage stuff.
Marvel.com: What else do you really dig about Jason's take on the character?
Russell Dauterman: I really love the unbridled rage that Jason's writing for Mangog. We've had serious threats for Thor over the past few years, but none where the villain was so bloodthirsty and brutal. Jason writes a truly terrifying Mangog, and I'm trying to bring that through in the art.
Read MIGHTY THOR #703, by writer Jason Aaron and artist Russell Dauterman, on January 17!
The Hype Box
Can't-miss news and updates from across the Marvel Universe!