Comics
Published May 17, 2017
Mighty Thor: Ultimate Introduction
A new player with a familiar hammer makes their way into Jason Aaron's epic!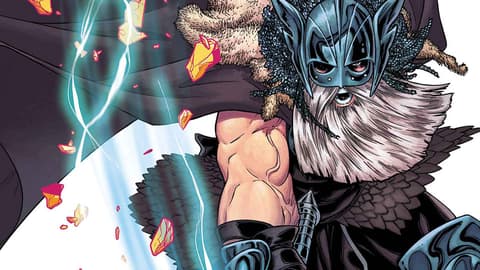 Observers of all things Asgard know that we have a new player in town: the new Ultimate Thor! This God of Thunder seems ready for battle and has a hammer all his own. But who will we find behind the armor?
We asked UNWORTHY THOR and MIGHTY THOR writer Jason Aaron to weigh in on our top five best guesses—without spoilers, of course!
Steve Rogers
Marvel.com: He did wield Mjolnir in the Free Comic Book Day issue of SECRET EMPIRE. Maybe he can wield the hammer of the Ultimate Thor, too? Also, it would make sense with the tone of the end of UNWORTHY THOR #5, where it looks like this new breed of Thor has more war-like tendencies. Given where Cap stands with Hydra right now, it wouldn't require too much of a leap.
Jason Aaron: That's a good guess. I'll just say, what's going on with Steve right now is very much [SECRET EMPIRE writer] Nick Spencer's story. I'm kept in the loop in terms of how it involves the hammer, which I was very interested in, and the Odinson will also be a part of that story. But that's pretty much a story for SECRET EMPIRE and the books that are dealing with Secret Empire. So we won't really see the MIGHTY THOR series dealing directly with those events.

Odin
Marvel.com: When we see the new Ultimate Thor, we can only see one eye as a shadow covers the other. And as mentioned, this Thor seems pretty war-minded, which would fit with Odin's personality and history.
Jason Aaron: Yeah, it certainly does look like he only has one eye. Last we saw of Odin—well we haven't seen him for a while. He's been [holed] up inside his hall in Asgardia, dealing with the All-Mother Freya, who was poisoned by Loki. But I think it's safe to say we haven't seen the last of Odin in the book.
Nick Fury (senior)
Marvel.com: The one eye thing again! Also, we haven't seen a lot of him since he became The Unseen. Giving him the role of the new Ultimate Thor would bring him back into the fold in a pretty dramatic fashion.
Jason Aaron: But he's dead! He'd have to come back from the dead. Fury did die and kind of was reborn as something different, as The Unseen, whom we saw in UNWORTHY THOR. He was the first person to kind of realize that the hammer of the Ultimate Thor existed, that it had crossed over into our universe. The events of UNWORTHY THOR were really set into motion by him, by The Unseen. So certainly he has a connection to the hammer.

Maria Hill
Marvel.com: Highly unlikely, of course. But we can see from her dealings in JESSICA JONES, for example, that even though she has taken a hit, she won't go down easily. She has had plenty of shady dealings that at first you might think would disqualify her from worthiness, but as noted, we're faced now with a new breed of Thor. And yes, the new Ultimate Thor appears to be a man, but we've seen how Mjolnir transforms Jane Foster, so maybe not so far fetched? As the new Ultimate Thor, Maria could definitely stick it to everyone who forced her out of S.H.I.E.L.D.
Jason Aaron: That would be an interesting direction for me to take Maria Hill in! I don't know if Brian Michael Bendis would be ok with me giving her a beard.
Marvel.com: When Nick Fury whispered to the Odinson that "Gorr was right," it led to his unworthiness. The God Butcher would certainly qualify as a new kind of Thor, and we'd get to see a nice symmetry in bringing this full circle.
Jason Aaron: I do like the sound of "Gorr the War Thor." It's got a nice ring to it. Certainly, even though Gorr died in [THOR: GOD OF THUNDER #11], when I was just starting on Thor, he continues to be a presence in the book. It should be obvious now that we've found out the secret of what Fury whispered. And that won't change. In my mind, he has always been a presence in the book, and those questions that he raised and the effect he had on Thor Odinson has continued to have ripple effects through my whole run on the book. And that's not going to change, we'll definitely even go a step further and, I think, begin to see more of an effect and more of the impact of Gorr's legacy and what he set in motion. And it will all kind of come back to haunt the characters in our book in a very real way.
The War Thor makes their presence felt in MIGHTY THOR #20, available from Jason Aaron and Russell Dauterman on June 21!
The Hype Box
Can't-miss news and updates from across the Marvel Universe!