Comics
Published October 22, 2019
Mike del Mundo on the "Great Ride" of Drawing 'Thor' #16
Del Mundo provides his artist's commentary on his final issue of 'Thor' with Jason Aaron.
Earlier this year, Mike del Mundo finished his stint on THOR alongside longtime series writer, Jason Aaron. THOR #16 was the final issue of Aaron's run and came on the heels of WAR OF THE REALMS. Now, Thor is finally the All-Father of Asgard and truly the god he was always meant to be.
It was a fitting way for del Mundo to say goodbye to Thor and his world. But before closing the door on that chapter, Marvel.com invited del Mundo to share his artist's commentary for THOR #16 in his own words. Pick up the hammer, Mike! It's all you, now.
THOR #16 was a very special issue. We see Thor finally reunited with Mjolnir to finish off Malekith in the War of the Realms. In this issue we see Thor accepting the crown as the All-Father, but he's missing in action and leaving an empty throne. It kind of reminds me of the first time I was offered the role of drawing THOR. It was such a huge responsibility to take on a character that many devoted fans come to worship. I thought "will I do justice to this character?" "Will I mess up Jason Aaron's seven-year run?"
But I was missing the big picture. You see in this issue, Thor went missing to take on the responsibility of an All-Father to fix what was ravaged in the War of the Realms. We see Odinson, helping rebuild a church, transport an organ for transplant, and cater a buffet to the children of the mines. So as reality imitates art in a weird foreshadowed way, I smashed my fears with my replica Mjolnir and took on my duty, like the All-Father did to bring home the bacon. Sixteen issues later and I'm here reminiscing about the great moments in this last part.
Page 1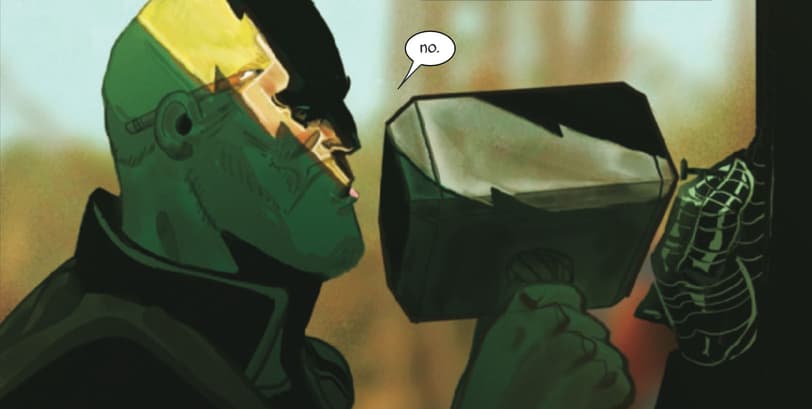 A few standout moments like the last panel of page 1 really hits home. Casting a shadow on Thor that creates a shape of a lightning bolt just fit perfectly the story of his duties as an All-Father. I love using symbols to make readers think a little.
Pages 2 and 3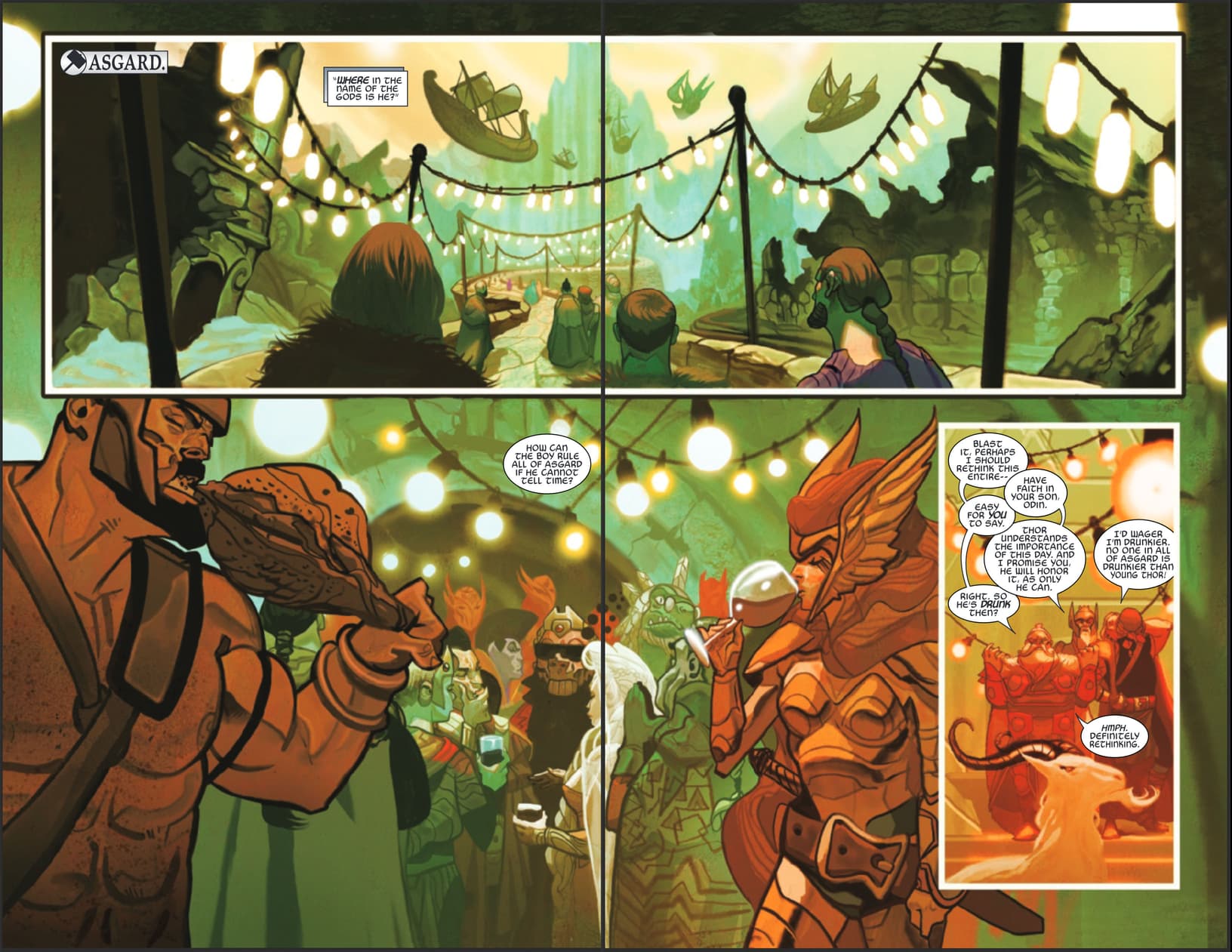 Some of my favorite things to draw are random characters in the background. It's a break from trying to remain consistent with the original cast of characters. So when Jason wrote in a crowd of various dignitaries, I was pretty excited. I love just having a blank canvas to design characters with no boundaries. A double-page splash of Asgard was pretty awesome to work on as well.
Page 6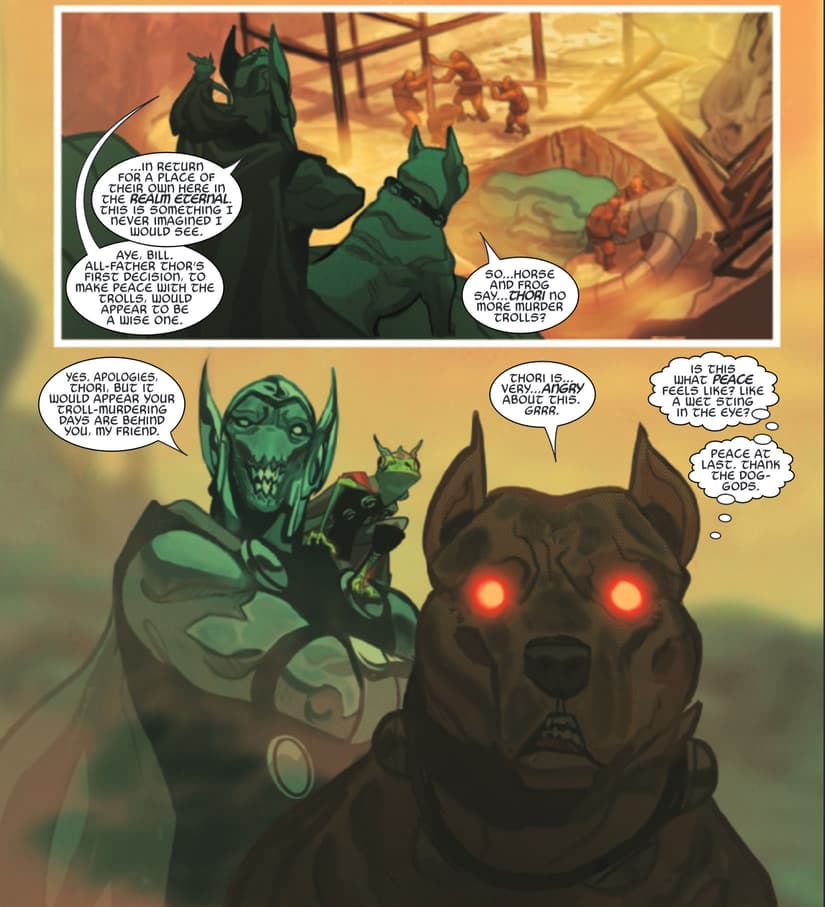 Thori is always going to remain near and dear to my heart. Every shot of him was a thrill to draw and I couldn't help but chuckle with every line. I gotta thank Jason for making such a hilarious, noble and murderous dog. Look at all those qualities! This scene is a big moment for Thori as he comes to the realization that his murderous days are over. When most of us see peace as an ultra light beam, Thori sees it as a Dark Cloud. So with that I added a dark sheen on him.
Page 12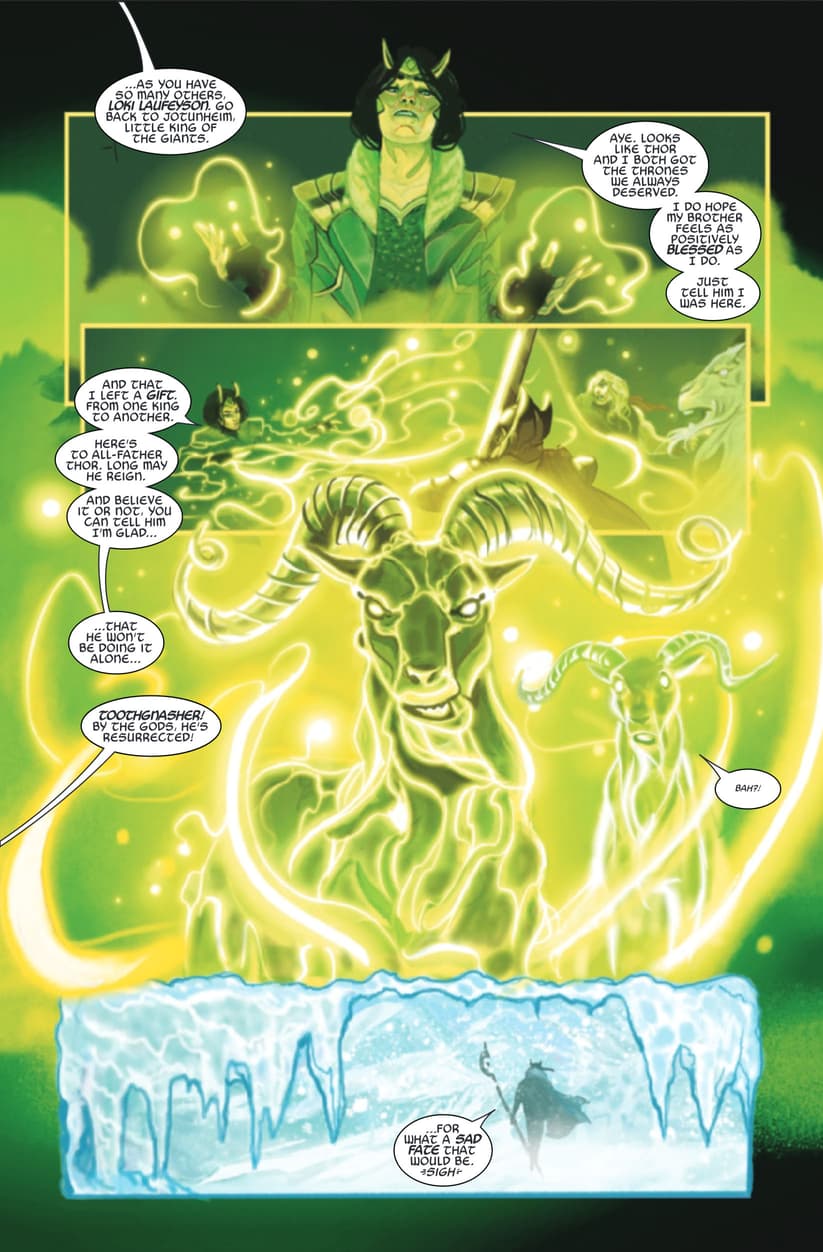 I'd be lying if I didn't say I liked drawing this God of Mischief just a little better than the God of Thunder. Loki has so much expression from his slight lean to the side or his expressive hands you never get bored of drawing him. I think I learned a lot about body language throughout these issues. The expression on his face on this page was the perfect way to finish my last drawing of Loki.
Page 15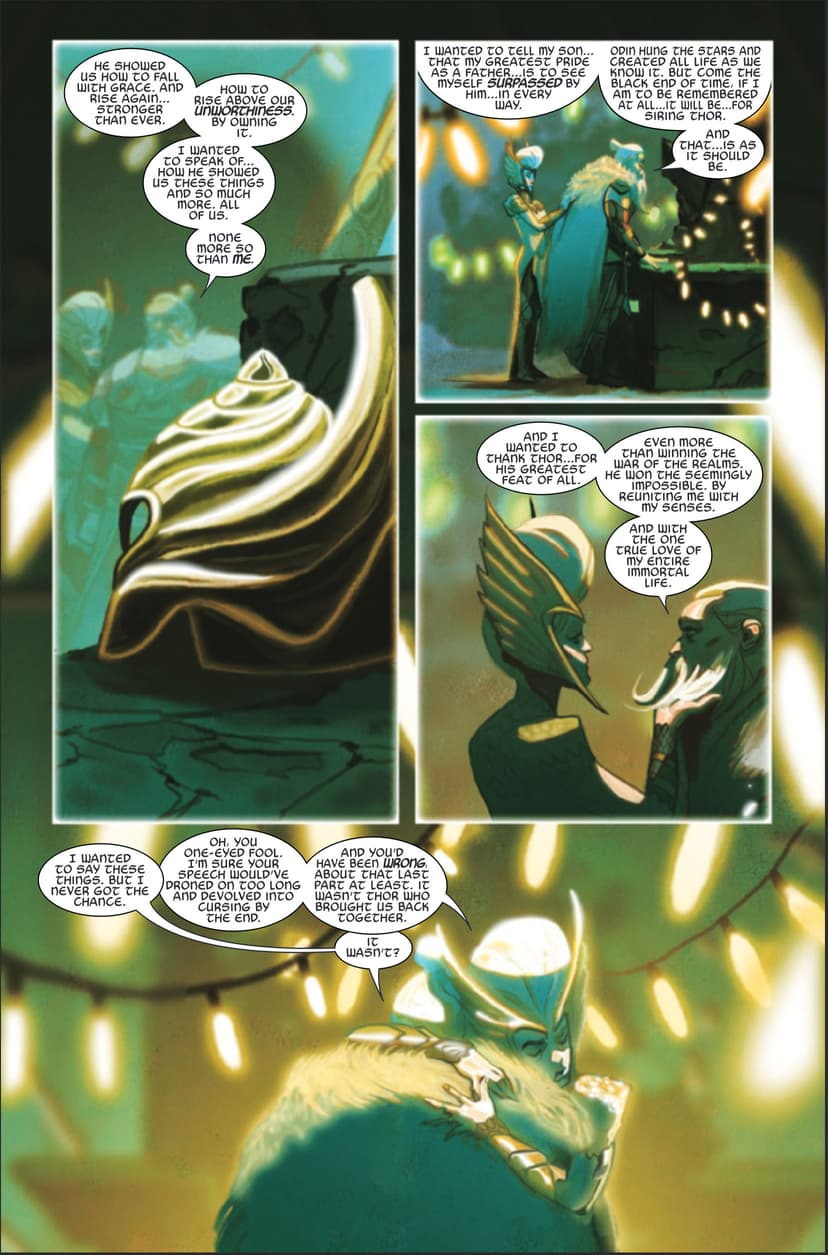 Those intimate moments between Odin and Freya were so sweet, Freya being the cornerstone that keeps Odin together. It reminded me of me and my wife. This scene was very deep and personal. My wife and I acted out this whole scene together to get the body language close to perfect.
Page 18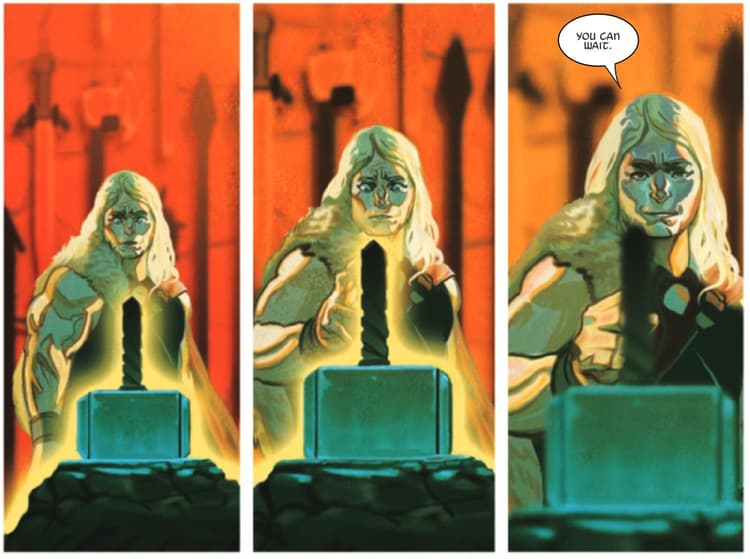 I love how Jason wrote this scene. I loved the simple beats through the three panels and the hammer going out of focus on the last beat where Thor decides to chill out on Mjölnir.
It's been a great ride. I've come to really be attached to these characters, so I'm sure there will be a round 2 sometime in the future!
Find out more about Marvel's Young Guns – The Next Generation of Elite Artists!
The Hype Box
Can't-miss news and updates from across the Marvel Universe!