Comics
Published November 10, 2020
Miles Morales Must-Reads Now on Sale in the Marvel Comics App
Get up to 67% off on digital trades and comics starring the fan-favorite web-slinger!
Now on sale in the Marvel Comics app for iOS and Android!
Miles Morales: full time student, sometimes Avenger, and Brooklyn's wall-crawling wonder! Read up on the entire comics history of Miles Morales before you swing into Marvel's Spider-Man: Miles Morales, available for PlayStation on November 12!
Stock up and save BIG on essential Miles Morales reading, with select titles up to 67% off. From his origin series, cross-dimensional event SPIDER-VERSE, to his ABSOLUTE CARNAGE tie-in, Miles' greatest swings can now be enjoyed in the cutting-edge digital reader of the Marvel Comics App, available on iPhone®, iPad® and select Android™ devices! Once purchased, all of your stories are accessible through your personal library.
This sale ends November 22, so act now!
Read about a few of our top picks here:
The first meeting of Peter Parker and Miles Morales!
Universes collide for the first time in one ultimate, amazing Spider-Man story! Superstar writer Brian Michael Bendis at last unites the wall-crawlers of two worlds! Courtesy of the multiversal machinations of Mysterio, the Marvel Universe's friendly neighborhood Peter Parker meets Ultimate Comics' new kid on the block, Miles Morales, in a landmark tale they said would never be told. The new Ultimate Spider-Man is sure to learn much of power and responsibility from his Amazing counterpart, a grown-up version of his fallen idol. But what lessons lie in wait for an adult Peter in a world at once familiar, yet strikingly different—a world in which he died young, but friends, foes and loved ones live on?
Collects SPIDER-MEN (2012) #1-5.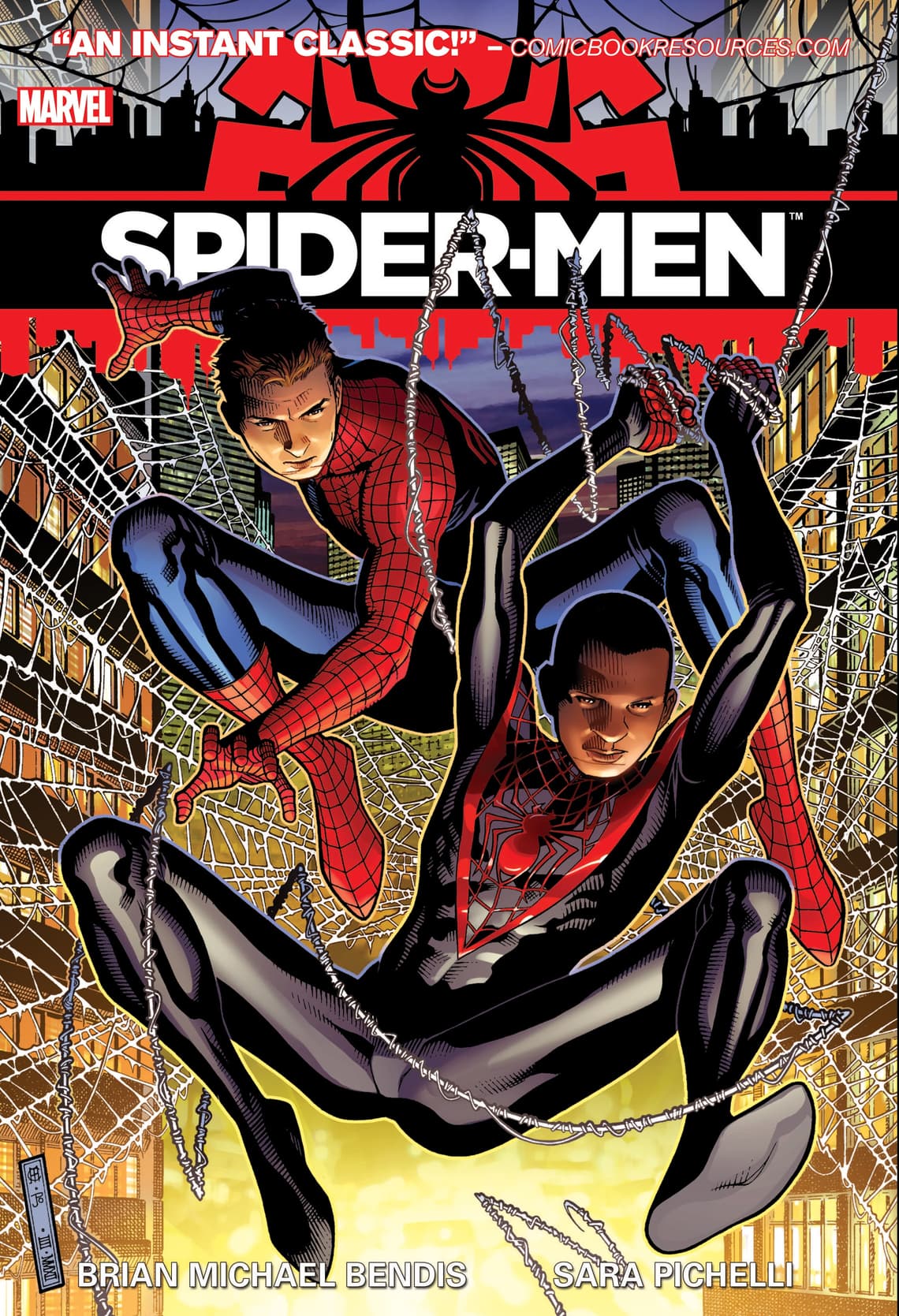 Miles' definitive origin! Miles takes up the mantle of Spider-Man! Before Peter Parker died, young Miles was poised to start the next chapter in his life in a new school. Then, a spider's bite granted the teenager incredible arachnid-like powers. Now, Miles has been thrust into a world he doesn't understand, with only gut instinct and a little thing called responsibility as his guides. Can he live up to Peter's legacy as Spider-Man? As Miles grapples with his new life, Miles' Uncle Aaron, A.K.A. the Prowler, learns his secret! He's got plans for his nephew, but little does he know that the Scorpion is on his tail! Plus: Universes collide, and the wall-crawlers of the Marvel and Ultimate Universes unite in the most ultimate, amazing Spider-Man story ever!
Collects ULTIMATE FALLOUT #4, ULTIMATE COMICS SPIDER-MAN (2011) #1-12, and SPIDER-MEN #1-5.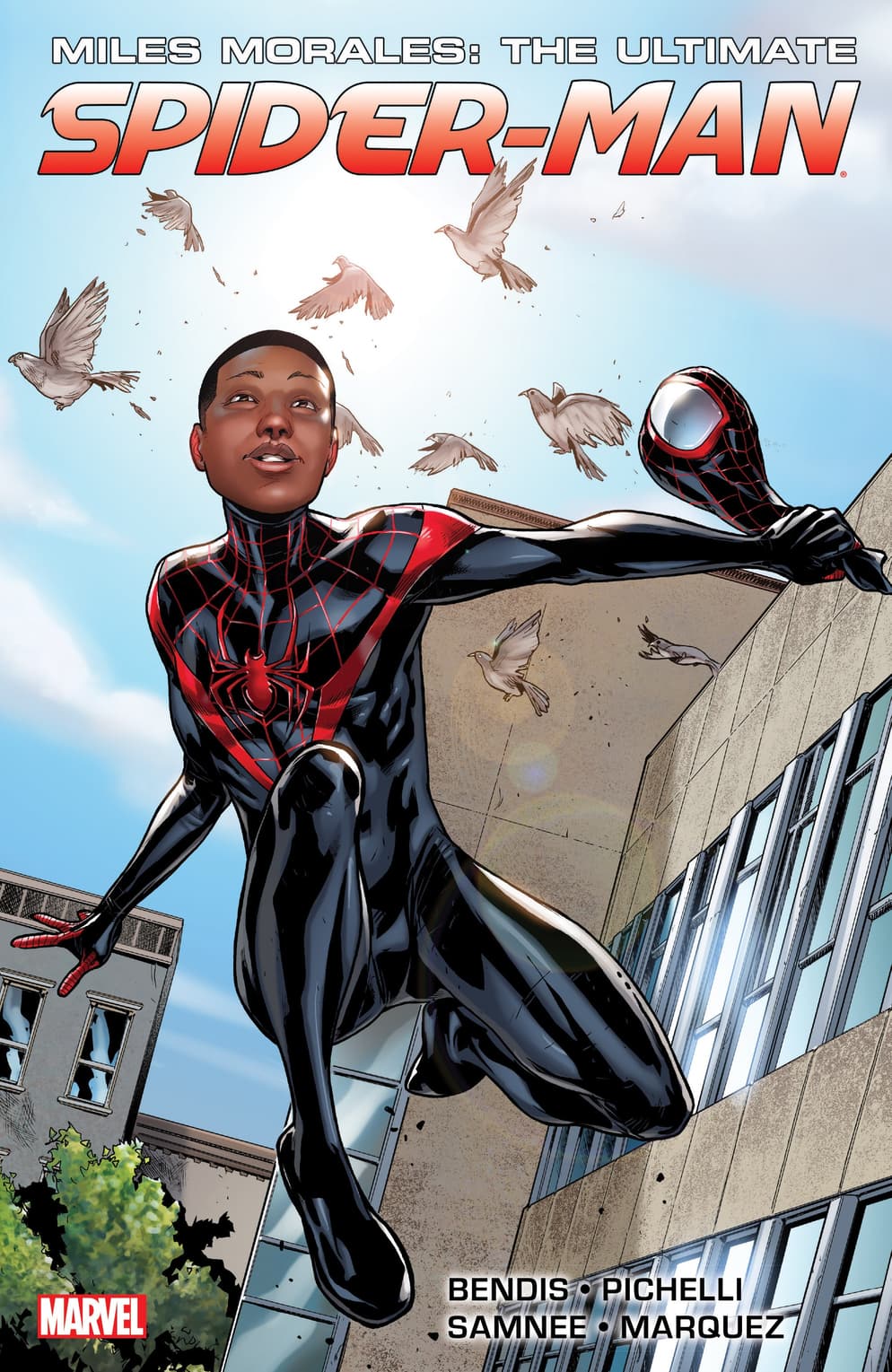 When the evil Inheritors begin exterminating spider-characters throughout the Multiverse, every single Spider-Man ever is needed to save the day! An interdimensional Spider-Army gathers to fight Morlun and his deadly family, but none of them are safe as the Prophecy comes to fruition! What will this brutal war for survival mean for Peter Parker and the rest of the spiders? Starring the Superior Spider-Man, the Ultimate Universe's Miles Morales and Jessica Drew, Spider-Man 2099, Spider-Woman, Silk, Kaine, Scarlet Spider, MC2's Spider-Girl, Spider-Man Noir, Spider-Man 1602, Spider-Ham, Spider-Monkey, Lady Spider, Spider-Punk, Spider-UK, a spider-powered Gwen Stacy... and hundreds more, from the beloved to the obscure!
Collects the complete SPIDER-VERSE event!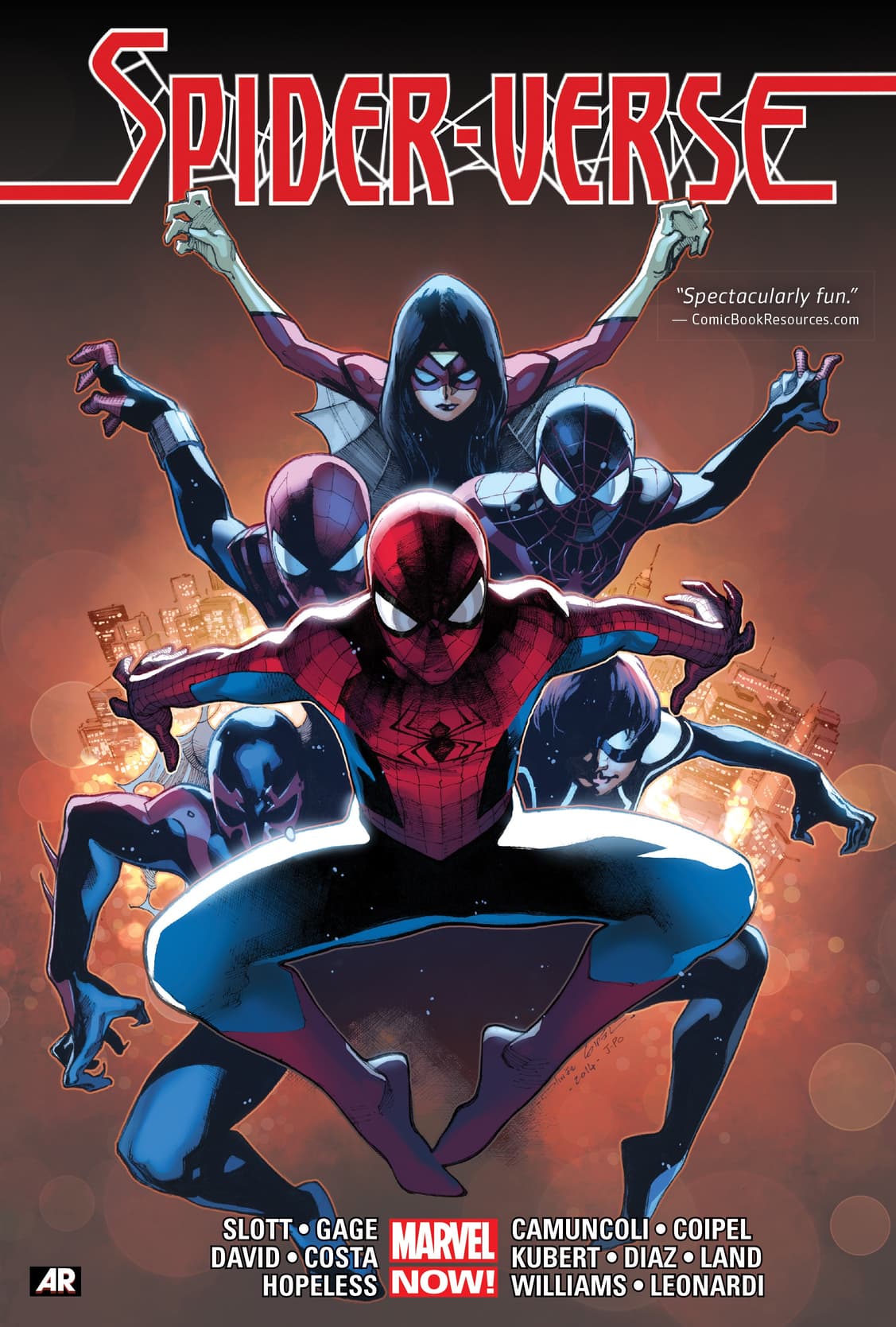 The Avengers are dead—long live the Avengers! When a threat from beyond the stars targets our world, fate draws Captain America, Thor, Vision, and Iron Man together again—alongside a group of young adventurers who will reinvigorate Earth's Mightiest Heroes like never before! Welcome to the big leagues, Nova, Ms. Marvel and Miles Morales! But who is the familiar villain pulling the reassembled Avengers' strings? And can the new lineup last long enough to be more than a footnote in the team's great history? Maybe not, when the events of STANDOFF make them forget their true identities! Then, feel the sting of the All-Different Wasp! Is she friend or foe?
Collects ALL-NEW, ALL-DIFFERENT AVENGERS #1-12, and material from AVENGERS (2015) #0, FREE COMIC BOOK DAY 2015 (AVENGERS) #1, and FREE COMIC BOOK DAY 2016 (CIVIL WAR II) #1.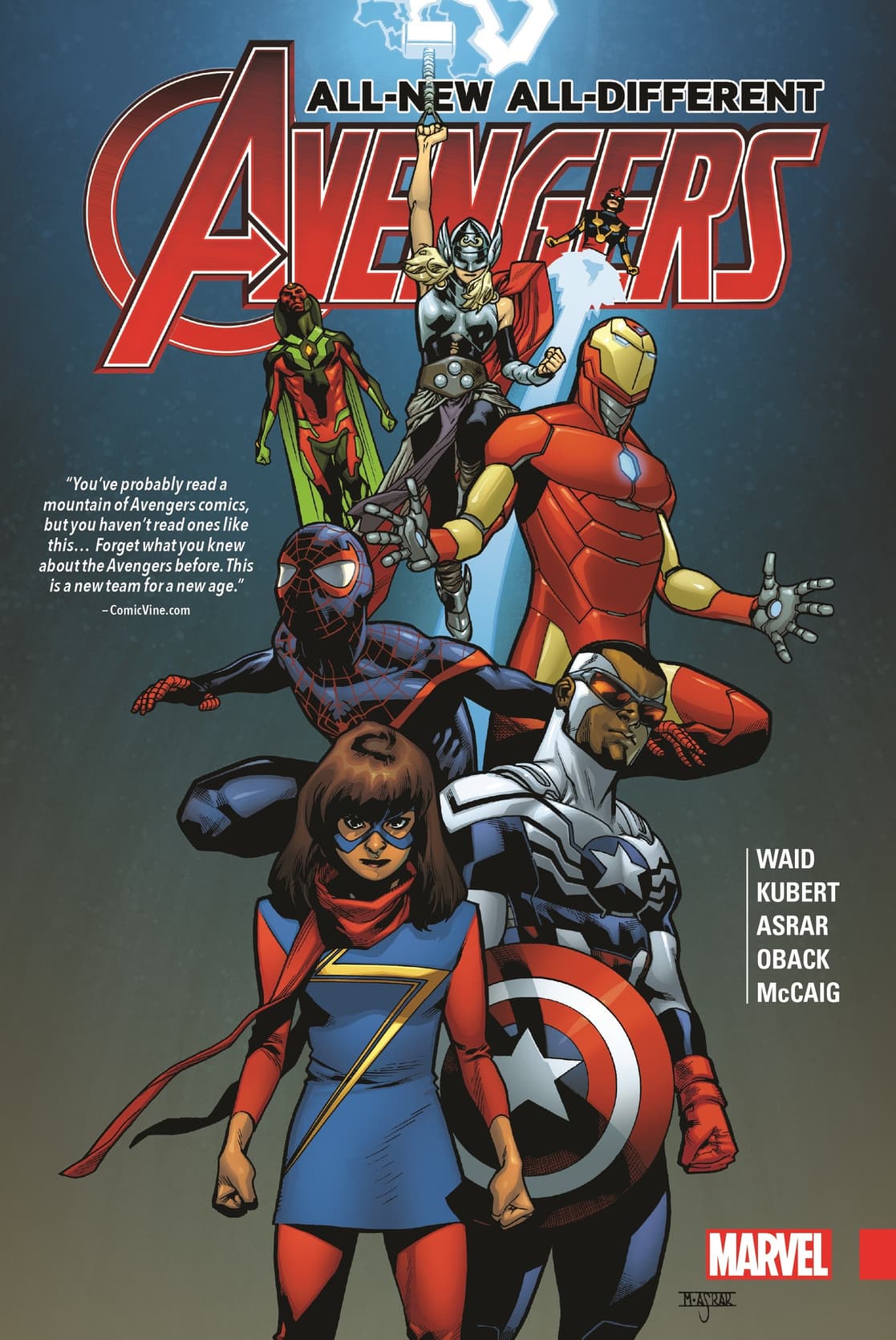 By Eisner-award winning writer Saladin Ahmed! When the rampaging Rhino and a cadre of mysterious criminals start plaguing Brooklyn, things take a dark turn for the young Spider-Man! What mystery lurks under the surface of this newest villainous uprising? Why does the Rhino have minions? And who is the new antagonist who may just become Miles' most dangerous foe? Maybe Captain America has the answers! Then, get ready for… Miles Morales' day off! Vice Principal Drutcher is determined to figure out the reason for his student's tardiness and absences, so Miles, Judge and Barbara must stay one step ahead by playing hooky—while our hero tries to keep his secret safe from all of them! Plus: the quiet-but-deadly Tombstone! And introducing… Starling! Is she friend or foe? And is she single?
Collects MILES MORALES: SPIDER-MAN (2018) #1-6.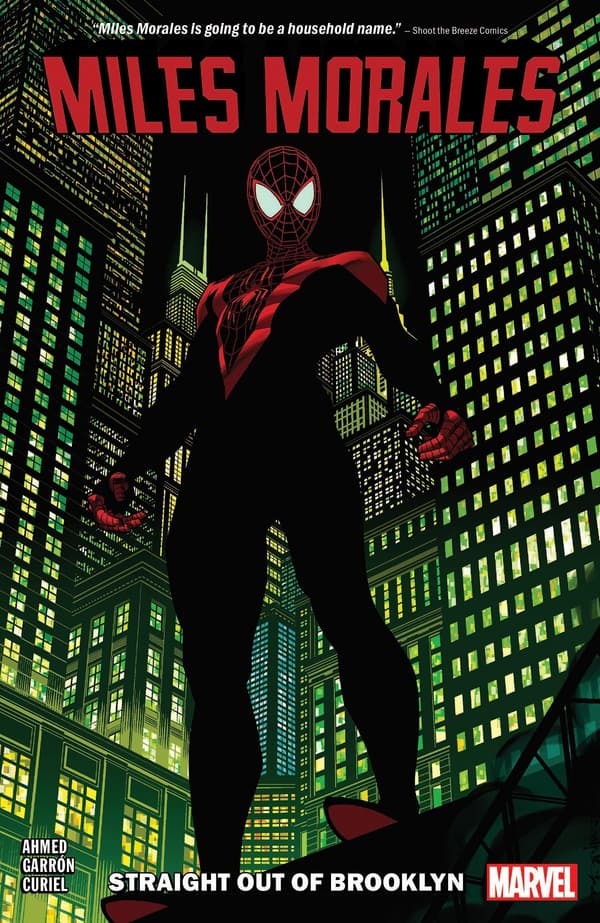 See the full list of sale titles here!
ABSOLUTE CARNAGE: MILES MORALES
MILES MORALES VOL. 1: STRAIGHT OUT OF BROOKLYN
MILES MORALES VOL. 2: BRING ON THE BAD GUYS
MILES MORALES VOL. 3: FAMILY BUSINESS
MILES MORALES: ULTIMATE SPIDER-MAN ULTIMATE COLLECTION VOL. 1
MILES MORALES: ULTIMATE SPIDER-MAN ULTIMATE COLLECTION VOL. 2
MILES MORALES: ULTIMATE SPIDER-MAN ULTIMATE COLLECTION VOL. 3
MILES MORALES: ULTIMATE SPIDER-MAN VOL. 1 - REVIVAL
MILES MORALES: ULTIMATE SPIDER-MAN VOL. 2 - REVELATIONS
MILES MORALES: WITH GREAT POWER
SPIDER-MAN: MILES MORALES VOL. 1
SPIDER-MAN: MILES MORALES VOL. 2
SPIDER-MAN: MILES MORALES VOL. 3
SPIDER-MAN: MILES MORALES VOL. 4
SPIDER-VERSE
SPIDER-MEN
SPIDER-MEN II
ALL-NEW, ALL-DIFFERENT AVENGERS COLLECTION
AVENGERS & CHAMPIONS: WORLDS COLLIDE
CHAMPIONS: BECAUSE THE WORLD STILL NEEDS HEROES
Download the Marvel Comics App today to partake in these savings! Offer ends November 22!
Read these astounding stories now by heading to the Marvel Comics App and enjoy the amazing adventure that is the Marvel Universe!
All purchases in the Marvel Comics App are added to your personal library, and can be read on iPhone®, iPad® and select Android™ devices! Our smart-paneling feature provides an intuitive reader experience, ideal for all types of mobile device and tablet users!
Marvel's Spider-Man: Miles Morales will launch both physically and digitally on the PlayStation Store on November 12, 2020.
The Hype Box
Can't-miss news and updates from across the Marvel Universe!