Comics
Published September 1, 2017
Miles Morales: Spider-Man – Here Comes Trouble
Author Jason Reynolds maps out the Webbed Wonder's new prose novel!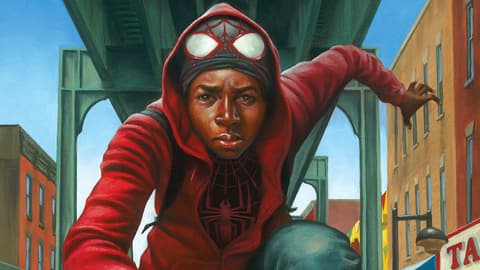 Meet Miles Morales, your average Brooklyn teenager. Dinner every Sunday with his parents, playing old-school video games with his best friend Ganke, crushing on his brainy, beautiful classmate Alicia. He's even got a scholarship spot at a prestigious private school.
Oh yeah—and he's Spider-Man.
National Book Award finalist and Coretta Scott King Award-winning author Jason Reynolds presents "Miles Morales: Spider-Man"—a young adult prose novel—available now!
Miles has been having nightmares. And his Spidey Sense is on the fritz. As he negotiates the trials of everyday life, as well as those that come with his special abilities, Miles uncovers a chilling plot—one that puts his friends, his neighborhood, and his own life at risk. In response, Miles Morales can only do one thing: suit up.
We sat down with Jason Reynolds to learn more about the novel, Miles' background, and the trouble that lies ahead for our young hero.
Marvel.com: We've seen Peter Parker grapple what it means to be a hero before—how did you approach this theme when writing for Miles?
Jason Reynolds: I wanted to upend the power and responsibility trope by figuring out how to address the idea that Miles is a teenager with super human abilities—how there aren't many teenagers with special powers who would naturally lean toward being responsible with them…though he always has his best friend Ganke to encourage moments of silliness, especially if there are extra capabilities involved.
I also wanted to delve into Miles struggling with whether or not he's worthy of such responsibility; if he deserves to be special. And it felt important to focus on the weight of having a hierarchy of responsibility—that his home, block, and neighborhood have to be priorities before he can save the rest of New York City.
Marvel.com: Having written books like "Ghost," "All American Boys," and "Patina," you're no stranger to the world of young adults. Did any lessons from those works carry over to this one?
Jason Reynolds: Of course. The most important carryover will always be that kids are kids. There's no way to write them well unless you write them whole—with fears and insecurities, laughter and foolishness, and a certain level of mundane magic. All young people have a peculiarity that comes in an "ordinary" package. For instance, the ability to be quick-witted, or hyper-creative when it comes to survival, or even having something like a Spidey Sense, which in actuality could just be an keen sense of discernment—which kids who grow up in certain environments have.
Marvel.com: Were there any new or unique challenges that you discovered when tackling a Marvel story?
Jason Reynolds: Only one—suspending reality. It was strange to write about Miles leaping onto buildings and shooting webs. I didn't think it would be a challenge because I grew up with Spider-Man, but I have to admit, the first time I wrote him being "super," it made me laugh. But then I got used to it.
Marvel.com: How did you go about capturing the "kid" side of Spider-Man? How does it influence his motivations in the novel?
Jason Reynolds: We see him more as a kid than anything else because he spends more time as Miles than as Spider-Man. We see him wrestling with his feelings for a young lady, we see him struggling with dance moves, playing video games, joking with Ganke, and being teased by his father and his father's friends. I'm not sure it affects how he sees himself as a hero, besides serving to remind him that he's just a teenager—that being Spider-Man feels even more like an abnormality in relationship to his everyday life.
Marvel.com: Let's talk a little bit about this sinister plot Miles uncovers. What can you give away about what it entails and who might be behind it?
Jason Reynolds: Hmm…I really don't want to spoil this. Let's see…I wanted to take one of America's biggest issues, the thorn—the dagger—deep in the side of our country, and personify it. To make a macro system into a single person whose purpose isn't just to stop Miles, but to convince him that he could never be a hero in the first place.
Marvel.com: Friends and family have always played important roles in Spider-Man comics—how do those concepts factor into this novel?
Jason Reynolds: I just wanted Miles's friends and family to feel real enough to ground him. That's the reason the book begins with his family and best friend. Everything else about this story sprouts from this group of people—his mother, father, and friend—and Miles's relationship with them. They drive the levity, and passively create the framework for Miles's past and present. We learn more about him by learning more about them.
Marvel.com: What ideas, characters, or plotlines would you consider exploring in a possible follow-up to this book?
Jason Reynolds: I've been thinking about this. I'd love to learn more about a few of his classmates and friends. His crush, Alicia. And the character Austin. I love them. Also, Ganke. The three of them are completely different, but Alicia's courage, Austin's imprisonment and backstory—and Ganke, because he's awesome. More Ganke!
As far as plotlines go, there's something in me that wants Miles to get kicked out of school for "disciplinary reasons" and be forced to attend a neighborhood public school. He's been in an elite private school and therefore might be an outcast, ostracized by his new classmates—which leads him to using his powers…irresponsibility. Would be super fun to write.
Explore the world of Jason Reynolds' "Miles Morales: Spider-Man"—out now!
The Hype Box
Can't-miss news and updates from across the Marvel Universe!