Comics
Published June 3, 2020
Modern Marvel Master Russell Dauterman Looks Back on His House of Ideas Debut
Revisit 2014's 'Cyclops' with the artist behind 'The Mighty Thor' and 'War of the Realms'!
Take a guided tour of Marvel's mightiest creators with Marvel Tales! Ben Morse, currently a visiting lecturer at UNLV, previously spent a decade working within the House of Ideas. In each installment of this series, he utilizes that insider knowledge—plus his lifelong fandom—to connect with comics professionals as they spin stories about the Marvel Universe and its inhabitants!
Artist Russell Dauterman, perhaps best known for his landmark work alongside Jason Aaron on the epic saga that wound through THOR (2014), MIGHTY THOR (2015), and last years WAR OF THE REALMS, recently made a mark on Marvel's mutants with GIANT-SIZE X-MEN: JEAN GREY AND EMMA FROST. However, the illustrious illustrator got his Marvel start on a different Child of the Atom when he kicked off the spacefaring CYCLOPS series with writer Greg Rucka.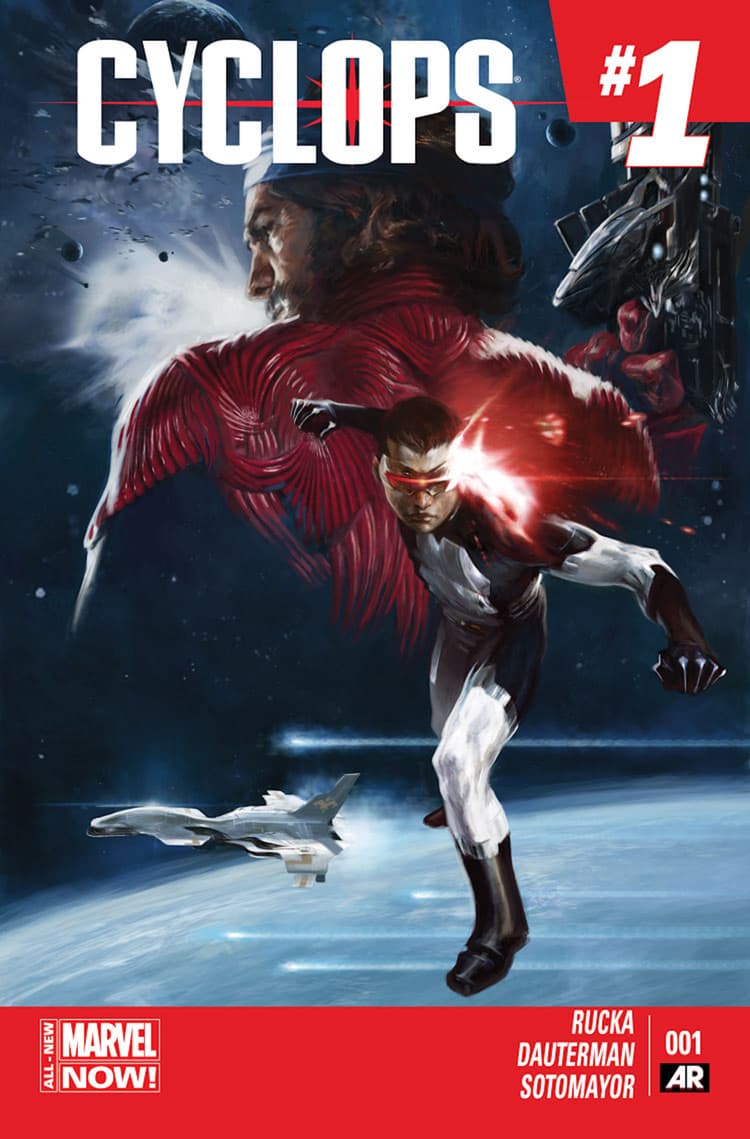 "In general, I felt out of my depth," confesses Dauterman with regard to his initial Marvel assignment in 2014 spotlighting the time-lost teenage Scott Summers and his father Corsair. "Turning in the layouts, I was hoping Greg and the editors would like everything, page one in particular.
"Doing the layout for the first page was huge for me. The script had multiple panels on that page, each showing a different bit of Scott's backstory. I saw that as an opportunity to do something more graphic—something that packed a punch for the opening. So I turned it into a splash page, an extreme closeup of Scott's face, with the flashbacks drawn in his visor. [Everyone] responded really well to it, and that gave me confidence."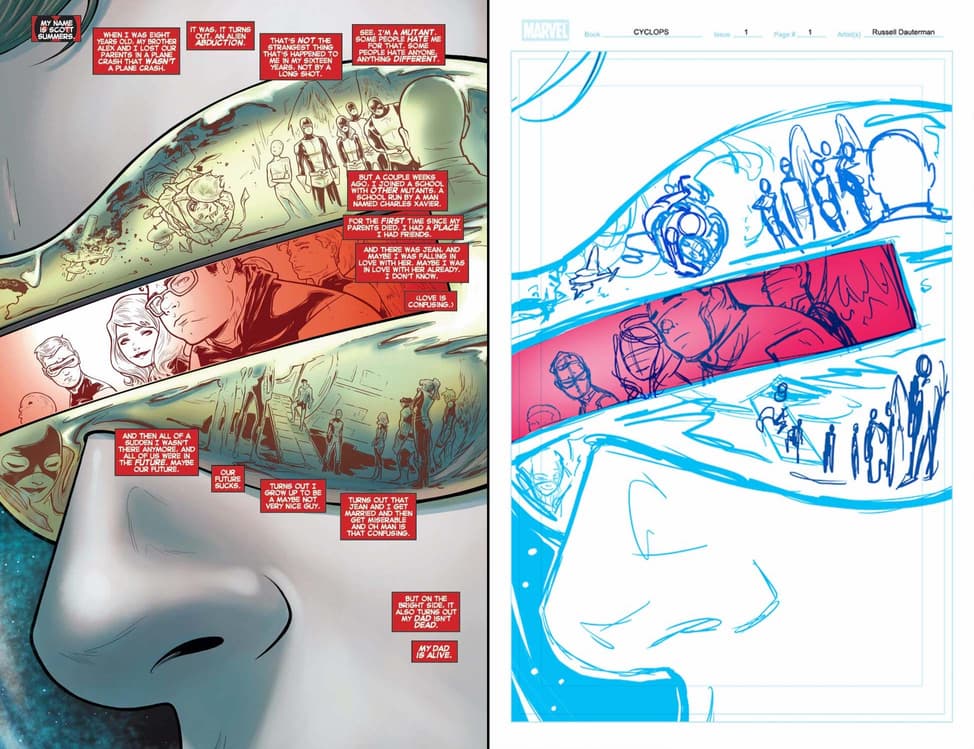 CYCLOPS would serve as an appropriate entrance to the House of Ideas for the artist, as he recalls both the '90s animated series as well as issues of UNCANNY X-MEN and GENERATION X being formative in his journey as a comics fan. A vertical double page spread of Storm rendered by John Romita Jr. in UNCANNY X-MEN (1963) #302, per Dauterman, "made me a comic book fan."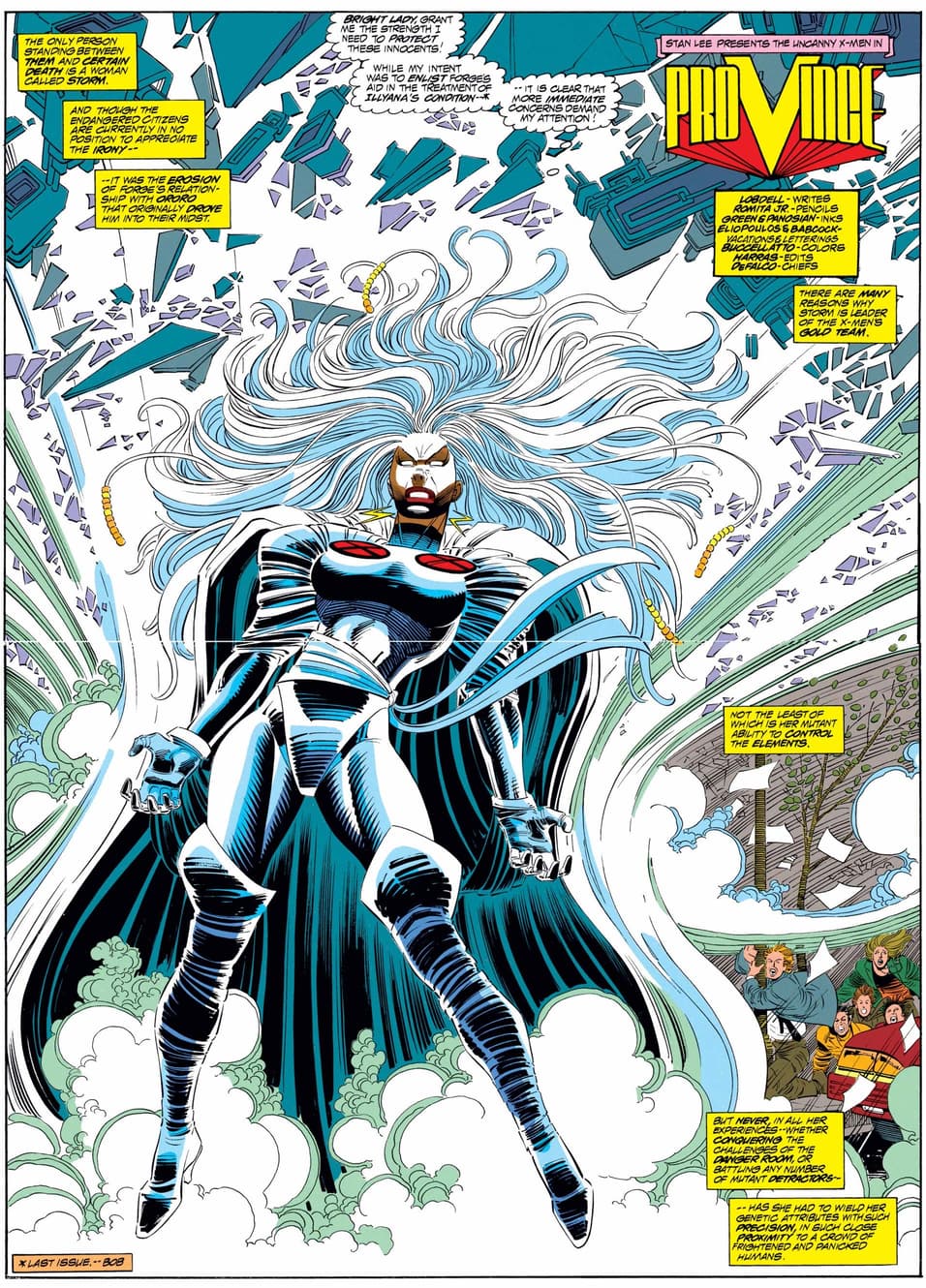 Russell studied art in college knowing he wanted to pursue a career in the broader field, but despite a love for elements like costume design, he lacked confidence that comics could provide opportunities for him. Instead, another door opened that led him to work as a costume illustrator on Marvel Studios' Captain America: The First Avenger bringing Marvel heroes to life in a different medium altogether.
"Of the things I was studying in school, I'd settled on costume illustration, where you work with a costume designer and illustrate their ideas, since that emphasized the drawing part of the job," he shares. "I met some professional designers at school, and once I graduated, one of them hired me to be an illustrator on the Captain America movie.
Dauterman's time in Hollywood proved short-lived, though he'd also earn a credit on 2011's The Girl with the Dragon Tattoo, but he touts the opportunity to "[meet] the Marvel Studios concept artists and seeing their incredible work. Getting to see their process was wonderful—I'm blown away by what they do."
Fueled by this experience, Russell determined to take a shot at the comics business, a passion he had put on the back burner but never abandoned. His work on The First Avenger gained him entrance to San Diego Comic-Con as a professional in the summer of 2011 where he managed to get his portfolio in front of Marvel editor Nick Lowe. Helpful tips from the then head honcho of the X-Men line assisted the artist in refining his work further. Work for other publishers and a well-received '90s X-Men print landed Dauterman back on Marvel's radar by 2013.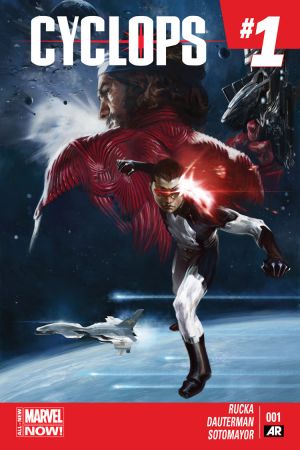 Signed for CYCLOPS, the rookie learned a lot from his creative collaborator as well as the editorial team steering the series. "Working with Greg and the editors was great," beams Russell. "I was a big fan of Greg's and was a bit starstruck to be working with him. But he made me feel welcome and encouraged visual ideas I had that may have differed from how he wrote things in the script.
"Greg was big on making sure we portrayed Scott as a teenager and making the story about this 16-year-old and his father, instead of about Super Heroes. I loved that—it helped me ground the characters, even with all the crazy space stuff happening around them."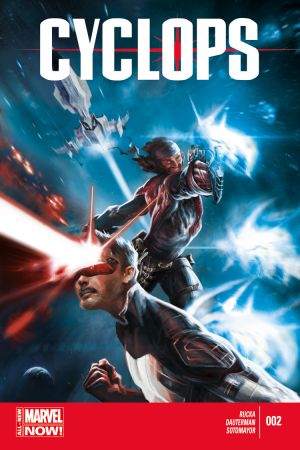 Dauterman's time on CYCLOPS would prove relatively brief as his phenomenal work got him noticed and recruited by THOR. Still, he remembers his time on this hidden classic fondly, and would encourage his younger self to take time to appreciate the opportunity.
"I would say to enjoy it more," he reflects of those days with the Summers boys. "I felt a lot of pressure to make the book great, plus the stress of being the new person, deadlines, etc.—so the awesomeness of the job got buried sometimes. But this is advice I still need to follow! The easiest time to step back and appreciate things is when I hear from people who liked the art and the books—that interaction is a wonderful part of this job and I'm very thankful for it."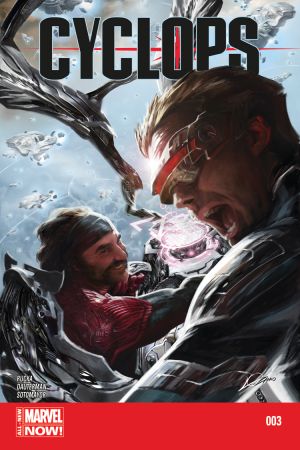 Cyclops (2014) #3
published

added to marvel unlimited

writer

colorist

letterer

editor

penciller (cover)

inker

penciller
What is Marvel Unlimited?
The Hype Box
Can't-miss news and updates from across the Marvel Universe!