Comics
Published February 17, 2017
Monsters Unleashed: Big Finish
Cullen Bunn prepares to steer the creature-filled conflict to an epic conclusion!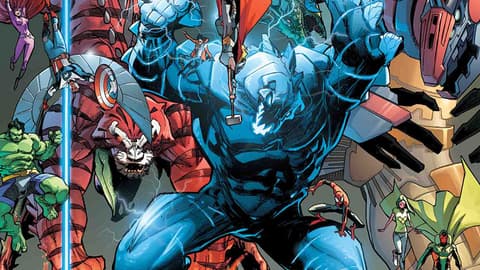 By Josh Weiss
Even if you've been living under a rock for the past few months, you'd still be able to feel the thunderous tremors being caused by the arrival of giant monsters in the Marvel Universe, stamping around above your subterranean home. And if the names Fin Fang Foom and Goom and Googam don't ring familiar to you, they soon will be thanks to writer Cullen Bunn who has helped re-introduced some of Marvel's most bloodthirsty behemoths with the Monsters Unleashed event.
In the wake of Civil War II, giant creatures mysteriously began to appear and terrorize the earth; it took the greatest heroes in the Marvel Universe to address a threat that may not be as clear cut as simply punching skyscraper-sized beasties in their faces and/or multiple heads.
For MONSTERS UNLEASHED, Bunn teamed up with a team of talented artists—Adam Kubert, Greg Land, Salvador Larroca, Steve McNiven, and Leinil Yu—to bring these monsters—some well-known and some a little more idiosyncratic—back into the colorful Marvel spotlight. With just two issues left in this limited series, we spoke with the writer about the event so far, his Atomic Age aspirations when crafting the story, and the far-flung ramifications we can expect from the end of a major crossover event that he's been preparing to write since childhood.
Marvel.com: As we begin to wind down on this awesome and—forgive the pun—monster-sized event, can you talk about what the ride's been like for you from the idea's inception to its fruition?
Cullen Bunn: I grew up watching giant monster movies, reading "Famous Monsters of Filmland" magazine, and reading monster comics. When I was very, very young, I wrote my own monster-centric comic titled "Attack of the Monsters," featuring King Kong, Godzilla, and Mothra among others attacking the Earth. When I first heard about the initial idea for the series, I thought to myself how hurt I would be if I didn't get the chance to write it. I've been preparing to write a book like this all my life.
Marvel.com: Monsters Unleashed drew on a rich mythology of Marvel monsters that dates back to the days of the late 1950's, early '60's. Was there a particular creature or creatures you especially enjoyed bringing back into the pop culture spotlight?
Cullen Bunn: When I started on this series, I was given a big packet detailing all of the classic monsters that were available. There were so many awesome beasts up for grabs. Of course Fin Fang Foom is a favorite, but I also fell in love with the visuals of Monstrom and the father/son dynamic of Goom and Googam. But I brought as many of the classic monsters to the series as I could. I really enjoyed writing the interaction between these monsters and between the monsters and the Marvel heroes.
Marvel.com: Given the fact that the central character behind the arrival of these monsters has the nickname "Kid Kaiju" and that there were some really cool B-movie inspired variant covers released, were you influenced by any specific tropes of the classic B-grade sci-fi monster and kaiju movies of the 1950's and '60's when writing the story?
Cullen Bunn: Definitely. I drew inspiration from those classic 50's "atomic horror" style movies and comics. I read and re-read a ton of classic Marvel monster books, especially considering how many of those creatures had starring roles in the series. I also drew upon many of my favorite kaiju flicks, like the original Godzilla and Gamera movies. The Godzilla movies of the Heisei era and movies like "Gamera 2: Advent of Legion" were particularly influential.
Marvel.com: What were some of your goals when you excavated these creations from obscurity? Did you hope to make them "re-iconic" in the minds of comic book fans?
Cullen Bunn: First and foremost, I wanted readers to have fun with the series. And I wanted to honor the legacy of [Jack] Kirby, [Don] Heck, [Steve] Ditko, [Herb] Trimpe, and the other creators who brought these monsters to the page. And—yes—I wanted to establish the giant monsters of the Marvel Universe as important and legitimate forces to be reckoned with. My hope is that these beasties—the classic Marvel monsters and the Leviathons—are mainstays in the Marvel Universe for years to come.
Marvel.com: Have you seen your initial goals come true in the form of fan reactions to the event?
Cullen Bunn: I've seen plenty of people commenting on this series as a lot of fun. I've also seen folks mentioning that they've enjoyed seeing the heroes fighting by each other's sides after such a tumultuous time among these characters of late.
Marvel.com: This event has brought the entire Marvel Universe into the fray. What was your favorite part about leaving no stone unturned by having everyone cross over in one epic series?
Cullen Bunn: It was awesome to show so many different heroes in so many different corners of the world, but—hands down—my favorite aspects of the series—at least my favorites up until the big twist at the end—were introducing "Kid Kaiju" Kei Kawade's ancient cosmic history and writing the team-ups between the Marvel heroes and the classic monsters.
Marvel.com: Without giving too much away, how should readers prepare themselves for the end of this event?
Cullen Bunn: A fearsome enemy—the Leviathon Mother—is heading toward Earth, and she is far too powerful, even for the combined might of Earth's mightiest heroes and their classic monster allies. In order to defeat her, Kid Kaiju will need to draw upon a power he didn't know he had within him. That power will introduce something completely new into the Marvel Universe and establish Kid Kaiju as a major heroic player.
Marvel.com: It was recently announced that MONSTERS UNLEASHED will be getting its own ongoing spin-off series coming this April with you at the helm. Is there anything you can tease about it, like the threats Kawade and his team of monsters may be facing?
Cullen Bunn: In the event series, Kei was concerned primarily with the hundreds of Leviathon that were falling to Earth. Some of those monsters are still out there, and Kei, Elsa Bloodstone, and a group of monstrous heroes have been tasked with facing the most gigantic threats to the world. But, Kei will soon learn that monsters are not the only threats he'll be facing. This book is firmly rooted in the Marvel Universe, and several very recognizable super villains have taken an interest in Kei. These villains—some of the most intelligent, devious ne'er-do-wells in the world—see potential in these giant monsters and potential in Kei's unique abilities.
Marvel.com: In what ways will it be different from the event that spawned it and what are some of the repercussions it will have within the Marvel Universe?
Cullen Bunn: With the event, the pacing was frantic. Leviathons were falling to Earth one right after another, and there was little time for anything other than trying to push them back out to the depths of space. In the aftermath of this kaiju invasion, the heroes of the Marvel Universe now know that giant monsters could pose a significant threat to society in the future. Luckily, they have a new team of allies perfectly suited to battling these threats. But even a group of heroic giant monsters need looking after. Not only is Elsa Bloodstone keeping an eye on them, but S.H.I.E.L.D. and Damage Control are also watchful eyes on Kei and company. While the ongoing series will have lots of action and adventure, it will also give us the opportunity to dig into the personalities of some of these new characters in a significant way.
Marvel.com: If you had to give Kei Kawade one piece of advice about having his own Marvel comic book series, what would it be?
Cullen Bunn: I'd tell him to be careful around underground tyrants and intergalactic monster hunters.
The mayhem continues with MONSTERS UNLEASHED #4 by Cullen Bunn and Salvador Larroca, coming March 1!
The Hype Box
Can't-miss news and updates from across the Marvel Universe!