Comics
Published May 30, 2017
Monsters Unleashed: Bringing Back the Big Brains
Cullen Bunn unveils a new Intelligencia to take on Kid Kaiju and company!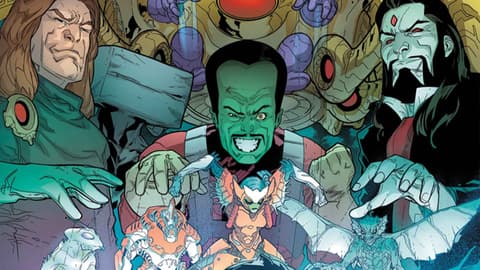 Writer Cullen Bunn and artist David Baldeon deal with huge characters in MONSTERS UNLEASHED every month. However, with the series' third issue, they'll also be introducing some gigantic personalities all with malevolent intent: the New Intelligencia!
Originally gunning for The Hulk, this new take on the familiar group features The Leader, Mad Thinker, M.O.D.O.K. 2.0 and Mr. Sinister! As some of the most cunning minds in the Marvel Universe, they will put their giant heads together and come up with a way to target Kid Kaiju.
We talked with Bunn about building this new squad, playing with some of the most iconic villains Marvel has, and the joys of writing The Mad Thinker!

Marvel.com: Does this new Intelligencia have a specific goal or mission statement for lack of a better term? And how does that play into the series?
Cullen Bunn: This iteration of the group has the same mission statement as previous versions: evil through smarts. Okay, that's not their mission statement, but it's close. In the case of MONSTERS UNLEASHED, the New Intelligencia has found something they've not seen before. While each and every one of them has created monsters of one sort or another, they've always had to really work at it. Kid Kaiju, though, has actually created living, breathing creatures just by drawing them. To the Intelligencia, he represents the power of raw genetic creation, and that is worth studying.
Marvel.com: M.O.D.O.K. 2.0, Mr. Sinister, The Leader, and Mad Thinker are also fairly bombastic. How fun is it bouncing them off of each other?
Cullen Bunn: So much fun! They all have such unique personalities and approaches to reaching their malevolent goals. With this group, I wanted to show that Kid Kaiju and his monsters were going to be dealing with very real threats in the Marvel Universe. Each of the members of the New Intelligencia is a genuine threat in their own right. Working together, they are extremely dangerous.
Marvel.com: Leader, Mad Thinker, and M.O.D.O.K. have experience with this group. What made them bring in Mr. Sinister?
Cullen Bunn: Sinister, with his experience with cloning and such, was a perfect addition to the group. He is sort of a genetic expert. And I think people forget just how smart Mr. Sinister really is. His spot on this team is well-deserved.
Marvel.com: What sets the 2.0 version of M.O.D.O.K. apart from the others we've seen?
Cullen Bunn: Well, M.O.D.O.K. 2.0 is a clone of the original M.O.D.O.K., and he's a little more calm and cunning than his predecessor. Of course, I always saw the original M.O.D.O.K. as a ranting fiend, so being [calmer] than him isn't too hard. I also think he's more cruel and scary. He actually wanted to become this abomination. Of all the members of the New Intelligencia, he's the most evil, I think.
Marvel.com: Of this group, Mad Thinker's been around the longest. What's it like working with such a lasting villain?
Cullen Bunn: I love The Mad Thinker. I'm trying to approach him a little differently than we might have seen before. He has this weird, almost religious take on his own insanity. He's frequently offering bits of strange philosophy regarding madness.
Marvel.com: The characters in this new version of the Intelligencia are mostly used to operating on their own or leading groups. How do they work together in a group situation?
Cullen Bunn: If anything, it will be the hubris of this group that tears it apart. Each member of the group believes they are the smartest, and there's a little jealousy between them for that reason. Their minds are always working, always figuring out possibilities, but that makes them paranoid…maybe with good reason.
The Intelligencia makes their presence felt in MONSTERS UNLEASHED #3 on June 21 thanks to Cullen Bunn and David Baldeon.
The Hype Box
Can't-miss news and updates from across the Marvel Universe!